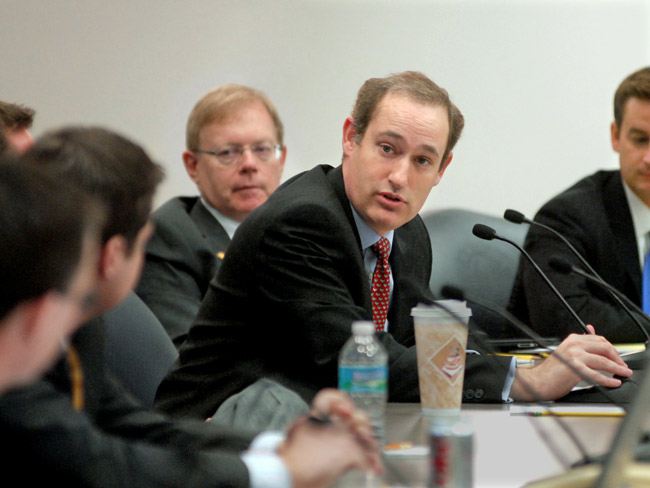 Rep. Richard Steinberg of Miami Beach quit the House effective immediately on Friday after admitting earlier in the week that he sent inappropriate, unwanted texts to a federal prosecutor in Miami.
Steinberg, a Democrat, announced his resignation in a statement sent out by a spokesman.
"The events of the past week have been difficult for my family, for me and for everyone involved," Steinberg said in the statement. "After much consultation with my family, my friends and my colleagues in the Democratic caucus-and after some time for quiet, personal reflection-I have decided to resign from my position, effective today, as a member of Florida's House of Representatives."
Steinberg, 39, was confronted after the Miami Herald reported that he was under investigation by federal officials in connection with anonymous text messages sent to Assistant U.S. Attorney Marlene Fernandez-Karavetsos, and he admitted that he sent them.
Federal investigators said the messages were sent over three months last year and Steinberg refused to identify himself to Fernandez-Karavetsos as the sender. The U.S. Secret Service traced the messages to Steinberg.
"With the support of my family, my friends and my colleagues, I will remain home to attend to my and my family's personal affairs," Steinberg said in the statement released Friday. "As I did earlier this week, I want to once again, very directly and sincerely, apologize to everyone I have hurt. I hope that you will respect my and my family's privacy."
Steinberg is a former Miami Beach commissioner, and was elected to the House in 2008, filling a seat vacated by former Rep. Dan Gelber, who then went to the state Senate. Steinberg has been a vocal Democrat in the House, and a leading voice for protection of children. One of his primary efforts has been legislation aimed at requiring booster seats for children too big for car seats.
The Herald reported earlier this week that Fernandez-Karavetsos, who is married, had repeatedly asked the anonymous texter to stop sending her messages.
Fernandez-Karavetsos, 37, is married to George Karavetsos, also a federal prosecutor.
Steinberg is married with one child.
As recently as last week Steinberg voted in committee for a bill (HB 1099) that expands the definition of aggravated stalking to include threats made by text message.
House Democratic Leader Ron Saunders, D-Key West, sent out a terse statement, saying merely that Steinberg had resigned that the "concerns of everyone involved are in our thoughts and prayers."
Gov. Rick Scott could set a special election to replace Steinberg before the November general election.
–David Royce, News Service of Florida