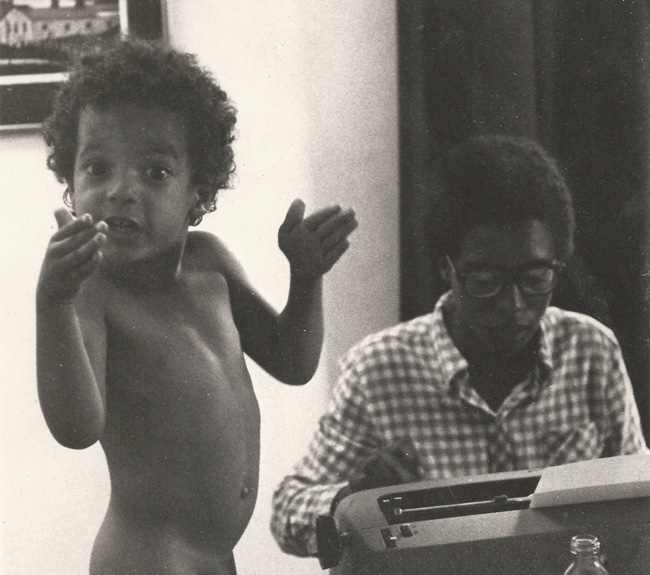 By Jon Hardison
It's been a hard week to be an American. Hell, it's been a hard week to be human. It opened with the death of arguably one of the funniest, kindest, most uplifting, positive men most of us have ever known (in that way we all know famous people), and then spiraled downward from there. And as sorry as I am for what can only be viewed as a week of massive losses for our collective, I honestly think there are things we can all learn from it and healthy questions we should all be asking, whether internally or right out in the open.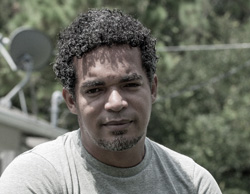 I've been doing a lot of that. I've been examining my life, and my reactions to things. I've been examining simple things like my posture, my persona and trying to figure out who I appear to be to those who don't know me. I've been thinking about Trayvon Martin, Eric Garner, Mike Brown of Ferguson, Mo., and the 25 year old man killed just days later in Los Angeles.
I'm black. I mean, I'm not "really black," like so many have said to me over the years, but still, I'm black. But my life, much like my background, has been a fairly equal mix of middle-class Urban American living, and quintessential ghetto life. My first memories of life happened on Pacific Street in Brooklyn, N.Y., which was by no means a bad neighborhood, but it was on the edge of the projects. I had friends in the projects, and because back then you let your kids out to play and really didn't know where they went, I spent a fair amount of time in and around the projects. But as young as I was, I knew I wasn't safe there, so I didn't do it often.
As I got older it got more dangerous for me. It was always hard to tell if it was because I was simply becoming more of a threat in some way I didn't quite understand, or because my steadily increasing age increased the likelihood I'd maybe had a little cash or something else of value. What I knew for sure was that the indifference to my being was fading. I started getting mugged and threatened on occasion. Nothing to run home and cry over–just weird.
As the financial situation worsened at home, the need to reduce expenses forced us to move from the community were I'd been since I was 2 years old, to a new community. I didn't know anything about it but its name, Fort Greene, and whenever I'd say these words to friends their reaction was always the same. "Oh snap. You dead fool!"
I was only about 10. They'd never really explain why I was going to die. They'd all just say it with a fair amount of confidence and start their "It's been nice knowing you" speech. I didn't take it seriously, at first.
My first week in Fort Greene, I met the other people in our building, a small brownstone broken up into four rental apartments. There was a nice black family of three on the top floor, us, just below them, a gay couple below us, and a hispanic woman and her two kids (both much younger than I) on the ground floor.
The baby's name was Peanut. He was about 14 months old when we moved in. The girl, about 4, was a beautiful, long-haired Puerto Rican named Leukemia. Her mother heard the name someplace and liked the sound of it. This was almost the high point of my time in Fort Greene.
---
Even more might simply say, "They're animals." Or, "Fuck'em. They get what they deserve." No. No the fuck we don't.
---
Fort Greene was black. Pacific Street, where I'd grown up, was full of all kinds. There was the Bohanan girls, who were white and black, just like me. Their dad wasn't around, also just like me. They were the closest things I had to sisters. Then there was Carla from around the corner. Her father, Chocolate, was my drum teacher and my role model growing up. (A black man.) His wife Berril I think was a school teacher and quite white. There was Maya. She was one of my first loves and lived right down the road from Carla. She was Jewish and a total fireball. At one point my mother and I actually rented the top floor of their brownstone. Not long after we moved out, Maya's dad came out of the closet and moved to Greenwich Village with his new partner.
This was the life I'd known. There was quite literally no such thing as race on Pacific Street.  Fort Greene was different.
After we settled in, I did what I always did. I went out to explore. "Hey kid! Give me that bike!" and "Get yo Puerto Rican ass outta here!" were some of the things I'd hear regularly. It became very clear very quickly that I was going to need to make a change if I was going to make it in this place. Looking back, I never asked why everyone was so fucked up. I, an outsider, had moved into what was clearly their hood, and I'd just have to learn the ropes.
After a few months, I found some kids around the corner. They'd heckle me and give me shit every time I rode by. They'd even chase me a few times to get my bike or beat my ass. I'd always ride away faster than they could run.
One day I decided to call their bluff. "Give me that bike bitch!" I stopped. What were they going to do? I knew where they lived. After a short confrontation and a little pushing it was over. A beautiful girl came running out of their building. "Stop messin' with him! Oh, and he ain't Puerto Rican you dumb asses! I seen his momma!"
That night I ate dinner in their house. A boxing match blasted in the background and everyone sat around the table firing questions at me one right after the other. "Why you talk like you white? Are you rich? You talk Spanish?" The kid's parents would ask a few questions here and there too. "You like my daughter, don't you?"
That night she walked me home (to make sure I was safe) and gave me a few tips on making it in her neck of the woods. "Listen. You gonna be a'ight here. Ain't no body gonna hurt you. But if you wanna stop'em from fuckin' whi'chu? You gonna need to show's you can't be fucked with. Next time you feel like someone's thinking 'bout taking you, you just look'em right in they face! Don't stop and don't say nothin'. But don't stop looking' neitha," she said. "Cuz at the end of the day, if he wants it bad enough, there ain't nothing you can do that's gonna stop'm. But if he don't? Nigas' just need to know you ready. That's all. They need to know whatevah's' coming is gonna cost'm and that's it." That lesson got me through a lot of tough times and I'll always be happy I had it.
A year later, things got even worse for my mom and me. Her addiction to drugs and inability to show up to work forced us out of our place in Fort Greene and into an emergency move to Chelsea in Manhattan. West 16th street, to be exact. We moved in with my mom's new boyfriend, Willy. He was the superintendent of the building he lived in and was going to put us up for a while until an apartment became available for us to rent. Willy was an incredibly talented guitarist. I don't mean he was really good. I mean he was so good, he'd play a bar or two and even if you knew nothing about music, you knew there had to be something terribly wrong with him. Something so wrong it justified the meager existence he'd barely managed to cut out for himself. Those faults would become very evident in the coming days, months and years.
I was 12, and going into my first year of middle school for the second time. The years of obvious drug use by my mother had taken their toll in more ways than one. But this wasn't Fort Greene, and while I was scared and nervous, there was something liberating in getting a completely new start. My new School was I.S. 70, and it, much like my first home on Pacific Street, served a diverse community, racially and economically. And this start would come with the advantage of all I'd learned in Fort Greene. There'd be no more running for me. I was ready to face everything that came my way, and I did just that.
I.S. 70 was also a lot like Pacific Street in that it bordered the projects, so there was never a shortage of altercations or more than a few days without threats. Every day was a test of your resolve, your bravery and your ability to abandon all sanity in favor of the promise of reprieve that was granted every time you simply put someone down. I got good at it. I got very good at it, but it was rarely physical. It was about having the ability to look an ass whooping in the eyes and laugh. And then grab the biggest guy in the crowd by the shirt, pull him to you, unblinking, and simply say, "bring it," with all the fire and intent of a mass-murderer in your eyes, like I learned in Fort Greene… "This is gonna cost you." It didn't hurt that my actual fighting skills were pretty impeccable at that age. Skills I was all too happy never to use.
It was also these early years in the city that taught me about the Police. New York's battle with the corruption and abusiveness of its Police force is the stuff of legend. It took decades to clean it up enough to be useful and even longer to make it something the average citizen was proud of. We kids were scared to death of them. We'd never say it out loud. After all, being scared of anything was worse than dating a girl in the grade behind you, or screaming at the sight of a spider.
When the Police came, we ran. We weren't doing anything wrong and had nothing to hide, but we all knew, on a cellular level, that none of that mattered. Once a cop had you, it was all a matter of luck. Their word carried all the weight. Their will was the only thing that steered the interaction. Their mercy was the only reason you'd go home. This was the case even for the best and nicest of officers. They had all the power and we knew they were free to turn any way they wanted, on a dime, without cause, warning or care and it was simply better to run than risk it.
I think these were the feelings I needed to remember to try to make any sense of what's gone on this week. Sense to me, anyway.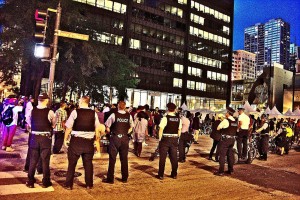 There are people who are simply scared of black people. It's not a race thing so much as it is a feeling of being threatened. They might wonder, "Why is that guy working so hard to look so tough?" Or "Why is she looking at me like that?" Others wonder, "Why are they running if they didn't do anything wrong?" And even more might simply say, "They're animals." Or, "Fuck'em. They get what they deserve."
No. No the fuck we don't.
I'm generalizing here, so try not to take this as bigotry. It isn't meant that way. But the average Black American grew up with horrifying stories of what was done to our people at the hands of White Americans and raised in an environment where we were baptized in fear. We feared the cops, many feared white people, and even more feared their neighbors. But we couldn't say anything. Not to our mothers or fathers or siblings or friends. No, instead we did what people do. We followed the example of the survivors before us.
Society thinks the number one reason broke black kids get into the drug game is because they see a way to make some fast cash. I don't think so. You know what that kingpin had that I wanted? He wasn't scared of a damn thing. He didn't even have to deal with trouble. Something went down and his "boys" took care of it.
Who do you trust when there's no one you can trust? Who do you confide in? Who do you run to when no one wants you? The truth is, you simply do the best you can. Sometimes you even get lucky or surprise yourself and do better than the best you can. But most of the time, you survive. Nothing more and nothing less.
So next time you feel intimidated, try to understand that it's not about you. I haven't lived in the ghetto for decades and people still tell me (as recently as yesterday) that I look like I'm going to kill someone. I don't even know I'm doing it. What is in my heart is very different from what is on my face, but it's not because I'm broken. It's just the remnants of an old survival skill I used to need.
And if Ferguson is any indication, I still need it.

Jon Hardison, a Palm Coast resident, co-owns the Ha Media Group. Reach him by email here.