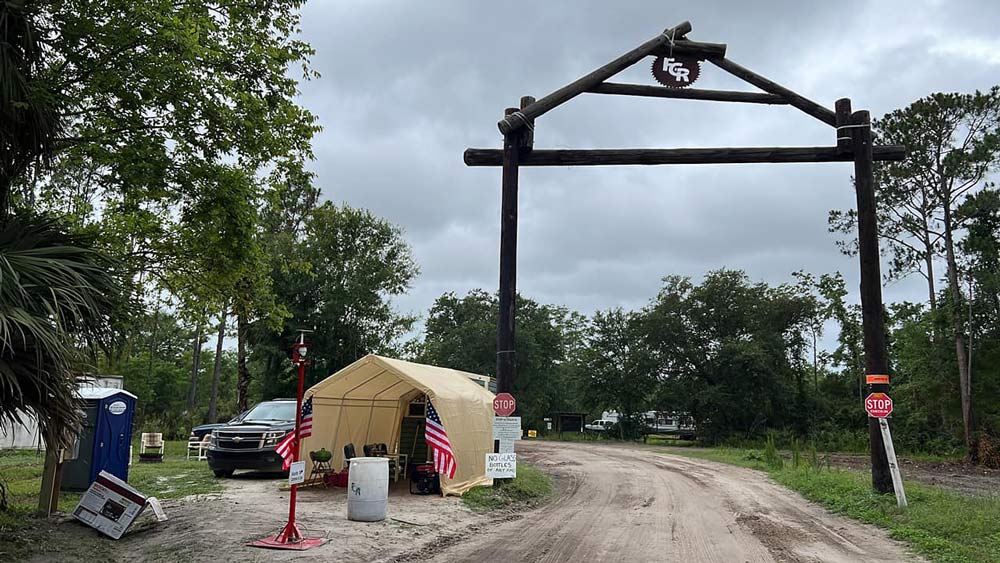 Flagler Broadcasting and Florida Cracker Ranch are collaborating in the production of Red White and Boom, a three-day weekend from June 30 to July 1 in the run-up to Independence Day, with camping, off-roading, entertainment and fireworks.
The 1,200-acre ranch on County Road 202 at the southeast end of Flagler County, off of U.S. 1, is an off-road and camping haven on private property owned by the Strickland family. The entry fee for three days of camping is $45 per person ahead of time, $65 per person at the gate. Children 12 and under get in free. The Saturday-only event, which features Flagler Broadcasting's lineup of entertainment and fireworks, is $15 per person. The Saturday fee includes amenities such as swimming in the lake. Bring your own coolers.




"We've been doing some different events at the Florida cracker Ranch with Swain Strickland," David Ayres, president of Flagler Broadcasting, said. "He's developed it into a real nice family, off-road park with camping and memberships and he's got a beautiful crystal spring-fed lake and beaches around it, 1,200 acres of off-roading and exploring trails and mud holes and camp sites. So we've been kind of partnering with him and doing the marketing and growing it where we're getting a lot of people from Ocala, Jacksonville, Georgia. It's become quite a regional venue for people and families that like camping and four-wheeling."
Flagler Broadcasting has been producing the entertainment for those events, as it will again for Red White and Boom. There's a concert venue, there'll be food trucks, racing pigs, and of course fireworks. The lake has a covered pavilion. Hot showers and a buggy wash off station are available. Bands, including Jordan Redding and Jordan Profitt, will be featured in the evening, with fireworks over the lake around 10 p.m.
Flagler Broadcasting is also producing a Labor Day event at the ranch, and has produced other events in the past, especially since its association with Flagler County and Palm Coast faded. Flagler Broadcasting used to produce the Independence Day and night events in association with Palm Coast.




The city, along with Flagler Beach and the county, this year have developed their own joint Independence Day celebrations, split between day events in Flagler Beach and night events, including fireworks, at the county airport. (See: "July 4 Celebration and Fireworks Will Be a Joint Palm Coast, Flagler Beach and County Production This Year.")
Ayers had been at the origin of Palm Coast's Independence Day celebrations 13 years ago, when the city–with Flagler Broadcasting–offered the first such event on July 3, a day before Flagler Beach's famed celebration, which ended with fireworks off the pier. Those July 3 events continued for many years in central Park until Covid. But the production bug is always in him. So he turned his talents to other venues and organizations, producing events at the Florida Agricultural Museum (he is a member of its board) and now at the Florida Cracker Ranch.
"A lot of people have been discovering it," Ayres said of the venue. "It's primitive camping. There's not hookups and that kind of thing. So people come out there, you'd be surprised, there's like Provost buses, some very wealthy, well spoiled kids come out with these expensive four-wheelers, we have like some famous name-brand attorneys that bring their kids out there from Orlando. So it's a mixture of everybody, really."
Ticket-buyers will be required to sign rather extensive waivers that indemnify the ranch owners against all sorts of things, including accidental death from encounters with freely-roaming animals or other causes. (See the text of the waivers here. For tickets to the event, go here.)