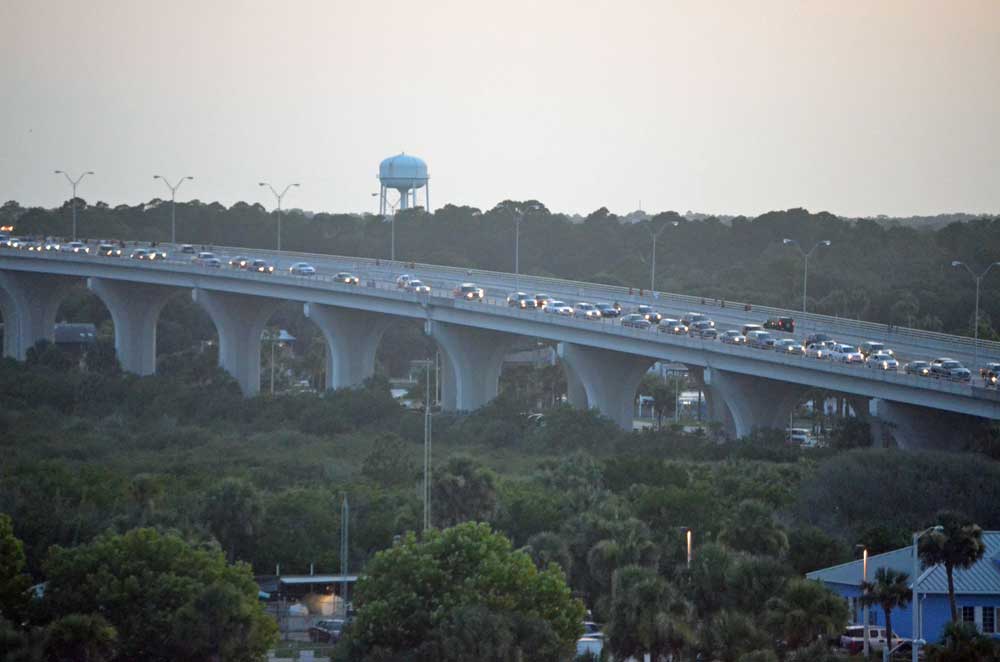 Flagler County, Flagler Beach and Palm Coast are projecting Independence Day celebrations and July 4 fireworks as a unified cross-county series of events this year, all taking place on July 4, a Tuesday. That's in contrast with pre-Covid years when Palm Coast and Flagler Beach each conducted their own events separately, on successive days, and the county was left to pay for fireworks at both ends.
Still, but for the fireworks off the Flagler Beach pier, which have not taken place since 2020 and will likely not take place until the pier is rebuilt, several years from now, the day's events will follow pretty much the same script, with a few variations.




This year the Tourist Development Council, which underwrote some $25,000 worth of fireworks for each of the two cities with revenue drawn from the tourism sales surtax, will not be doing so. Nor will Fireworks by Santore, the long-time provider and Palm Coast-based fireworks company. "They overcommitted so we had to do with someone else, but still somebody who'll put on a great show, same type of shells," Brittany Kershaw, Palm Coast's communications director, said today.
Palm Coast bid out the contract. It was awarded for $30,000 to My Three Sons Fireworks, a two-year-old company based on Boynton Beach Company and owned by Josh Hite. Flagler Beach is contributing $10,000 toward that amount. The fireworks will be set off over the runways at Flagler County Executive Airport at 9 p.m. July 4, an event that last year drew some 10,000 people, with a few glitches.
Last year spectators could park their cars on parts of the tarmac at the airport, as well as on Fin Way at the south end of the airport, and at Flagler Palm Coast High School, where they could hop a shuttle to the airport. This year, runway parking will not be provided. Parking will be provided only on Fin Way and at FPC. But there will be no shuttles, because last year the shuttles got stuck in traffic and the traffic flow was a bit of a mess. Those parking at FPC will have a half-mile hike to the viewing area. See the detailed options below.




The day will begin in Flagler Beach with a 5-K over the bridge, starting at 6 a.m. The Flagler Beach Rotary will host the traditional 10 a.m. Independence Day Parade down State Road A1A starting at 10 a.m.. Since this is not an election year, spectators will be spared the garish spectacle of pandering candidates, while the Rotary has attempted to limit the number of floats anyway, so the parade doesn't stretch toward noon.
DJ Vern of 97.3 FM, the Flagler Beach radio station, will host Music in the Park at veterans Park in Flagler Beach from 11 a.m. to 5 p.m. There will be events running all day long, including a dunk tank, contests, bounce houses, line dancing, and performances by the U.S. Navy band from 3 p.m. to 5 p.m.
As the sun nears the horizon, attention will shift toward the county airport, where gates will open at 5 p.m. Local elected officials will read the Declaration of Independence at 7 p.m. The fireworks will go off at 9.
A Palm Coast release states that there is no charge for entry, parking, or participation. Food and drinks will be available for purchase from a variety of food vendors. No glass bottles are permitted. The Flagler County Sheriff's Office will maintain traffic control, crosswalks, and parking along with assistance from the Palm Coast Public Works Department.




Parking Options for the Fireworks:
Option 1, Flagler Palm Coast High School: Parking for airport access on the north side (front of the airport) will be available at Flagler Palm Coast High School. Please note that north-side parking will require a 0.5-mile walk from the high school to the airport entrance, involving crossing State Road 100 at the Bulldog Drive and SR100 crosswalk.
There will be no parking on the north side of the airport property. Access to Aviation Drive and Airport Road from SR100 will be restricted to authorized personnel only beginning at 4 p.m. on July 4th.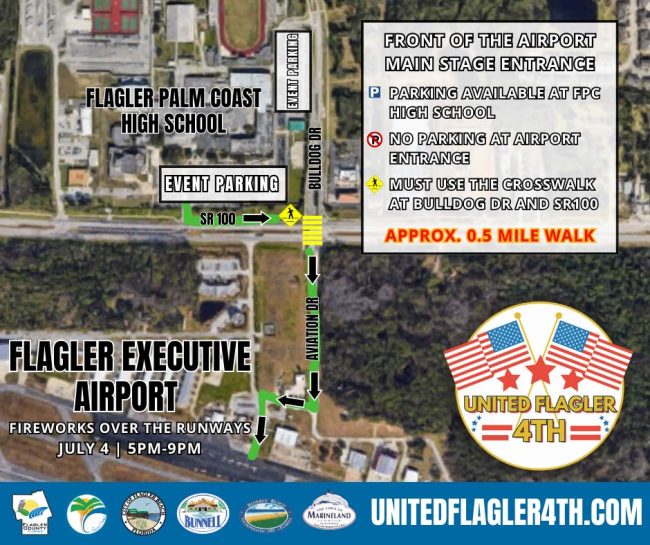 On the north side, limited bleacher seating will be available, along with a selection of vendors offering face painting, a trackless train, and various small gifts for purchase. Numerous food vendors will provide delectable dining options, including a beer garden. A main stage featuring a DJ will keep the atmosphere energetic, and at 7 p.m., local officials will recite the Declaration of Independence and Melanie DiMartino will perform the National Anthem. Guests are encouraged to bring lawn chairs. Portable restroom facilities and a handwashing station will also be provided.
Option 2: Alternatively, guests can opt for airport parking, including handicapped parking, on the south side (back of the airport), accessible via Fin Way off Belle Terre Boulevard. The south side of the airport is for fireworks viewing only, as no vendors or seating will be available. Guests are encouraged to pack a picnic and bring lawn chairs. There will be portable restroom facilities and a handwashing station provided for convenience.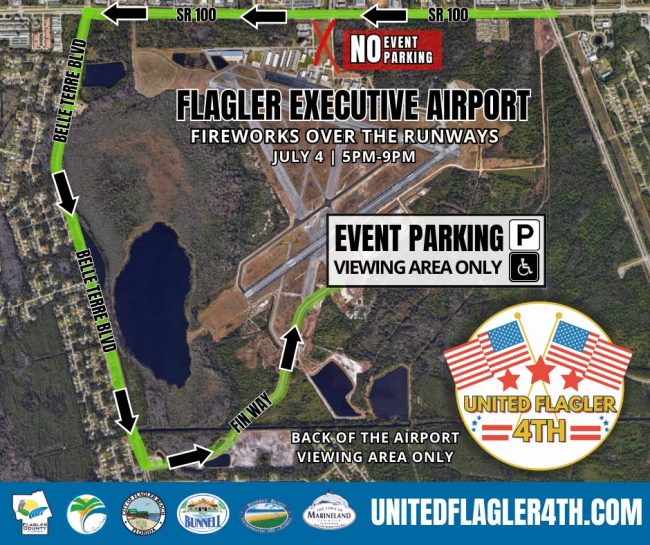 There is no cost associated with entry, parking, or participation in the event.
Glass bottles are strictly prohibited. It is important to be aware that there will be no access between the front and back of the airport for the duration of the event. The airport will remain operational throughout the day, except for a temporary closure during the fireworks show. Carpooling is strongly encouraged.
The three governments, along with Bunnell, Beverly Beach and Marineland, are purposefully trying to show a united front to counter the impression that the day's events are fragmented over the landscape.



The county bought a website with a url to reflect the approach: unitedflagler4th.com, though since May and even now it's just one page with schedule of events and the different governments' logos. Kershaw said it hasn't been optimized for mobile phones, so it's a bit unwieldy there. But that's in the works. In coming weeks the website will include parking and mapping information.
"This is what a community celebration should look like," Palm Coast Mayor David Alfin is quoted as saying in the release. "This is a unique opportunity for everyone in our city and our community to unite and commemorate our great nation's history and celebrate our freedoms together. We hope to see you there!"
The fact that Flagler Beach is contributing to the joint effort is not opening the door to the fireworks permanently shifting away from the island. "Not at all," says Scott Spradley, the Flagler Beach city commissioner who more than a year ago chaired the city's commission-appointed July 4 re-evaluation committee. There'd been talk of perhaps doing away with them and letting palm Coast have the show. That committee's conclusion was to stick with the fireworks in the future. There were to be fireworks last July but for a major flub that ended up contributing to the woes that led to the firing of the city manager.




"It was always contemplated that fireworks will resume and nothing has happened to change that," Spradley said. "So we're still in that gap of time where we don't have a launch platform, with the pier being closed, and at least two more July 4th without that platform."
Alternative launch pads have not panned out. In late February, City Clerk Penny Overstreet revealed that the former city manager had asked her to gather bids for possible fireworks, laser and drone shows. The city still had $25,000 set aside for fireworks. Overstreet proposed contributing $10,000 of that to the airport fireworks show, enabling Flagler Beach to be on the promotional material. That's what the commission eventually agreed to.