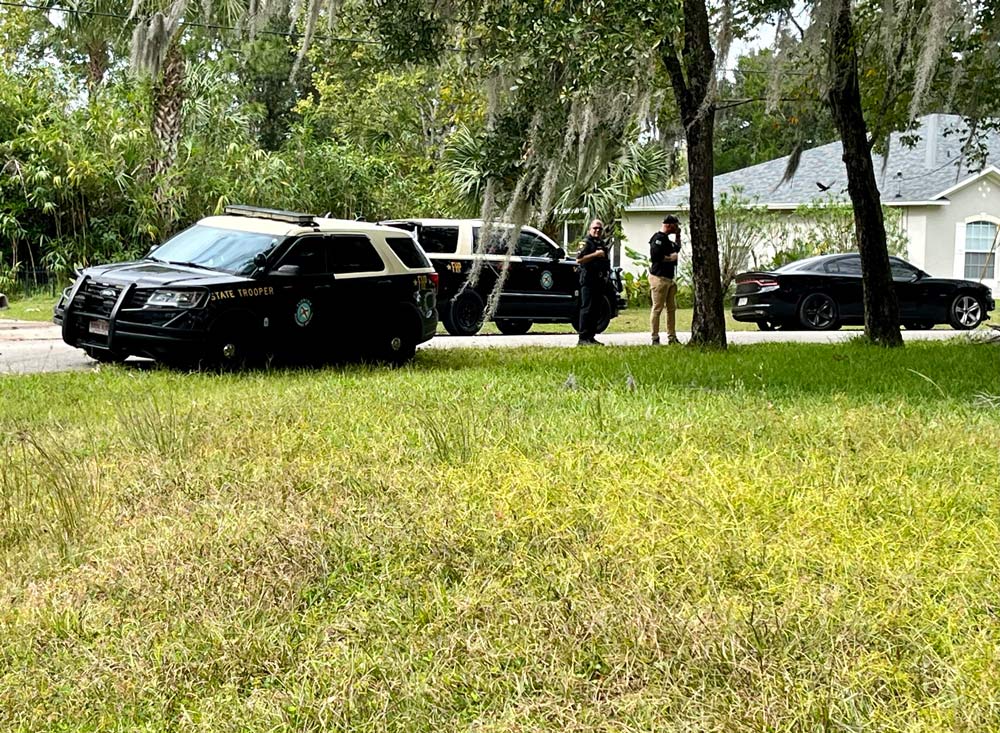 On Oct. 26, Palm Coast resident Kendall Clark and her husband were driving in a residential Seminole Woods neighborhood to visit family when they were almost in a severe crash with a Florida Highway Patrol trooper chasing an alleged suspect, on the wrong side of the road.




The chase was one of several last week, including one that ended with the shooting of a woman in a Hammock Beach Resort parking lot, all part of a drug-interdiction operation FHP carried out, using Flagler County locations. (The woman survived.)
Deque McCall, the 26-year-old man FHP was chasing in Seminole Woods, was not wanted for a violent crime, was driving his own car, and lives on Felter Lane in Palm Coast. It is not clear why FHP sought to execute a traffic stop on him. Once FHP did so, McCall allegedly fled, abandoned his car on Slow Drift Turn, and led law enforcement on a foot chase in the nearby woods before he was apprehended.
The FHP trooper almost collided with Clark and her husband during that stretch of time. FHP charged McCall with reckless driving causing damage to property (his vehicle smashed down a mailbox and tore up a swale) and fleeing and eluding police, a second-degree felony. There were no drugs on him or in his car, and there was no charge related to what would have prompted a traffic stop. He was booked at the county jail and released within hours, in $3,000 bond. (See: "Another FHP Chase Ends in Arrest After Manhunt Off Slow Drift Turn in Seminole Woods.")
Clark that day wrote the letter below to Flagler County Sheriff Rick Staly, whose department has not been involved in FHP operations except in after-the-fact supporting roles, when needed. It was not involved in the McCall chase. Clark's letter, sent to the sheriff's email address on the agency's website, apparently did not reach the sheriff. Staly provided a response after FlaglerLive shared Clark's letter with him on Nov. 2. That response is below Clark's letter. 

Good Evening Sheriff Staly,
I wanted to share with you what occurred today related to the incident with the Florida Highway Patrol  pursuing a suspect that culminated on Slow Drift Turn.




My husband and I were on our way to our son and daughter in law's home to visit our newborn granddaughter just before 12:30 this afternoon.  We turned from Seminole Woods Parkway onto the south entrance of Sloganeer (closer to US 1).  We live nearby and visit often so I know there are always people walking and bicycling, children playing, construction vehicles, landscape trucks and other work occurring, so I drive cautiously and slowly.
Immediately after the Slocum intersection the road curves to the left and shortly after curves sharply to the right before the west entrance to Slow Drift turn.
As I was approaching that sharp right curve, an FHP sport utility vehicle came speeding around that curve from the opposite direction on the wrong side of the road.  Had I not been driving carefully and defensively, I would have been in a head-on collision with that vehicle–not because of my actions, but because that trooper was speeding and driving on the wrong side of the road.
We then turned onto Slowdrift and found the abandoned Dodge Charger in front of number 26.  As we exited our vehicle we heard gunshots nearby.  I entered the house and my husband called 911 to report the vehicle and gunshots.   You are well aware of what ensued and why, so I don't need to explain that.  I am thankful for the response and quick apprehension of the subject and that my son, daughter in law, and five day old granddaughter remained safe.




However, as the chaos of the incident abates, I feel increasingly upset about the incident that occurred on Sloganeer.   It has not been reported that the subject of the chase committed any violent act, yet the pursuit put every person that lives and drives in the Sloganeer neighborhood at grave risk.  The trooper showed absolutely no regard for the safety of innocent bystanders.
What if my son and/or daughter in law were walking the baby in the stroller? What if someone else was walking their dog? What if I were less aware of my surroundings?  My husband was in the car. He has had two cervical fusion surgeries. That degree of impact would have either killed or paralyzed him.
I know you hold your deputies to high public safety standards and I appreciate that so much, and I also understand that you have no oversight with regard to FHP.  However, I do hope that you have the ability to share with FHP how close their employee came to causing a catastrophic accident–not to catch a person that committed a violent crime, but instead in pursuit of someone that may have had drugs in their car.
FHP demonstrated a gross disregard for our community today, and that is unacceptable.




If there is an avenue you recommend that I pursue to escalate this, I will do so.  I understand FHP vehicles have dash cams so this incident should be easy to document if anyone there is interested in doing so.
Thank you for listening and for leading an agency that operates cautiously and with regard for life and safety.   I appreciate that more today than I ever have before.

Sheriff Staly's response:
As of today [Nov. 2], I have not received the letter from Mrs. Clark. It may have been delayed depending on what address was used as old addresses are still found on various websites. However, since FlaglerLive provided me a copy of the letter I would first like to thank her for taking the time to bring the concerns to my attention regarding a vehicle apprehension involving the Florida Highway Patrol.
In Florida, there is no standard policy on vehicle pursuit or apprehension involving fleeing vehicles, although Florida Accreditation standards and state law do provide guidance. Each law enforcement agency creates their own policy and is responsible for training their officers and deputies. Since I do not personally know FHP's policy, I have forwarded the concern to FHP.
Of course, this entire incident which endangered many people, including law enforcement officers, could have been avoided if the driver had just stopped as required under Florida law. The failure to do so is a felony crime in Florida.