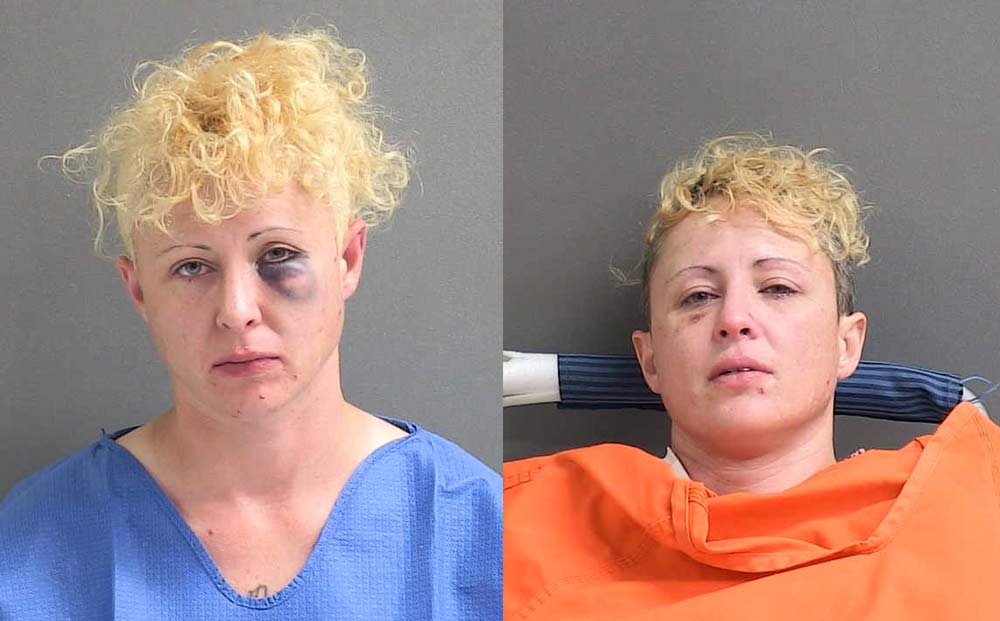 Jacqueline Faye Blank, the 37-year-old DeLand woman Florida Highway Patrol troopers shot several times in the parking lot of the Hammock Beach Resort on Oct. 25, is an army veteran who until August had a clean record.
That quickly vanished with a violent confrontation with her girlfriend and cops in early August, when she was tased into submission and arrested. She subsequently violated her probation. A warrant for her arrest was issued, then the FHP pursuit took place, triggered by "erratic" driving. She had allegedly rammed a trooper, grazing him as he took evasive action, miles before the shooting by the resort's parking lot on 16th Road, a detail not previously reported.




She was not armed. According to her arrest report, moments before the shooting, she had taken out a glass pipe, lit it, and stared at troopers as she was pinned between patrol cars and troopers smashed batons against the driver and passenger-side windows. After troopers dragged a woman out of the passenger side of the car and placed her in a patrol car, Blank then engaged her car in back and forth motions in what FHP described as further attempts to ram a trooper, before she was shot.
She was hospitalized for several days then arrested on her discharge and booked at the Volusia County jail on three charges of aggravated battery on a police officer, aggravated fleeing and eluding, reckless driving with damage to persons or property, and other charges. She was driving without a valid license. FHP has not released the nature of her injuries.
The officer-involved shooting is being investigated by the Florida Department of Law Enforcement. An FDLE spokesperson said no information would be released until the final report of that investigation is issued–and even then, the report may be withheld pending the State Attorney's decision on how to proceed. The spokesperson said it'll be up to the State Attorney–in this case, R.J. Larizza–to decide whether to pursue charges against the officer or officers, or whether to take the case to a grand jury. But the report is expected to make a determination about whether the use of force was justified or not.




FHP says it was. "Troopers used appropriate force to stop the threat of being struck by the Acura due to the driver's actions," Blank's arrest report states.
Blank was living on Woodland Avenue in DeLand when, on Aug. 3, Blank and her girlfriend got into an argument that escalated into a physical confrontation as they drove. Blank stoppe the car on South Atlantic Avenue in front of a hotel in Daytona Beach Shores, prompting guests to call police as the fight continued. Blank's girlfriend complained to police that Blank was "consistently violent with her and continually batters her." When officers prepared to place Blank under arrest, she ran (and her girlfriend, who was also arrested, told her to run).
A foot chase ensued through the hotel and its pool area, where officers took out their Tasers and discharged them several times. Blank continued to run until she was corned in the lobby, where she was tased as she allegedly resisted–and attempted to grab one of the officers' guns, according to her arrest report. She requested to be taken to a hospital "dur to being exposed to the Taser on her 'metal leg,'" the arrest report states. The reference to her metal leg is not clear. Blank is an army veteran, but appears to have had an other-than-honorable discharge. At the hospital, she was found to have dissimulated a small bag with a trace of cocaine. She was charged with resisting an officer with violence, battery on a law enforcement officer, later reduced to disorderly conduct, and cocaine possession, later reduced to possession of drug paraphernalia.




Blank on Sept. 21 pleaded out. Adjudication was withheld, so she was not branded a felon. She was sentenced to 30 days in jail, which she had already served, 24 months on drug-offender probation (through September 20, 2025). Those were all her first offenses: she had no prior record.
In mid-October, she was cited for a probation violation. She had not informed her probation officer of a change of address after she moved from Woodland Avenue to the Kentucky Avenue apartment, and when her officer attempted to make contact with her at the new apartment, she eluded him. A warrant was issued for her arrest.
Then came the October 25 pursuit.
She was at the wheel of a four-door white Acura, driving north on I-95 "with a willful and wanton disregard for the safety of the motoring public," a Florida Highway Patrol trooper reported. FHP had been in Flagler County conducting a drug-interdiction operation. Three troopers set chase. Blank abruptly exited at the Matanzas Woods Parkway interchange, where a trooper noted that Blank and her passenger had bandanas hiding their faces. The trooper also reported the women ducking beneath the dashboard. (FHP has not identified the woman traveling with Blank.)




Blank drove east on Matanzas Woods Parkway then Old Kings Road, turning into a self-storage facility where the first confrontation with troopers took place. Three troopers had turned on their emergency lights. Blank "took evasive action and intentionally rammed Trooper Nottingham's marked patrol vehicle," the report states. "During this time, Trooper Lewis exited his patrol vehicle and gave the driver commands to stop. The driver of the Acura intentionally steered the Acura towards Trooper Lewis in an attempt to strike him with her vehicle. Trooper Lewis had to take immediate evasive action to avoid being injured or killed. While taking evasive action, Trooper Lewis was struck in the area of his belt line by the Acura. The driver of the Acura then left the scene at a high rate of speed well above 100 mph. All three Troopers began to pursue the white Acura."
The pursuit ended at "16th Road East and the driveway of the Lodge at Hammock Beach," the report states, where Blank "made a U-turn through the parking lot and traveled head on at Troopers. The driver of the Acura rammed two marked patrol vehicles, head-on, causing property damage over $1000.00. After the collision Troopers ordered the suspects to exit the vehicle repeatedly. The driver obtained a glass pipe commonly used to smoke illegal narcotics and placed in her mouth and lit it.
"The driver looked up at Trooper E. Schaub, who was standing directly in front of the Acura, wedged between two patrol vehicles due to the collision. The driver put the vehicle in drive and accelerated rapidly towards Trooper Schaub. The driver repeatedly collided with the patrol vehicles by going in reverse then forward several times in an attempt to strike Trooper Schaub with her vehicle."
Aside from the reference to "appropriate force," the report does not refer more explicitly to the use of gunfire, nor how many troopers fired their guns, or how many times.
It isn't clear why the charges against Blank were filed in Volusia County, since the incident in its entirety took place in Flagler County.