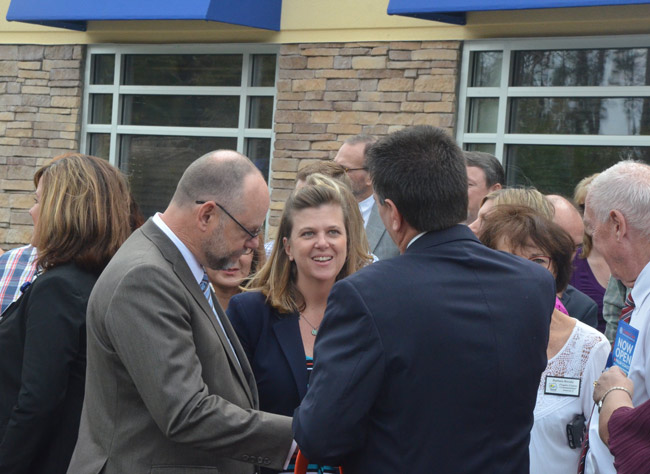 After 10 years at the Flagler County Chamber of Commerce, the last four as its president, Rebecca DeLorenzo is resigning at the end of February to become the executive director of the American Red Cross Space Coast Chapter, which covers Brevard, Flagler and Volusia counties.
"It spoke to my heart, it seemed like a really great, inspiring opportunity for me and one I didn't want to pass up," DeLorenzo said, "so I threw my name into the ring, and lo and behold, I was picked." DeLorenzo will work mostly out of the Daytona Beach office of the Red Cross but will keep living in Palm Coast. The job change caps six months of major changes for her family as her husband Jason DeLorenzo resigned from the Palm Coast City Council and was defeated in a bid for a county commission seat. Rebecca DeLorenzo said he may be returning to the local political scene in a not-too-distant future, while she aims to make the Red Cross more visible in Flagler.
DeLorenzo, 40, announced her decision to her staff in an emotional meeting Monday at the chamber. The seven-member executive board of the chamber was also there, addressing staff members and, in board chairman Jimmy Milhollin's case, speaking to each staff member individually to reassure each that the board was behind them.
For now, Chamber Vice President Heather Edwards will lead the organization. There's no set timetable for a replacement. "We're not going to rush into it," Scott Sowers, a former board chairman and the president of S.E. Cline Construction, said. "So if it takes us 60, 90 days to find somebody or appoint somebody, so be it."
Both Sowers and Donald O'Brien, until recently the treasurer of the organization—he resigned when he was elected to the county commission, but remains a director at the chamber—said DeLorenzo's resignation is an opportunity for the chamber to rethink its direction, including what staffing be needed. "Nothing's off the table, we're open to any and all suggestions," Sowers said. "This is an opportunity for the board to make a change if they choose to, but nothing's been decided yet."
"I have my reservations about staffing and I've been vocal about that," O'Brien, who had hired DeLorenzo as a special projects manager when headed the chamber, said. "They may need to make adjustments about that." He said the top position may not need to be "as high-powered," but he said whoever is chosen would "need to be someone who has the stature to be able to go toe-to-toe with the leaders in our county such as city managers" and other top government executives. "We don't need just an office manager," he added.
DeLorenzo's presidency ushered a more transparent and congenial era for the member-driven business organization, which also lifted its civic profile by instituting a one-time "school" for business-minded individuals exploring a political run, and continuing its well-attended election forums. But the chamber also saw tumultuous changes as it sought to adapt to post-Recession realities that forced it to change some of its business model.
DeLorenzo had taken over an organization that had been overstretched—or "a little bit off," as then-Chamber Board Chairman Garry Lubi had put it–particularly with its expensive phone book, which ceased publication in an era of Internet-driven services, and its large staff: it had 13 employees at the time. It's down to seven, and now six, without DeLorenzo.
---
"The chamber is in the best place it's been in a long time."
---
"There were some financial problems," O'Brien said, chiuef among them "not bringing in enough money." But from looking at the monthly financial statements, "it looks like things have gotten pretty much right-sized so the chamber can live off its memberships and events" such as the annual Creekside Festival at Princess Place Preserve.
Last year the organization's debt led it to sell the 10,000 square foot building on Palm Coast's Airport Road it had owned and partly occupied for 10 years. The chamber is still there as a tenant, but it also lost one of its own lucrative tenants when county government absorbed the tourism division that had previously been contracted through the chamber, moving those offices to a county-owned building, where the county is paying a significantly higher rent to itself with sales-bed tax revenue, essentially shifting that money to its general fund. In 2013, the chamber handed off the running of the July 4 events in Flagler Beach to the city, after a quarter century of organizing it.
Membership during DeLorenzo's tenure fell slightly, from 775 to 725. It had fallen by 200 from its peak in 2008 under DeLorenzo's predecessor, Doug Baxter.
The sale of the building "got us in a good place, there's reserves in the checking account, the chamber is in the best place it's been in a long time," Sowers said.
There'd been occasional murmurs that the chamber board was dissatisfied with DeLorenzo. Sowers categorically dismissed the suggestion. "No, actually we've been very happy with everything that she's done, she's done a good job of handling the finances," Sowers said, "for what money the chamber had to spend, they spent it wisely, there's been no issue there from my part." He stressed: "She could have stayed, this was totally her decision, she's been there for 10 years, as far as chamber executives go, that's probably a long time in that world."
O'Brien said DeLorenzo had been looking for a different job opportunity for a while, and she herself made little of intimations that there'd been dissatisfaction. "I don't think it's a secret that we had some financial challenges as a result of discontinuing the phone book and planning on how to move forward with that," DeLorenzo said. She acknowledged hearing of "speculation among former members about some unhappiness about me, but none of that trickled to me, I don't know where that came from."
The chamber holds its annual installation banquet Friday at Hammock Beach Resort. For a moment DeLorenzo had thought of delaying the public announcement until after the banquet, but she was persuaded otherwise so the unspoken news wouldn't an elephant in the room at the banquet. (Milhollin will be officially the chairman, John Subers of the Florida Hospital Flagler Foundation will be the chairman-elect.) So it's been a busy and emotional week at the chamber.
"I've been here ten years, I've gone through a lot, I've seen a lot of change, we went through a devastating economic time, and everything in between," DeLorenzo said, "so it was very emotional for me, as I imagine the next couple of weeks will be."
"We will miss Rebecca greatly," Milhollin is quoted as saying in a news release issued at around 10 this morning. "She has been an outstanding leader and we can't thank her enough for all she has done, both personally and professionally. We wish her the very best in her future endeavors."
Gretchen Smith, the chamber's government affairs director who's worked with DeLorenzo for the past seven years, put it this way: "Everybody is happy for Rebecca and certainly wish her the best. This organization will continue, so we're kind of waiting to see what happens, and it's not going to be something that happens overnight but I think we have a cohesive group here and we work very well together. Obviously there's a little bit of anxiety associated with change, but this organization has been around for 55 years. I think we'll be fine."