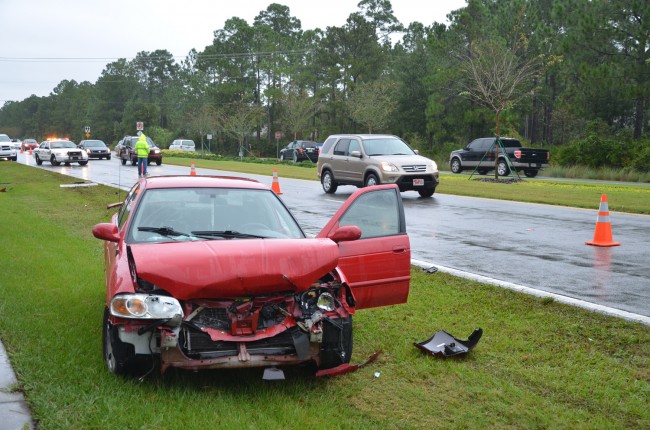 A woman was transported to Florida Hospital Flagler following a two-car wreck just before noon Saturday at Belle Terre Parkway and Ponde de Leon Drive in Palm Coast. The second driver, Christopher Maher, 18, of Palm Coast, was shaken but unhurt, though his car was severely damaged.
Witnesses told a Florida Highway Patrol investigator at the scene that the woman at the wheel of a Saturn was pulling out of Ponce de Leon, making a left turn to go south on Belle Terre, when she took the far lane instead of the inside lane. On such turns, it is illegal to take the far lane.
By doing so, the woman pulled immediately in front of Maher, who tried to apply his brakes, but there was not enough room, and the road was slick from continuous rain. The two vehicles collided, sending the Saturn into the median. The Saturn ended up facing north. Maher's Nissan Sentra ended up in the shoulder of the southbund lanes of Belle Terre. Maher had been on his way to work.
The woman, whose identity was not available at the scene, was transported to Florida Hospital Flagler.
The FHP investigator said that if the investigation concludes that the woman pulled out into the far lane as witnesses say, she will be cited.
The wreck reduced traffic in both directions to one lane, though by 12:30 p.m. traffic was flowing freely. Aside from FHP, responding to the scene were a sheriff's office COP unit, the Palm Coast Fire Police, Flagler County Fire Rescue and the Palm Coast Fire Department.
Within the same hour, another minor traffic accident snared traffic further north on Belle Terre, near Park View Drive.