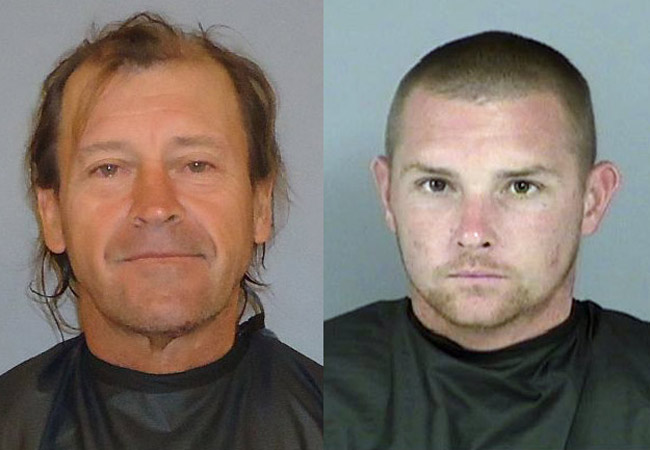 Raymond Plumley's most permanent address since 2008 has been the Flagler County jail. The 55-year-old homeless native of Cleveland was back in jail for the 13th time just last night (June 26) when he was found on a bench, passed out, drunk, at Publix on Palm Coast Parkway. When cops woke him, a startled Plumley began screaming and swinging and threatened to beat up the cops, according to an account from the sheriff's office. Deputies tried to subdue him. He "jumped forward," according to the sheriff's account, "falling to the ground, which resulted in a cut above his eye." He was taken to Florida Hospital Flagler, then booked on a disorderly intoxication charge. He sobered up and was released, "time served" (meaning he won;t serve more time for that charge. He was out only a matter of a few hours.
Plumley was back in jail today on a grand theft auto charge.
A Palm Coast city road crew was working on State Road 100 and I-95. It had left a four-door dually truck unattended nearby. At 2:30 this afternoon. The truck drove away, pulling a large trailer.
Plumley was at the wheel.
He didn't go very far. He drove west on 100, then north on Belle Terre Parkway. He pulled into the parking lot at Buddy Taylor Middle School. School's out, for the summer, of course, but the lot isn't empty. Plumley struck a vehicle there, and fled the scene. Cops were informed of the truck's whereabouts, and of Plumley fleeing. They set chase with a K-9 unit, and nabbed Plumley at Palmer Lane and Palm Lane, north of Belle Terre Park and Parkview Drive.
In mid-April, Plumley was in jail on a trespassing charge. Last November he faced a shoplifting charge. Thirteen and 14 months ago, it was a pair of disorderly intoxication charges. And on it goes: five more similar charges going back to 2009, when he also faced a burglary charge, and–the previous year–a battery charge on a paramedic, again at a time when he was drunk. In November 2008, he got a DUI.
Plumley is poor, homeless and jobless, and his teeth are missing. He has issues, but there is no social system in place to care for him, except when his behavior goes critical. The last 48 hours were just such a time. There will likely be more.
Plumley may not be in full charge of his capacities. It's a somewhat–but not entirely–different case with Christopher Emplit, a 30-year-old resident of 68 Woodworth Drive in Palm Coast who'd never been in jail before in Falgler County.
But in April, his 80-year-old grandmother reported that some of her jewelry had been stolen from her home in Palm Coast. She told detectives that when she'd go to visit her grandaughter, Emlit would go to her house on Woodlawn Drive, a couple of streets from Emplit's Woodworth address, and allegedly steal checks and credit cards. Detectives suspect Emplit also stole the jewelry.
On Tuesday, Emplit was arrested and jailed on charges of grand theft and organized fraud of less than $20,000.
Sheriff's Detective Ronn Rauber said Emlit confessed to the thefts when questioned by his grandmother, according to a sheriff's release. Family members believe he was getting money for alcohol and prescription pills.
"The prescription pill epidemic is demoralizing and destroying families, not just here in Flagler County, but all over the country," Flagler County Sheriff Don Fleming is quoted as saying in the release. Fleming dealt with the "epidemic" personally when his own son was arrested for illegal possession of prescription pills. William Fleming was sent to a rehabilitation facility. "Anytime we make an arrest such as this it is beneficial to the community and the individual. Perhaps he can now get help with his addictions," Fleming said, referring to Emplit.
Rehab facilities are notoriously expensive, and most insurance plans, when individuals are covered by insurance, don't cover those costs. As with Plumley, Emplit is mostly on his own.