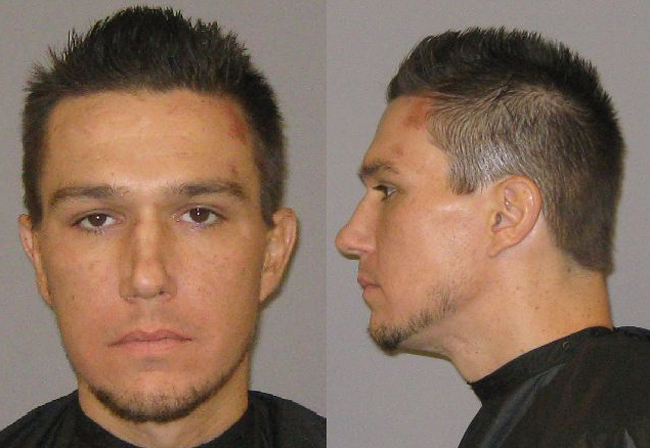 Flagler County Sheriff Don Fleming has been on a personal campaign against pill mills, appearing before local government boards to lobby for ordinances that would impose a moratorium on new pain clinics until state law regulates their proliferation better.
On Thursday evening, Fleming's 34-year-old son William was arrested and booked into the Flagler County jail for possession of Xanax, a controlled substance, without a prescription.
"This is an issue that my family is dealing with, much like other families around the country. I will continue my pilgrimage to stop the proliferation of pill mills in Flagler County and across the state. As unfortunate as this incident is, his arrest may save his life," Fleming said in a statement released through his office just after noon today (Dec. 10), announcing the arrest.
The sheriff's office treated the arrest almost as any other: William Fleming was arrested by Sheriff's deputies Roster and Civil, he was booked at 6:25 p.m. Thursday, according to the jail log, and Debra Johnson, the sheriff's public information officer, distributed the sheriff's release at midday. Two related narratives of the arrest, however, which FlaglerLive obtained after 3:30 p.m., were heavily redacted. Among the information redacted was the name of the 27-year-old female passenger who was traveling with Fleming when he was pulled over. The woman is on probation for grand theft. Case reports don't usually blank out the names of adults involved in someone else's arrest. Johnson explained that the woman is a suspect, so wouldn't be identified until charged and arrested because an investigation is ongoing.
Fleming, who was living with his father in Palm Coast and is listed in his jail booking as being self-employed, was arrested following a 4 p.m. traffic stop on Palm Harbor Parkway and Colorado Drive in Palm Coast.
According to narratives of the arrest filed by two deputies, Fleming was driving a Toyota Camry that he'd rented because his own vehicle was in the shop. Fleming had originally been parked by the side of a road in front of a home, which the reports don't identify, until a woman exited the home and entered his car. Both narratives' first four lines are redacted, so it's unclear why Fleming was under surveillance to start with–why deputies were observing his parked car in front of that home, or why they followed him once he started driving. He was pulled over because he was "having trouble maintaining his lane of travel," according to one report.
When Fleming noticed police lights behind him, according to the report, the woman he was traveling with said he handed her a Marlboro cigarette pack containing Xanax pills and "told her he would bail her out if she was arrested." The second deputy's report put it slightly differently: "The passenger told me that the driver handed her a Marlboro cigarette pack that had some pills in it and that if she gets in trouble he would get it taken care of. The passenger said that she does not want the driver to get in trouble but she wants him to get help."
Initially, according to the first report, Fleming denied knowing anything about pills "and does not have a narcotics problem." The deputy then walked away from Fleming. Fleming called him back. At that point, Fleming was read his Miranda rights. The case report is redacted again, making the sequence of events unclear. The woman he was traveling with was released at the scene.
Both reports list the same evidence seized: three Cyclobenzapine pills, one 2 mg Xanax pill in a small clear plastic bag, 3.5 2 mg Xanax pills located at the bottom of an empty Marlboro box, and one package of rolling papers and one cut straw. Both case reports, in an apparent mistake, list the passenger as a 27-year-old male, although there is no mention of a male in the case narratives.
Fleming was held on $1,000 bond at the jail, on one count of possessing a controlled substance without prescription, a felony.
"Neither the Sheriff nor the agency will have further comment on this pending legal matter," the sheriff's news release stated.