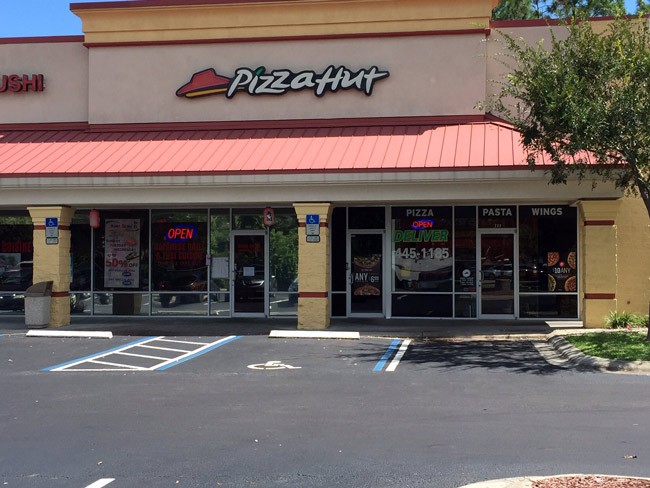 The Flagler County Sheriff's Office is investigating an armed robbery late Saturday nightat the Pizza Hut on Palm Coast Parkway and Belle Terre Parkway, near Publix.
The sheriff's office received a call to respond to a panic alarm at the Pizza Hut at 10:52 p.m., the sheriff's office said in a release. While responding to the scene, deputies were informed by store employees that they had been robbed, allegedly by three black men who entered the business with their faces covered and armed with handguns.
The suspects demanded money from the employees. After obtaining an undetermined amount of cash, the suspects corralled the employees into an unlocked cooler and fled the area in an unknown direction. It is unclear if they did so on foot or in a vehicle. No one was physically injured. The business was not open to the public at the time of the robbery.
Less than a month ago–the night of Aug. 24–the parking lot adjacent to Pizza Hut was the scene of a double stabbing, as two men who'd gotten into an argument elsewhere brought their dispute to the parking lot and each ended up with stab wounds. Larkland Harris Jr., a Palm Coast resident with a long history of violence and imprisonment in state prison, was charged with the stabbing. He has been at the Flagler County jail since Sept. 2 on no bond.
Deputies are asking anyone with information about the Saturday night robbery to contact the Flagler County Sheriff's Office Investigative Services Division at 386-586-4801. Callers can remain anonymous by calling Crime Stoppers at 1-888-277-8477 (TIPS) and be eligible for a reward of up to $1,000. Additional information will be provided as the investigation continues.
The