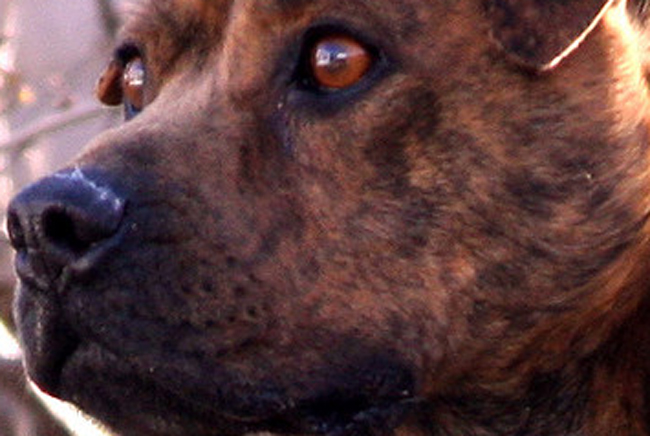 A pit bull mix is blamed in an attack on a 1-year-old Bunnell girl who ended up with deep bite punctures and gashes on her face Thursday as she played in her front yard Thursday.
The incident took place in Western Flagler County, on Lancewood Street in the Mondex, also known as Daytona North, in early evening. The girl had been playing in her grandmother's front yard, under her grandmother's supervision.
Robin Hartsfield, the girl's 44-year-old grandmother, witnessed the incident. She told a Flagler County Sheriff's deputy that a dark brown pit bull mix weighing about 60 lbs. walked on
to her property on Lancewood Street. The pit bull at first appeared to be friendly, harmless. The grandmother petted the dog.
Suddenly, it attacked the girl on her face, then ran off.
Deputies observed that the girl "had sustained a puncture and laceration approximately 1" long on the right side of her nose near her eye, multiple punctures to the right side and top of her head and punctures on her right cheek. Deputy Gomez applied pressure to the wound on her nose/eye area and was able to stop the bleeding."
The deputies had met the girl's mother, 21-year-old Leah Ternet, and Hartsfield at the Country Store on County Road 305, where they had taken the girl so they could use the store's phone to call for help. Both women told deputies that they had not seen this dog before and that they did not know where the dog had come from or ran off to, according to an incident report.
Flagler County Fire Rescue 51 arrived on scene and transported the girl and her mother to Florida Hospital Flagler for treatment. Animal control was notified, responded and issued a Be-On-The-Lookout for the dog in the area. Several deputies canvassed the area for the dog, but could not locate it.
"We came into contact with several citizens in the neighborhood surrounding 1134 Lancewood St. and they advised that they had not seen the dog in question," a deputy reported. "Animal control advised that they would return in the morning to set traps to attempt to capture the dog."
There have been several violent dog attacks, disproportionately involving pit bulls, in the area in the past two years. A Mondex woman reported being attacked by five pit bulls in May 2013. A pit bull attacked two children in a van, twice, as they waited for their mother at Second Chance Rescue in Bunnell last March. And in April, a pit bull that bhad been flagged for attacking and killing three dogs a week earlier attacked a cop in April in Ormond Beach.
Each attack triggers a debate about the nature of pit bulls, their distinctions, if any, from other dog breeds, and their owners' responsibilities in raising well-tempered–or violent–dogs.