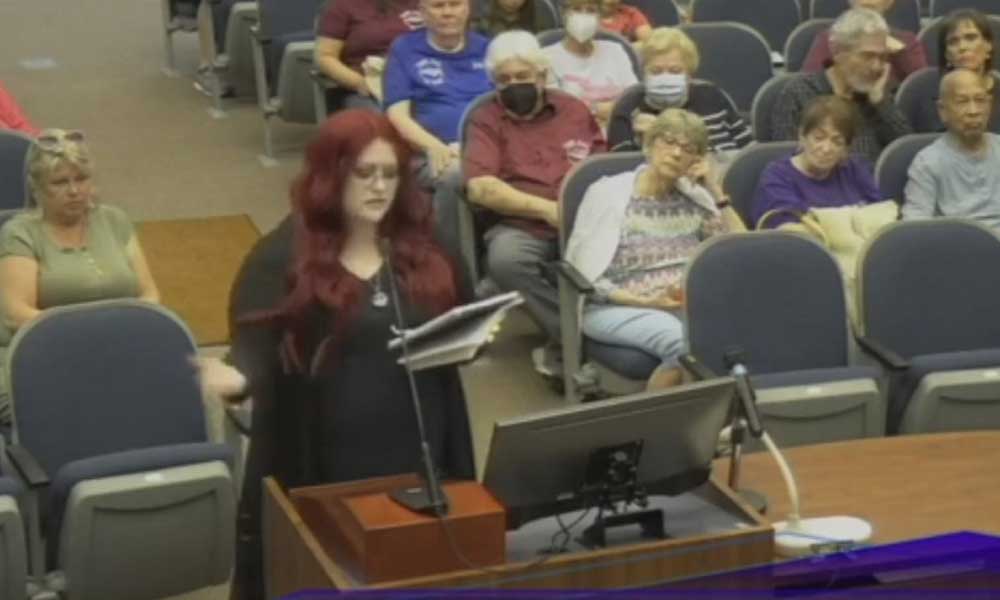 More than city or county government meetings, school board meetings in recent years across the country have become the free-wheeling town squares of old, with limited controls. Members of the public or elected officials grandstand on social and political issues, at times with only vague connections to education or vaguer connections to evidence or truth.




Since 2019, when a self-described pastor made false statements about transitioning and openly insulted a transgender student who was in the room, Flagler County School Board meetings have similarly been the stage for fabrications, falsehoods, mischaracterizations and fallacies, from school board members speaking from the dais or from members of the public during open comment segments–on Covid, on vaccines, on the Black Lives Matter movement, on LGBTQ issues, on book bans.
For all that, a comment during last Tuesday's board meeting was a first in Flagler, and appears to be a first at any school board meeting in Florida or elsewhere in the country: a parent who was pressing for book bans justified Hitler's book-burning in the Nazi Germany of the 1930s, as if to suggest that the same could be done harmlessly here.
"As far as books that Hitler banned," Alison Lauderdale, parent of a child in the district said, "most of the books were actually pamphlets written by a child psychologist whose body of work contained positive views of pedophilia, and his own records of him and his assistant sexually abusing children. You won't hear about that part in public school, though. You have to go and find that yourself."
Lauderdale did not say where the information could be found.




It does not exist, at least not in documented, creditable form, because the statement is patently false. She was not corrected at any point, though school board members on occasion have devoted parts of their closing comments to correct the record, especially when the board's chamber is abused to peddle egregious, insulting or outright false statements.
The statement was also a reflection of the continuing trend at public meetings of individuals using the legitimizing power of a public dais or podium to make unaccountable, demonstrably false statements, at times with direct relevance–or influence–on public policy affecting students or constituents. The elected or members of the public are aware that that in the moment, the statements are likely neither to be called out nor verified later, even when those leading the meeting could correct the record or denounce an obviously inflammatory claim or outrageous justification. The grandstanding is its own reward. Tuesday was another example.
Substantial scholarship has been written on Hitler's book-burning, which began with the notorious mass burning of books on May 10, 1933 in German universities across the country after propaganda minister Joseph Goebbels's creation of the "Reichsministerium fur Volksaufklarung," or the Reich's Propaganda Ministry. Noting in a journal article that "research into the book-burning has been carried out with typical German thoroughness," the historian J.M. Ritchie underscored that the movement relied on the enthusiastic involvement of university students and librarians supportive of the Nazi Party.
Some 25,000 books were burned that day alone, targeting Jewish and liberal writers and those considered "un-German," like Thomas Mann ("The Magic Mountain"), Erich Maria Remarque ("All Quiet on the Western Front"), Bertolt Brecht and Einstein among them. It was the beginning of a long reign of censorship and intellectual repression of all things considered not purely German.




Ongoing book bans, which doubled in 2022 over 2021, to a new record, according to the American Library Association, with the vast majority of targeted titles "written by or about members of the LGBTQIA+ community and people of color." Like Jews, minorities and homosexuals, along with their books, were particularly targeted throughout the Third Reich's 12-year reign of terror.
Ritchie also noted that the book-burning wasn't an invention of Nazi Germany: Nazi speeches in May 1933 celebrated the book-burnings carried out by the friends of Martin Luther, founder of the Protestant Reformation, with numerous subsequent book-burnings by church authorities once Gutenberg's press proliferated.
Lauderdale, who described herself as a published author, was addressing the school board in the context of its decision to ban or not ban Sold, the Patricia McCormick novel written from the perspective of a 13-year-old Nepalese girl trafficked into sexual slavery in India.
The meeting by then had included its share of mis-characterizations from the dais, as when Will Furry, a school board member, described the book as containing "explicit" sexual language. It does not contain so much as the word "sex," except in the author's note, contains no profanity, no words associated with the sexual act aside from two metaphorical passages.
While Furry accurately said that the book "deals with child rape," his claim that it included instances of "torturing of minor children and their genitalia" could only be a gross distortion of the more allusive line that reads, "He grunts and struggles, trying to fit himself inside me. With a sudden thrust I am torn in two," but that hardly aligns with Furry's more graphic description.




Furry was in dissent when the board voted 3-2 to support the superintendent's recommendation and retain Sold on high school library shelves.
Lauderdale spoke before the vote and near the end of the meeting, after the vote, adding another inaccuracy: "So as far as security, keeping kids safe, you need to focus on internet security, if you're worried about trafficking, because the reason kids can see worse than it is in these books, is because the internet in the schools is basically open." The school's network is strictly controlled and at times overly restrictive, including barring access to social media sites. Students' capabilities to access sites on their own phones' networks are out of the district's controls.
Lauderdale did not go so far as to ask for book burnings, but suggested that rather than allow for book challenges, "why don't we have a committee that has to justify why a sexually explicit book should be allowed in the first place? With no children admitted, so that the books can be read aloud?"
In fact, the committees set up by the district, both at the school level and the district level, are devoting gargantuan amounts of time and energy doing exactly that: reading the books under challenge, reviewing them, and justifying what they should or should not be retained, though their decision has twice been overridden by the superintendent, as it was again on Thursday, undermining the purpose and legitimacy of those committees.