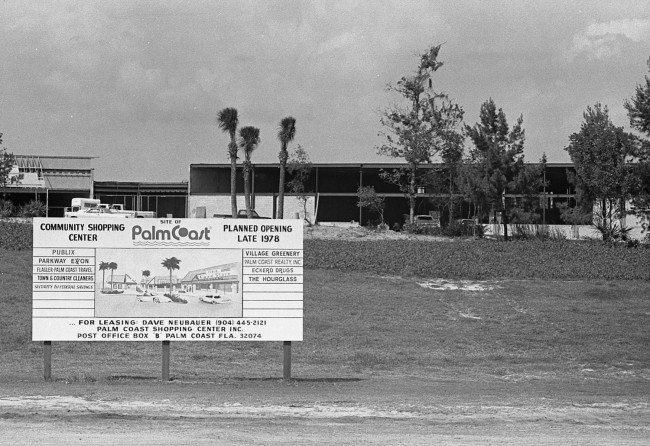 The Palm Harbor shopping center was once the heart of Palm Coast, long before Palm Coast was a town. It was its downtown, its post office, its library, its grocery store, and for a long time, its only commercial space. But it's been dying for several years as tenants and shoppers have drained away, in part because the city's center of gravity has shifted: Palm Harbor is no longer its heart. It's merely a limb, but still a defining one: the city has been eager to see it revived to avoid seeing the vast area turn into a dead zone.
Revitalizing the shopping center as Island Walk is what Michael Collard Development, the Winter Park-based developer, is proposing to do.  And based on the response from residents, business owners and the local chamber of commerce—not to mention a unanimous vote by the Palm Coast City Council approving a zoning change—the project has broad support despite a few unanswered questions, among them the likelihood that the shopping center will have enough tenants to fill the new space.
"This is a very exciting project as far as I'm concerned," City Manager Jim Landon said. "It's very consistent with our economic and development plan, Prosperity 2021. In that plan we really stress the importance of maintaining our existing neighborhoods and our existing commercial districts, and this is a great examples of one of the priorities of city council, where instead of just focusing on new development, trying to make sure our existing areas, our existing commercial areas also maintain a high quality."
Landon called it one of the most important projects of the past seven years. The reason: when strip malls start declining, halting the decline becomes difficult. Palm Harbor's decline has been steep and painful on its remaining tenants and neighboring residents. Collard's project promises to reverse the trend. It's not exactly a revolutionary change, at least not in the government's books: "All the development that is here was anticipated early in the 90s, to impact the community, including the traffic," Michael Chiumento, the developer's attorney, told the city council when the matter was discussed last week.
The rezoning of the 28.7-acre site was the first step. It'll be followed by a site plan, then development and building permits.
The shopping center was built in the 1970s and was the site of the ITT development's post office and a library. As Island Walk, it will grow by some 50,000 square feet of commercial space, to 234,000 square feet. Parking spaces would be increased from 952 to 1,236. Most of those spaces will be located where the central, squarish structure in the shopping center is located now—the one that had the old liquor store, the defunct Japanese restaurant, the current Chinese restaurant, PC Bike, Thai by Thai, the nail shop, and so on. That structure will be demolished.
---
Enthusiasm for a reinvented shopping center mixes with traffic concerns
---
Not to worry: the tenants who want to relocate will be moved to a newly constructed area on the property before theirs is torn down. By September 2015, Publix will have made its own move from the existing structure to the new structure, the equivalent of one box store to its west. The new Publix will be 20 percent (or 9,000 square feet) larger than the existing store, making it one of their larger ones.
Palm Coast Mayor Jon Netts was concerned about the phasing of the project and the risk of turning the area into a "wasteland," if the development were to half part of the way through. Chiumento said that will not happen.
The mayor asked a question especially pertinent to the current economic landscape, which suffers from a glut of commercial space, not a dearth of it. "You're adding additional retail space," Netts asked Chiuemnto. "Does the developer believe that we're going to get new customers or we're simply going to steal customers from existing businesses? In other words, if you put another pizza parlor in, there's only so many pies sold in Palm Coast per day."
"Law firms also," Chiuemento said.
"But do you anticipate something new, something different?" Netts continued.
"We are currently in discussion with multiple tenants that you see at other plazas in the region," Chiumento said, without citing actual businesses. "So it is intended that many of those that will fill out the new parts of this will be national tenants and will not only be another bike shop, another pizza parlor. Will there be some redundancy? I'm sure there'll be some. Maybe a new pizza parlor. I know, the existing pizza parlor there wants to stay in that plaza. That's what we're trying to accommodate. But as it looks right now we will have a significant amount of new national tenants that want to be in Palm Coast to the point that I was actually shocked, and Mr. Collard is excited about."
Concern about the removal of trees from the property drew a lawsuit from Dennis McDonald, a frequent critic of the city. The lawsuit has since been dismissed. But the development takes pains to ensure that tree-preservation is part of the plan, with specific trees cited for preservation and the requirement that a certified arborist be on site to supervise all root-pruning activities required in the so-called Tree Protection Zone. The city arborist must also be contacted during construction. That doesn't mean that there won't be some loss of trees, especially in the area of the shopping center closest to Palm Coast Parkway and Florida Park Drive. There, the developer must make a good-faith effort to preserve trees. "There are some trees that will come down that just don't fit," Chiumento said, but he told the council that the tree-preservation plan the project is committed to "exceeds the city standards by a few percentage points."
The character of the site will be defined in part by its architecture, which will change. It will reflect what developers call the "Florida Vernacular" style, a modest, pastel-colored style that vaguely evokes a retro look of pragmatism aerated by low-slung colonnades and gables.
The amount of space that would not drain the property—in other words, asphalt and concrete instead of soil and grass—would rise to 76 percent, from 61 percent. That's a considerable increase that could potentially affect drainage issues and provoke more runoff in adjacent areas. But there's a caveat: the numbers are averages for the entire property.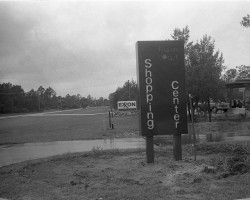 The traffic study shows no adverse impacts. The entrance will remain the same, but the circulation patterns should make driving around the shopping center easier, because of the elimination of the central structure. Some setbacks are being reduced, some not.
No fewer than 15 people addressed the council on the project last week, most of them strongly favoring the project as a key to re-vitalizing the area—and ending what has become a blight on the neighborhood one resident—Mark Langello—called a "gateway to Florida Park Drive."
Greg Johnston, a resident who owns several parcels around the Palm Harbor shopping center, said the place was built when just 5,000 people lived in town. "It's very outdated," Johnston said. "It's not for a 90,000-people city, so it has to go. It's obsolete. I'm all in favor of this project." He described that area of the city "as depressed as it's ever been" in four decades, "so we need to hasten this up." His suggestion was to focus on resolving traffic issues.
Several people, however, criticized the project's still hazy plans to ensure against traffic issues. "You'd better do a better job than a half-assed plat plan that really you can't really make in your own mind, the average citizen, what this is going to do to them," one resident said. "So please, before you make a decision, have the developers give us a model with all the surrounding accesses to it."
There was also concern about adding commercial space in a town already suffering from empty storefronts.
Shortly before the vote approving the zoning change, Palm Coast City Council member Bill McGuire warned: "I'm not going to vote for a site plan that crams something down our throats that we just can't live with relative to traffic, we've got to find a solution." But the project looked well on its way to full approval.