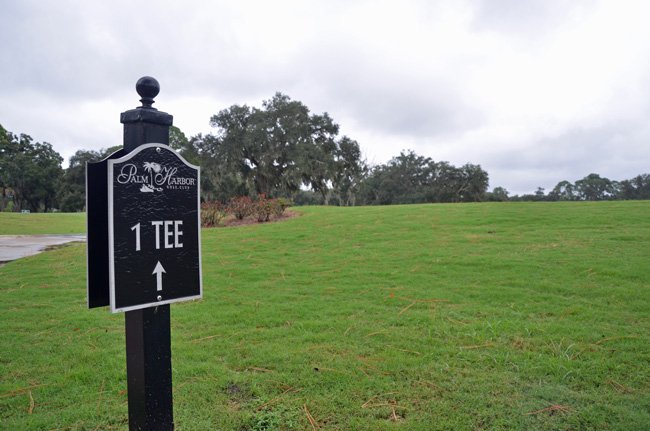 When Kemper Sports Management took over the Palm Harbor Golf Club on behalf of Palm Coast's city government to run it as a city club, Kemper pledged to make the venture profitable. That has never happened. The golf club has lost roughly $100,000 every year, though Kemper hasn't: the city subsidized the operation with tax dollars from the general fund. Through May, the golf club is just over $90,000 in deficit. The city is projecting a deficit of $225,000 this year. Last year's deficit was $130,000.
The contract with Kemper expires Nov. 6. The city is looking to replace the management company, if not rethink the way it operates the golf club and the city's tennis center, which has also run annual deficits under Kemper management. Five companies, including Kemper, submitted proposals to win the contract. Three made the short list: Kemper, based in Northbrook, Ill., Billy Casper Golf of Vienna, Va., and Chicago, and Down to Earth Golf of Tangerine, Fla.
A city administration team analyzed the proposals and recommended Billy Casper to the city council on Tuesday as several dozen golfers and fans of Kemper Sports jammed the small council conference room at City Marketplace (and spilled out into an adjoining room). Those fans don't want to see the management company replaced.
And council members themselves were skeptical.
"Basically," council member Bill McGuire said, "it's the same presentation that Kemper made. I'm still looking for what makes Billy Casper better than Kemper." He did not hear the sort of specifics that answered his concerns.
"The real difference between the companies," Luanne Santangelo, the city's parks and recreation director, said, "was really based on the information they provided and our goal of continuing to have our Palm Harbor Golf Club be sustained for our future. And what we felt Billy Casper provided to us was an opportunity to reach that goal at some time in the future."
But that had also been the reason Kemper was chosen five years ago, while golf participation has continued to decline nationally—a decline Casper acknowledges and told the city in its presentation that it wasn't making promises of overnight success.
"So Luanne, would it be fair to say the decision was more of a subjective one than a statistical one?" McGuire asked.
"Yeah, it was based on the information they provided, what they proposed as far as programs, operations, marketing," Santangelo said. "We did not necessarily look at the financial budgets and things, knowing that that is something that we'll look at coming up, as we negotiate a contract."
Billy Casper manages some 140 golf courses in 28 states, roughly half of those being municipal courses, and nine of them in Florida, including the St. Johns Golf and Country Club in St. Augustine.
But McGuire was focusing less on the gloss of each company's submissions than on its potential to end the city's handouts: he was asking questions from the perspective of a taxpayer rather than from that of an avid golfer, though the city's presentation was focused more on what Casper would do for its golfers than for the city's bottom line. When he asked how many contracts Billy Casper "has been excused from," Santangelo did not have the answer.
"What is Billy Casper  going to do that Kemper doesn't already do?" McGuire asked.
"It wasn't so much what one does over the other," Santangelo said, "it was what they were proposing to implement at our facility, and that was really a variety of pricing and benefit options," such as for player development.
"We've had Kemper for five years, and we've made it very clear to them that our goal was to move this program to as much a break-even as possible," Mayor Jon Netts said. "They had presented us with a five-year plan. They have not met that. If you go with Casper, I am assuming we're going to lay out the same objective, to move this thing to a break even. Do they start at ground zero?"
They do, Santangelo said, with Casper expecting to increase the number of rounds played, and the number of players using the course, though Kemper has made similar efforts without much success.
Netts wasn't convinced. "I can promise you the sun, the moon and the stars, but if I don't deliver, oh  well, I'm sorry," he said, suggesting incentives to encourage better production.
McGuire was interested in building an "escape clause" in the contract.
Netts noted that numerous current users have sent dozens of emails to council members telling them they like the company they have now, along with its services and amenities. Netts was worried about existing staff getting laid off should Casper win the contract. And he pointed out that the level of satisfaction from golfers, anyway, is high. "Everybody has been pretty much universally positive about their golfing experience," he said. "So my sense is that we're not going to improve profitability by trying to squeeze more rounds of play out of our existing players. They're already happy. They're already enjoying their experience. They already like the restaurant, etc. It seems to me, the issue is how do we increase the rounds of play, and that means attracting new people. I'm not sure I see that addressed either by Kemper or by Casper."
"I think we'd have the opportunity to work with Casper because that is a priority," Santangelo said, citing the United States Tennis Association's—and the city tennis courts'– revitalizing youth involvement by implementing some changes in how young players are taught. "Golf hasn't gotten to there yet," Santangelo said, "and even though we in recreation have said you need to have more of a recreation perspective and provide programs that will bring in new players, because yah, you're right, the current people who are golfing are going to continue to golf as long as their health and finances allow them to do. What we need to do is grow the game from youth and on up."
Netts later pressed the point. "It would be disastrous to change management companies and have the quality of the course go down. That's no way to improve your bottom line. The only reason in my mind for changing is a) the possibility of increasing rounds of play, which means increasing profitability, but with the assurance that the quality of the experience doesn't go down." Reducing reliance on tax dollars should be a priority, he said. But foremost on his mind, Netts said, is "the quality of the experience."
If Casper gets the contract, McGuire said he'll want to see the manager's resume as he doesn't want the city to be a training ground for Casper's staff.
Dave Ferguson, the outgoing council member, had one question: how much of the examination of the applicants was based on reducing the city's subsidies. Chris Quinn, the city's finance director, said it was a concern "at the back of our minds," while the search committee focused on programs that would eventually decrease reliance on subsidies. Still, Quinn said, "there are no guarantees."
The city is also hoping to change management at the tennis center, replacing Kemper. But the only company to bid for that change was—Kemper. The city is considering asking for bids again.
Bill Lewis, missing his fifth meeting in a row because of illness, was not part of the discussion. (At the Flagler County School Board, when board members are ill, they participate by phone.)