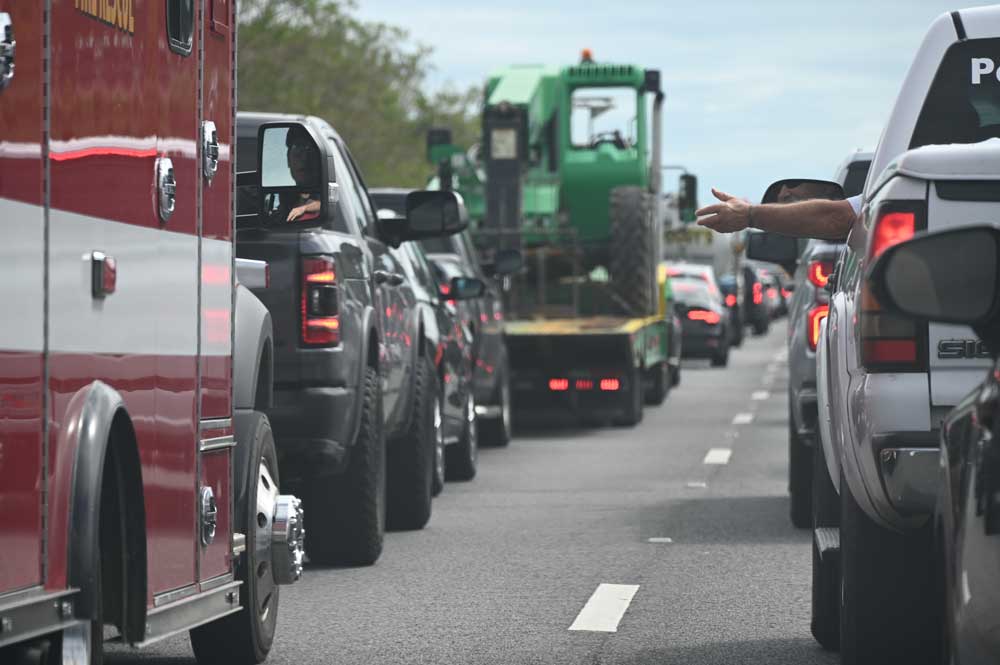 For years, Palm Coast residents in surveys about the local quality of life have been giving some of their lowest marks to traffic flow in the city.
In 2005 it hit bottom, with 89 percent of respondents rating traffic poorly. It improved after the Great Recession, but by 2017 it was falling again, and last year 66 percent of respondents were complaining. By way of comparison, 94 percent of respondents felt safe in their neighborhood, 92 percent loved their fire services and 79 percent gave high marks for the quality of the city's natural environment.
The Palm Coast City Council has been well aware of its traffic problem for years–a problem created in large part by ITT, whose polyester-suited salesmen outnumbered city planners by roughly the same ratio of vehicles-to-homes on Florida Park Drive or Cimmaron Drive, two of the city's perennial circuits of hell. The city administration has been saddled with the consequences since and has attempted to improve matters with wider arterial roads, better-lit parkways, smarter traffic light sequences.
Still, as the city has kept growing, the city council almost every year, at times several times a year, has grappled with traffic complaints and debated them openly, asking its traffic engineers for relief. The council discussion that took place at Tuesday's workshop was the latest edition of the same debate. It may have seemed fresh to council members, only one of whom has been on the panel for more than a term. But residents have been stuck in this traffic debate for years, with variations, and often with results.




At times it's lack of lights, especially on roads that were the scenes of night traffic crashes that took the lives of teens on foot or on bicycles, as on Lakeview Drive and Seminole Woods Boulevard: the city since 2018 undertook an aggressive program to light its principal roadways and to light residential intersections, starting with those that serve as bus school stops. Beyond that, the city has been systematically installing lights at intersections, and speeding that up when residents file requests at unlit ones.
At times it's been lack of sidewalks. The city has vastly improved that gap along main arteries (the city has 103 miles of arterial, or collector, roads, and 439 miles of residential streets). Complaints about absent sidewalks on residential streets linger. The city recently hired a consultant to determine some solutions to neighborhoods without sidewalks. The consultant's conclusion was that retrofitting neighborhoods with sidewalks would be prohibitively expensive and difficult, as it would require easements from every property, construction on every property, and a proportionate reduction in properties' front yards.
And always, residents have complained about traffic–speed, congestion, noise–and continue to do so. The city gets about 10 to 15 traffic complaints a month. That's chiefly what Michael Grunewald, the city's traffic engineer, was tasked with discussing on Tuesday by way of an update to the rookie-rich council.
But as in previous years, there was no magic answer.




When residents complain of speeders at any specific location for example, traffic safety technicians will investigate by recording for seven days the speed and the number of vehicles that pass by the censor they install at that location.
Grunewald illustrated the method with a graph that took a bit of deciphering to understand. As anyone in the audience might have, Mayor David Alfin had a hard time getting a straight answer about the graph, which was based on results from Cimmaron Drive. "I need to understand the magnitude of the speeding issue in particular," the mayor said. The graph showed there was a problem, with the average speed of drivers on the road exceeding the speed limit.
But quantifying that problem was a bit of a challenge, absent the data behind the graph–data the city could easily publicize on its website. For now, the recipients of the data are limited.
"If there's a pattern where there's a group of speeding vehicles during a certain timeframe, we will point that out when we send it to the Flagler County Sheriff's Office and then they can use that data for their own enforcement purposes," Grunewald said. "We also do follow up by informing the resident of the outcome of that study."
The city has installed live speed displays to let drivers know how their speed differs from the posted speed limit. But experience shows that the devices are effective at first, but lose effectiveness over time, as they "become part of the landscape," Grunewald said. Moving them around can make them a bit more effective.




Council member Ed Danko, who underscored the speeding issue, is looking for an awareness campaign, "maybe a driving safety month to some degree where we really make a heavy push on getting people to pay a little more attention behind the wheel, and maybe we combine that with a little bit more traffic enforcement by our Sheriff's Department," he said.
As for traffic calming devices, the city has a few of the build-in kind, such as landscaped medians in residential areas, or the way driveways loop back within the same neighborhood, warding off drivers who'd use the roads as thru-ways. The bends in many residential driveways are also intentional. Curves serve as calming measures.
It has many fewer speed bumps or humps like those used in some cities, and in Palm Coast's Town center. But for them to be effective, there'd have to be bumps or humps every 300 feet, Grunewald said. "The most loud voice often against putting in such devices is the emergency response team in your community, because emergency response vehicles are large, and they take much more impact from these speed humps, speed tables, than a standard vehicle does," Grunewald said. And it slows down their response considerably.
For other drivers, the devices could, according to the city, have unintended consequences, like increasing noise level and pollution–as Council member Nick Klufas noted–as cars rev up again and again, and adding wear on vehicles. That conclusion is based on a study the city examined (not its own), not on local residents' opinions.
"The majority of the data that is out there is from the people who are trying to sell you these products and you have to wonder whether that's correct or not," Grunewald, said. So he relied on a third-party study by the Iowa Department of Transportation, which wasn't in it for the money.
But the conclusion is also based on local public safety officials' dislike of the things. "Everything that calms traffic calms a fire truck and calms a police car, and an ambulance and fire trucks and ambulances are bi," Palm Coast Fire Chief Kyle Berryhill said. "So we have to take longer time to slow down as we approach these types of devices. And then it takes us longer to accelerate. They're not necessarily designed to come off a line like some people's vehicles are." So to make up time lost bumping over calming devices, fire trucks accelerate more, revving up noise (and wear).




Berryhill favors tying traffic safety alterations to places where there is a pronounced difference in crashes and injuries. "We're kind of trying to let that be a guide as to what our great next step is," the chief said, "but absolutely, anything that calms traffic increases our response time."
Grunewald's presentation was more illustrative than remedial, leaving the impression that matters would end there. Council members don't want that to be the case.
"I don't want our residents to be discouraged, because from the presentation, it seems like oh, we're kind of doing everything that we can, there's not really too much more that we can do," Council member Theresa Pontieri, one of the newest but more engaged members on the panel, said. But in fact, Pontieri said, "I do just want to note that we are still looking at options to make some of our residential streets that have become a concern, like Cimmaron, safer, and still exploring some of these options. So this doesn't mean that the door has been shut on that. But this is, in my mind, kind of a report as to where we are right now."
"The doors never shut," Grunewald said. "It's a matter of finding a solution that fits, but at the same time, not an overreaction to a moment."
The door analogy picked up almost as much speed as the speedsters of Cimmaron. "As City Council, the doorknob is in our hand," Alfin said. "So it would be up to this city council to provide direction on ways to make those roads more tolerable for the residents. So I agree, but for sure, this is not the end of the discussion by any means. And that would be under our control to continue to follow up."

traffic-safety

Reader Interactions