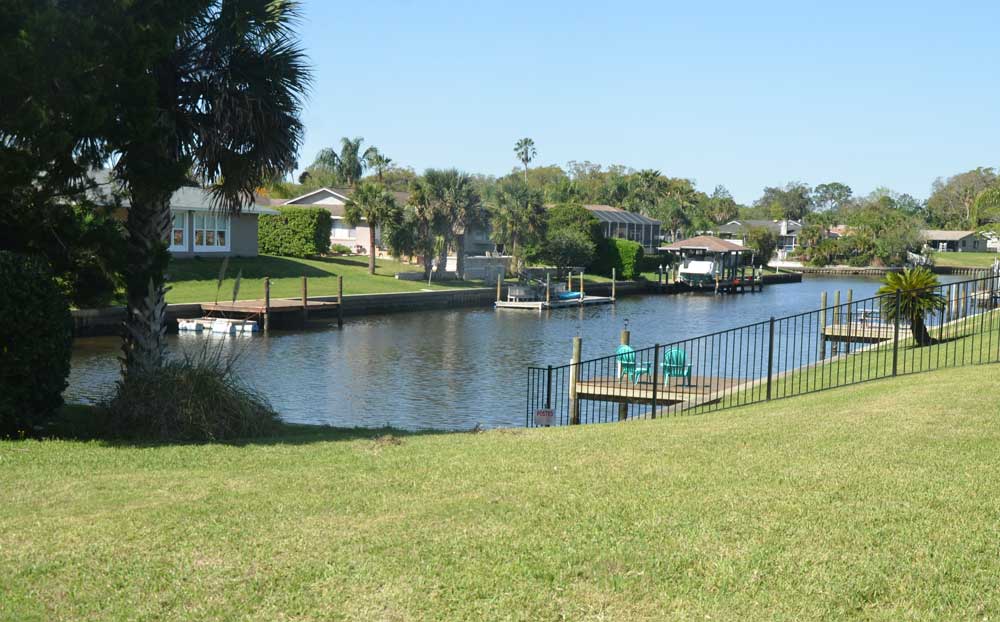 Palm Coast has never dredged its 26 miles of saltwater canals. Last year the city council agreed that it's now a necessity: the canals are getting silted up, hampering boating.
It'll be one of the more massive public works projects in the city's history. It's going to be expensive–likely in the tens of millions of dollars–and burdensome on city revenue. There is no revenue source, like the city's stormwater fund, which handles 46 miles of freshwater canals.
Those two questions (how much it'll cost and who will pay) remain unanswered. But last year the city selected Jacksonville-based Taylor Engineering to quarterback what's ahead: define the scope of the work that needs to be done. Only then can a more solid cost of dredging be determined.
That initial assessment alone will cost the city $176,000 and will not be completed until early summer. (A similar assessment was done in 2005.) The Palm Coast City Council at a workshop this morning gave its nodding approval to move to that phase.
"I'm glad to see you guys here," Council member Ed Danko told Taylor's Ken Craig, a company vice president, and a project manager who appeared before the council. Danko spearheaded the effort to focus the city's priorities on dredging. "I started pushing for this over a year and a half ago. And I'm looking forward to see what you come up with. I know the mayor would like to get an aircraft carrier down on one of our canals, but I don't think that's going to happen."




Danko's joking reference was to Mayor David Alfin's newfound affection for the USS Gerald Ford, a newish aircraft carrier that took a decade to build and has a draft of 39 feet that Alfin roped into becoming Palm Coast's sister city last year, fancying along the way that it could some day pay the Intracoastal a visit.
The company will conduct a cursory evaluation of 52miles of sea walls–analyzing if and where sections of sea wall are missing, were removed or should have been installed. But its scope of work specifies that the evaluation will be strictly "visual," which pre-empts a more thorough analysis of the sea walls' condition. It does not guarantee that it will look behind moored vessels. And it will conduct the assessment only on portions of seawall above the high waterline.
Taylor will also sample the material to be dredged, without coring, collecting up to six samples–but not for regulatory compliance. "This is important because," Don Schrager, deputy director of stormwater and engineering, told the city council this morning, "what we dig out of there determines how we stockpile it, where we dispose of it, or if even if we can repurpose it," that is, recycle it elsewhere. When the canals were dug out by ITT Levitt in the 1960s and 1970s, the fill was used to elevate the quarter-acre lots built around them.
The consultant will also issue options on whether and how to dredge in the future, if necessary. But nothing says–and Taylor does not guarantee–that regulatory agencies will permit all waterways for dredging.




Taylor will identify priority canals to dredge, and identify funding sources, eventually providing three options. "Other projects that we've had can be a very expensive process, so we're trying to identify potential funding sources," Schrager said.
There's a political issue at the heart of the question: who's responsible for the cost? The canals zebra only through Palm Coast's C-Section and a spine's worth of the F-Section. Nowhere else. ITT attracted residents to those neighborhoods by marketing the canals, with attendant higher home prices that reflected the amenity. Over time, many more sections of Palm Coast grew, without canals, without access to the Intracoastal (the canals provide three such access points).
Residents around the canal like to portray their neighborhood's amenity as a citywide benefit, and argue, for clearly self-serving reasons, that they alone should not bear the cost of the amenity they alone benefit from: they want the cost to be spread citywide. That point of view loses adherents in concentric circles: the further you get away from the canals, the less support it has, for the seemingly obvious reason that residents of the W, R or P Sections, or residents of Quail Hollow and Seminole Woods, see no more benefit from canals, to their property values, than do, say, residents of Queens, N.Y., or Hill City, Kansas.
The city council is responsible for arbitrating that issue. So far, it has not done so, hoping perhaps to hide behind the cover provided by a consultant's proposals. That would be Taylor Engineering. But the consultant is almost certainly going to provide a list of options, not a preferred option. Those would likely include both a citywide levy and a taxing-district approach, where only those who directly benefit from an amenity are taxed to repair or maintain it.
Clearly, some council members are eager to get to the heart of the matter: "What will you all consider or analyze in order to help us figure out where our funding sources will be for this?" asked Theresa Pontieri.
The consultant referred to the Florida Inland Navigation District's models, and potential grants. The company's proposal was more precise, referring to "existing available revenue earmarked by the City for this purpose" (which is to say: not much), "municipal service taxing units; municipal service benefit units; Florida Boater's Improvement Fund; waterfront assessment programs; federal costshare opportunities; and state cost-share opportunities."
Grants were not included, likely because the grant route would be like running water uphill: while state and federal government agencies are awash in grant dollars to address beach erosion and sea rise (both Washington and Tallahassee are making billions and millions, respectively, available to that end). But the dredging of canals to benefit more exclusive neighborhoods would run afoul of standard government grants that predicate a good part of their largesse on equity.




Nevertheless, funding models are not lacking.
One such model are the four, 15-year taxing districts county government created in parts of the Flagler shoreline–Painters Hill, Hammock Dunes–taxing residents an additional amount in exchange for providing some protection from rising seas and eroding dunes. The residents benefiting from the districts can easily argue that the beach is a universal amenity to residents of the entire county. But the county would have had a difficult time levying additional taxes on residents of Palm Coast's canal-rich C-Section to underwrite protections for posh residents along the Painters Hill or Hammock Dunes shoreline. Those residents themselves did not object to the special assessments.
The entirety of Hammock Beach paid $7,300 for that assessment last year.
Taylor Engineering has been the engineering of record for the Florida Inland Navigation District for 35 years, and has done dredging projects in Longboat Key, for example. But Company officials did not provide any other example, when Palm Coast Mayor David Alfin asked for some.
"We're finally taking steps to move forward," Schrager said.

taylor-engineering-saltwater

Reader Interactions