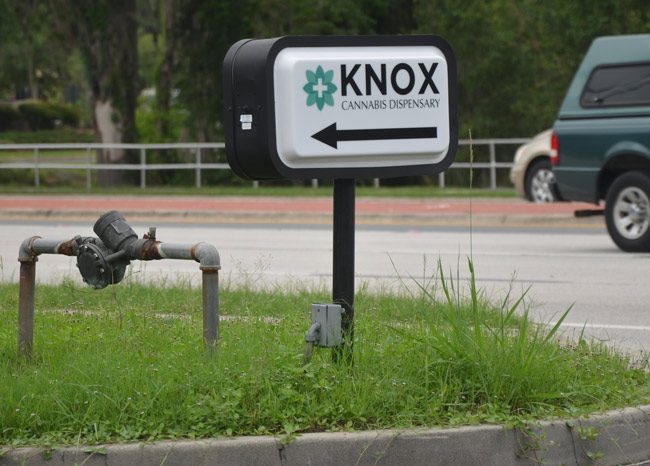 Palm Coast Mayor Milissa Holland wanted to be clear from the start as the city council discussed medical marijuana dispensaries in the city.
"What we have to do first on this council is say, are we going to ban those. I'll go on the record to say I have zero interest in banning dispensary locations," Holland said. She asked her colleagues if they were interested in banning them. None of them was. Not even Steven Nobile, who has previously spoken in opposition to legalized medical pot. "We don't want to ban, so we want to move forward. That's very clear," Holland said.
By Oct. 17, the council is expected to approve an ordinance that will formalize limited regulations within which pot dispensaries will operate. That means dispensaries may start applying for permits around that time. The council may extend a moratorium on dispensaries through November, but that doesn't mean that moratorium will be enforced until then, if the council also approves new land regulations by October.
Medical marijuana businesses are watching the city, poised to move in when ordinances permit. Dustin Martin, owner of Liner Source, a Eustis-based grower applying for a license to cultivate marijuana, wrote City Manager Jim Landon Monday "to know if you have any specific local zoning requirements or ordinances we need to abide by in selecting a location to dispense in your city." The inquiry was needed for Liner Source's application process, Martin wrote, "as they need to see we have checked for approval before any licenses will be awarded." Told of the city's current moratorium, Martin wrote: "We will keep an eye on these city ordinances and be in touch at the appropriate time."
Palm Coast's decision is not significant only on its own. It may reverberate in neighboring cities, particularly in Flagler Beach, where the city commission is considering a ban on pot dispensaries. The Flagler Beach City Commission last month passed an ordinance, on first reading, that would prohibit dispensaries anywhere in the city. The ordinance is getting its second hearing Thursday. It was a 3-2 vote, reflecting deep divisions on the council over the decision, which drew overwhelming public condemnation.
---
An approach that may influence other local governments.
---
Commission Chairman Jane Mealy favored the ban even though she voted in favor of medical marijuana when that constitutional amendment passed with more than 70 percent of the vote in November. Mealy said she wanted the ban because she feared that if Flagler Beach were the only city in Flagler permitting pot dispensaries, the city would be overrun with such shops. She didn't want to see that.
But now, with Palm Coast making its welcome to dispensaries official, Mealy's position has lost its principal rationale. As of last week, she said she had not changed her mind. She could not be immediately reached today in light of Palm Coast's decision, nor could Joy McGrew and Marshall Shupe, the two other Flagler Beach commissioners who voted for the ban last month. (Flagler Beach commissioners were in a day-long budget workshop.)
On the Palm Coast council, member Steven Nobile had previously spoken harshly against decriminalizing pot (a proposal the county commission appeared ready to put forth until it died after the 2016 election). Nobile has not spoken as explicitly in opposition to medical pot, and on Tuesday, he did not oppose the mayor's direction. The most Nobile wanted to do by way of prohibitions was to extend an ongoing moratorium on permitting pot dispensaries in Palm Coast, and only to the extent that the moratorium will give the city more time to work out a few technicalities and definitions in the city's Land Development Code.
That's what the council decided to do on Tuesday. It has directed the administration to define pharmacies as being allowed only in specific districts within the city's zoning districts, in essence imposing new restrictions on pharmacies in order to legally impose restrictions on medical port dispensaries. Specifically, Palm Coast would prohibit locating pharmacies in its more residential zones where the code currently allows pharmacies. But that change would be minor, affecting some 173 acres and few areas, leaving dispensaries and pharmacies free to open along Palm Coast Parkway, Belle Terre Parkway, Old Kings Road, State Road 100 and U.S. 1. That's where 18 stand-alone pharmacies are located in the city right now. Eleven of those are concentrated along Palm Coast Parkway, with the rest along State Road 100 and Old Kings Road.
The law the Legislature passed earlier this year gives local governments only two choices when it comes to medical pot dispensaries. They may ban them altogether. Or they must allow their operations just as they would a pharmacy. The law is designed that way to stay in line with the notion of making medical pot accessible, without stigmas or undue interference from overbearing local governments.
"The powers that remain to local governments as far as regulating dispensaries are very limited, only a couple of options," City Attorney Bill Reischmann said, those being building and fire code regulations. Otherwise, they must be treated as retail outlets.
"I'm OK with that, I like that, I don't want to treat them special, we're going to shove you out here 50 miles outside the city," Nobile said. But he wants a "guarantee" as to where they will be located.
"The intent by the state was to give us the ability to say, when those are in need of prescriptions, it's more access and location so you're not driving in the middle of nowhere to go get your medication," Holland said, "so it's really for us to say, OK, if these pop up in our community, what's the best location for those to be located, what makes the most sense."
Council member Bob Cuff, who supports a more liberal approach to medical pot, was reluctant to extend another moratorium—and Nick Klufas was opposed to that extension—but Cuff was willing to go with a 60-day extension of the moratorium, as long as the administration were to fast-track what land development code changes are necessary.
"The only reason I'm reluctant on the moratorium is that I think it sends the wrong message to the dispensaries or the wholesalers that are looking for locations," Cuff said. But he was willing to live with the moratorium. Council member Heidi Shipley was willing to go along as long as it won't mean losing a chance to land new medical marijuana businesses for the city.
Klufas and Nobile clashed, as they now often do, with Klufas arguing against the necessity of a moratorium, and Nobile arguing for it, even as City Manager Jim Landon proposed dispensing with a moratorium and holding up applications for dispensaries administratively, if necessary, if the changes to the Land Development Code haven't yet been formalized.
"I'd rather do it formally," Nobile said.
The city's moratorium was set to expire on Sept. 2. Should the council vote that way at its meeting next week, it may be extended 60 days, but won't necessarily be in effect all 60 days. What is certain is that by fall the city will be welcoming applicants for medical pot dispensaries.