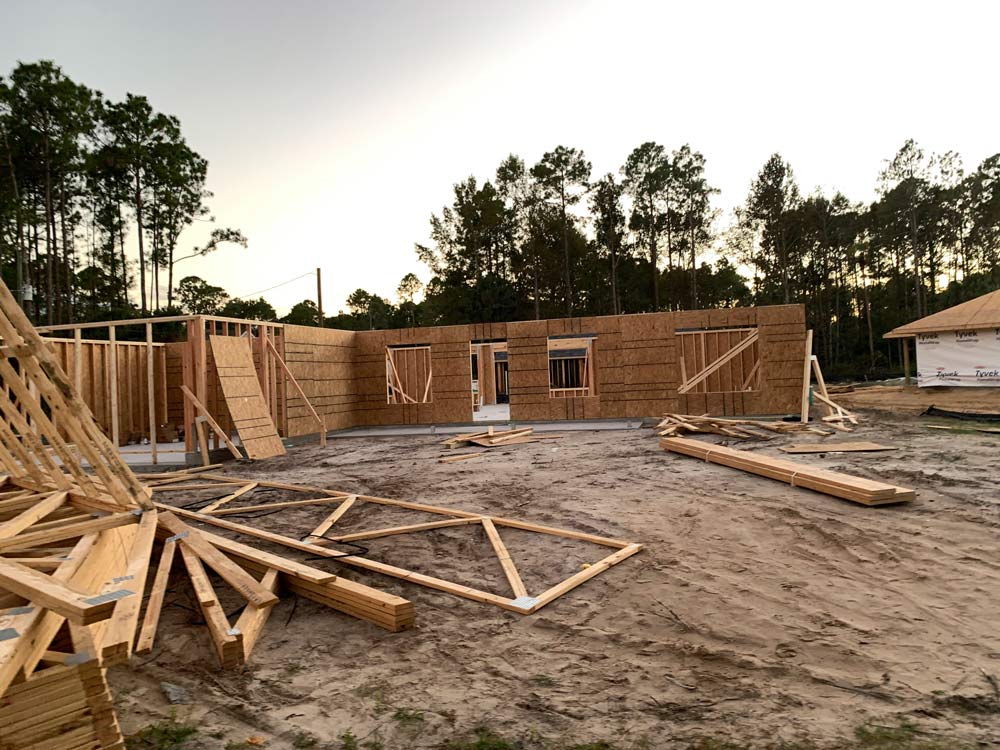 For several months, Palm Coast City Council member Theresa Pontieri has objected to the pace of development in Palm Coast, and more especially to the council's land use changes that in her view unnecessarily accelerate that pace, when it is in the council's power not to grant development-fueling rezonings.
On Tuesday, Pontieri said the council in the past year alone approved 13,361 new homes (single-family houses, duplexes, apartment units).




It's a startling figure, but it's exact in only one sense: those thousands of units are approved and in the pipeline. But they were not all approved this year. Most of those approvals date back years, and have been dormant since.
This year's approvals by direct council or administrative action, with development orders issued to subdivision developments, are closer to 4,156, and even those include plans long on the books and currently inactive. Of those 4,156 homes, only 38 got their certificate of occupancy–meaning that just those 38 homes were built, inspected and deemed habitable this year, all of them at Sawmill Branch off U.S. 1.
That's not to say that there isn't very brisk development in Palm Coast.
Overall, 2,021 certificates of occupancy have been issued in the last 12 months. The overwhelming share of those apply to homes built on scattered, quarter-acre lots in Palm Coast, which don't need more than permitting to start construction. There are still roughly 11,000 such lots ready to build, according to Jason DeLorenzo, the city's chief of staff, down from the original 42,000 lots ITT platted when Palm Coast was an ITT subdivision.




Between that and the 4,156 homes granted development orders this year, there is no question that Palm Coast is growing rapidly and that Council policy is doing all it can to accelerate that growth, with increasing rumbles from existing residents who think, like Pontieri, that the pace is too rapid.
Those residents filled the chamber last Tuesday, as they have, in fluctuating numbers, at many meetings this year, suggesting that growth will be a central issue in next year's election–especially as the city prepares to rewrite its comprehensive plan, the city's blueprint for long-term development. The city is inviting residents to share their vision for the future city. A lot of residents have been seeing red, not green.
Whether one applauds or decries development, the debate it is fueling is real, but the numbers behind it can be confusing and sometimes seem misleading, as Mayor David Alfin complained when Pontieri first made reference to 14,000 homes approved at a meeting in mid-September. That context is necessary to place subsequent debates–and facts–in context.
"My issue is the fact that we have 14,000 dwelling units in the pipeline right now just this year that we've approved, and this is adding to it," Pontieri had said as the council was preparing to approve a rezoning for the 850-home Cascades development in Seminole Woods (on first reading).




"Throwing out 14,000 units without defining a timeline is irresponsible," Alfin said. "Those 14,000 units are over what period of time, how many years? Are they coming online? That's just not fair."
Pontieri promised to get the exact number, which she had by Tuesday's meeting: that's the 13,361. "So while it wasn't 14,000, it's pretty darn close," Pontieri said. "I point this out because out of those 13,361, nine thousand two hundred and twenty-three dwelling units were part of developments that underwent some type of rezoning." That's accurate.
But Alfin's point was just as valid. The 13,361 figure lacks context and caveats.
For example, the council is in the midst of approving the sixth or seventh amendment to the Palm Coast Park development of regional impact, one of those massive developments, like Town Center or Grand Haven, that sprawls not only over thousands of acres (4,700) but over decades.
A decade and a half ago the council approved 5,700 units for Palm Coast Park. Land use changes early in September and December would add 750 homes to the total. But in calculating her 13,361 figure, Pontieri included the 5,704 previously approved units, as if they were again approved this year. But by no definition could those 5,704 homes be said to have been approved this year by the council.




Pontieri concedes the point. But, she says, "if we as a council said no, we're going to keep you to 5,700 units, I think they would have held off on it. I don't think they would have moved forward. They continue to come before us and ask us for more and more and more because this specific council is approving right now."
In other words, the rezoning the council appears ready to grant is supercharging the overall development, at a time when the council could have denied the rezoning, and possibly slowed down the development. "And I think that they know quite candidly that people are fed up and that people are going to run who are not going to be approving in this theater," Pontieri said.
She was referring to council candidates in the 2024 election who vow to oppose such developments. It's that acceleration she opposes–an acceleration she says is enabled by the council's actions on rezoning, where it has a choice to say yes or no, and that is replicated over eight large proposals the council approved this year. (See the list here.)
In another case–Coquina Shores, a development now down to 750 homes the council approved this year–original development plans had been cleared for 2,400 homes along Old Kings Road South, north of State Road 100. But this year's land use changes were to reduce that to 750 homes, eliminating 1,650.
Still, there's a vast gulf between approvals and actual construction, as the chart below illustrates. The chart lists all the subdivision developments that are ready for construction. Their site plans and preliminary plats  are approved. But only five are active with construction, and of those, only 38 homes have been completed.




"Some of these have been around forever, but they went through an application process since October of 2022," DeLorenzo said, so those unit numbers got added into the development orders total for the past 12 months, even though in many cases the original unit totals were approved previously.
That inflates the impression of impending development, even though, in theory, these units are like the 11,000 infill lots in Palm Coast: they may or may not get built up tomorrow. "But these are closer to being able to be built because they have fewer steps after this," DeLorenzo said. "They can basically go to construction plans from here and become an active construction site."
Pontieri called the current pace of approvals "overdevelopment" last Tuesday, getting some support from Council member Cathy Heighter, but Alfin didn't debate her points: Pontieri is in the minority on the council, though three seats are up in 2024, including the mayor's, and at least two will have new occupants (both Nick Klufas and Ed Danko are running for County Commission seats).
"We have the ability to right the ship, we have the ability to better enforce our LDC," Pontieri said of the Land Development Code. "We have the ability to work with our development community, work with our homebuilders association to make sure that we're providing a diversity of housing like we've all been talking about, but still keeping it within our code. And I hope that this council will look for ways to do that in collaboration with our residents and our development community, rather than just saying, well, we need XYZ and it's based on these statistics and the builders have rights and developers have rights, so we're going to approve it."