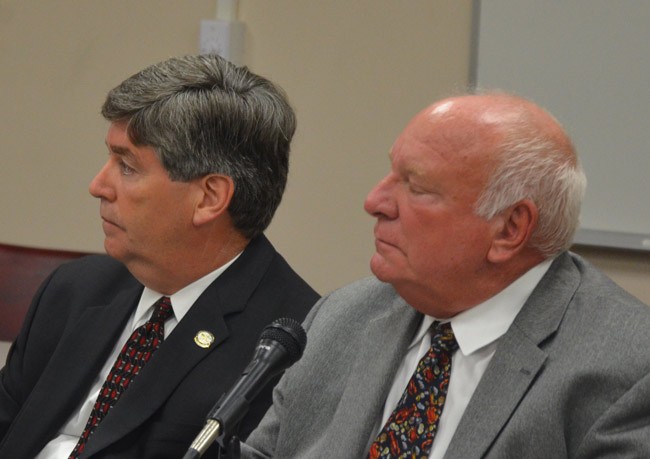 Before getting into the brisket of this discussion here, I'd like to point out a fact that escapes the majority of the members of the Palm Coast City Council. It's this: Steven Nobile got elected to the council by almost twice as many votes as three other council members got, combined. Mayor Jon Netts was elected by 2,145 votes, Bill McGuire by 2,874, and Jason DeLorenzo by 2,766.
Nobile got elected by 12,384 votes.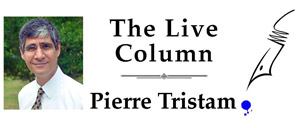 So if there's any debate as to who is more representative of whom, these numbers should settle it. Of course Nobile was elected after the city changed its electoral cycles to coincide with general elections. But no one kept voters from voting in previous elections. And for all of Nobile's love of weaponry, no one held a gun to a single voter's head to vote for him last year. If the council wants to take credit for changing the charter to enable those even-year elections, great: that proves how charter changes can be a very good thing.
Isn't that Nobile's point?
When Nobile first talked about reviewing the city charter in May, I was suspicious. I thought he was reflecting the wishes of the Ronald Reagan Republican Assemblies. I'm a fan neither of Ronald Reagan nor of his alleged assemblies, some of whose members are great bomb-throwers but don't know civics from skivvies. (The Reaganites have distanced themselves from Nobile's thrust anyway.) And I'm certainly no fan of Nobile's ideological extremities, some of which remind me of Freddy Krueger thumbing through the Constitution.
But the more the rest of the city council has been treating Nobile like a parvenu on its precious little board, the more I've warmed to his idea, if not to him: I don't like people ganging up on someone, whether it's on a playground or on an elected council. And this council, for all its pretensions of decorum, has been ganging up on Nobile as if he'd crashed their playground. They claim to be protecting Palm Coast's brand of democracy. How ironic that they come off looking like a bunch of defensive autocrats looking out for their fraternity.
I'm now entirely for a charter review commission. Nobile didn't convince me. The rest of the council did. I doubt I'm alone. The council, led as always by City Manager Jim Landon, who sets the tone, is showing itself to be stodgy, clubbish, arrogant and fearful. Fearful of change, primarily, but especially fearful that its current dynamic is tampered with.
Here's how ugly this council has been toward Nobile. They use his lack of eloquence, his difficulties outlining an issue, against him. Yet they're the ones–and by they, I mean specifically the three barely-elected members cited above and their unelected manager–whose reasons to counter Nobile lack eloquence and speak of their contempt for the very process (and the people) they claim to be representing. Take three of those reasons.
They say no one has complained. No one is clamoring for a review (aside from 12,384-vote Nobile). True. But this council claims that if it's not receiving emails or getting swarmed by constituents about an issue, then that issue does not exist. Strange, considering that constituents have no clue and don't care about most of what the council approves week in and week out, because that's the nature of governing and managing: it's a sausage factory most people are happy to leave to their elected. You think anyone cares or knows what contractor the city hires to pave roads, repair bridges and rebuild parks? Two and a half people do. That's about it.
Those projects are no less essential. It's what we have a government for. But when one of those elected decides to make an issue his own, don't then turn around and discredit his idea because he can't produce busloads of disciples. That's not how representative government works. (Where were the busloads supporting DeLorenzo's chronic war on impact fees? Where were the busloads championing Netts's love affair with the Florida Inland Navigation District? Where were the busloads clamoring for McGuire's push for more civility toward Palm Coast employees?)
Council members claim no one knows the first thing about the charter. They're right. But aside from the contempt for the public that their claim reflects, it's precisely why a charter review is periodically necessary: it re-familiarizes people with their form of government, reestablishes those civic connections council members themselves complain are lacking, it educates the public about the differences between the charter and the ordinances the council enacts, it generates new ideas that could enrich the charter, or prune it of outdated or inappropriate clauses (like that ridiculous, nearly $1,000 fee to run for council, absent petitions. It's reflects the aristocratic attitude of the current council, an attitude Netts defended under the guise of not opening up the process to just anyone. Is this 2015 or 1788?)
Council members claim Nobile can't say clearly what and why he wants to review in the charter. But he owes them no justification. Voters elected him, not the council. Their demands for clearer explanations again speak to their presumptions. They're not the gatekeepers of another councilman's ideas. They can disagree with him and of course block him. Nobile makes noise, but he's terrible at building coalitions. But his colleagues are blocking him on false pretenses–namely, that he's not explained his proposal. False: he started in May by proposing a citizen-led, council-appointed charter review commission. That's as lucid an idea as there is. The council has been doing its best to detract from it, showing its true, undemocratic colors.
Several specific ideas Nobile has brought up, whether they're his or not–increasing the number of council members, raising salaries, enabling council members to have more hands-on authority over the administration–are patently absurd, and council members' direct involvement in the administrative process is (and should remain) inadmissible, if not illegal. It betrays Nobile's poor understanding of local government and his hunt for alarming shortcuts. That's why charter reviews shouldn't be left to council members. It's a conflict. But his absurdities aside, the principle behind Noble's quest remains sound: the city charter is due for review regardless.
So enough contempt. This council's arrogance–product of the existing charter–is just why an independent charter review makes sense. It has never happened in Palm Coast's 16 years. That alone is wrong. The current charter says it may happen. The first necessary change to the charter should be that such review commissions shall be appointed every so many years. Florida does it with its constitution every 20, as it's getting ready to do in 2017. Bunnell, for heaven's sake, just did it with its charter, and came up with 10 amendments. Most cities that have a shred of democratic responsibility do. Palm Coast shouldn't be exempt just because a majority of council members, elected by fewer people than live in the P Section, claim it doesn't need it.
Let's hope Nobile doesn't give up the fight, or fall for the latest trap disguised as compromise–to let the council conduct the review. If that's the case, you might as well turn over the whole drafting exercise to Landon and be done with the charade, because that's what it'll amount to. The point is to create distance and independence from the council, which would control the charter panel enough as it is, with its own handpicked appointees.
That's assuming we even get that far. It's assuming too much for a council that has managed to make the reactionary among them look like the most reasonable guy at the table, while the rest of them continue to blob and bow in Landon's shadow.

Pierre Tristam is FlaglerLive's editor. Reach him by email here or follow him on Twitter @PierreTristam. A version of this piece aired on WNZF.