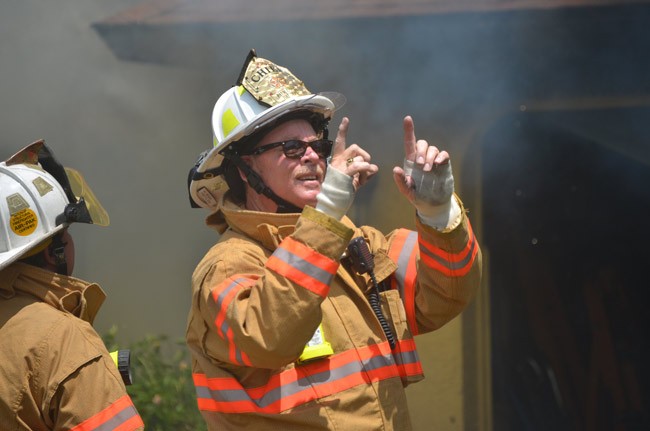 Palm Coast Fire Chief Mike Beadle told the city council categorically Tuesday that Palm Coast and the county are duplicating ambulance services, that Palm Coast is not meeting its response-time goal of 5 minutes or less at all calls, and that ambulance or EMS services can be more efficiently provided.
The conclusion was part of an analysis prompted by council members who've been interested in changing the way ambulance services are provided within city limits. Currently, the county provides ambulances services countywide. City paramedics accompany all calls and provide their own response at scenes, raising issues of duplication. Palm Coast Mayor Jon Netts especially is dissatisfied with the county controlling the EMS system, and cashing in on the billing for all ambulance transport. The county thinks the current system is working well: there are no complaints about poor service or ineffective response time.
"We have a very good level of service now. We don't have people dying on the streets," Netts acknowledges. "What I'm looking for is better efficiency in terms of costs," with better response time an added bonus.
In the last 12 months of analyzed data, the city responded to 8,040 calls, and 8,252 calls overall. The response time, on average, was 6 minutes and 25 seconds for EMS calls, and 6.44 minutes for all calls, including actual fires—which are rare—fire alarms, which are much more frequent, and other calls that amount to small or no emergencies.
Palm Coast crews arrived at calls first 28.5 percent of the time, they arrived within a minute of the county ambulance 22.2 percent of the time, and they were behind the county rescue 1.7 percent of the time, according to the city's analysis. Almost half the calls cancel either an ambulance or a fire engine. For example, if a man stubs his toe, there's no need to send an engine on top of an Ambulance, for one of the two is cancelled. (About 61 percent of calls result in an ambulance transport.)
Beadle had seven possible alternatives, including limiting the county to respond only to EMS calls (as opposed to fire and other calls), not using massive fire trucks to respond to EMS calls, having rescue vehicles at the city's five fire stations (understanding that each such rescue costs about $225,000, not including the staffing needed to run it), and consolidating county and city ambulance services.
Options have advantages and sometimes drawbacks.
Beadle said changing the "response protocol" may help. A plan is in the works for dispatchers who send responders to a call to gather more information about each call, enabling them to make certain determinations that may eliminate the need for both an ambulance and a fire truck up front. That may work with most calls, but often, only the presence of a paramedic at a scene can determine the gravity of a call.
The city currently sends a fire truck on each call. It could alternatively send a "jump" truck instead—an SUV-like paramedic unit. But that means the two paramedics on a jump truck would be out of service should a fire break out. To fully staff such a system, the city would need to have additional staff. The county doesn't see it that way, seeing more flexibility with jump trucks and citing the rarity of EMS calls coinciding with fire calls. And Steven Nobile, a city council member, doesn't see it that way, either: "we're in the same boat," he said, when a fire truck responds to an EMS call: it's theoretically out of service as well, should a new call come in. (The city has several such jump trucks, which have various functions.)
Adding ambulances at all five city fire stations could itself be handled in different ways—with the county, for example, providing the additional staff and ambulances (not likely, judging by county official's reaction to such a proposal), the county and the city working on a hybrid system, or the city providing the additional rescues, at a considerable additional cost to the city. "It's going to cost somebody something for overhead," Beadle said, referring to some of the options.
Changing the taxing structure would entail more cost-shifting than lower taxes, overall. City Manager Jim Landon cautioned that the county, which has a $9 million fire department, would not go along with some of the financial alternatives that further weigh costs toward county taxpayers. (The city has a $7.5 million fire department budget.) And council members know it: it's politically unfeasible. "I'm not looking for a solution that's going to make it cheaper to live in palm Coast and more expensive to live in the unincorporated areas," Netts said. He wants a "more equitable" system.
But that equity does not happen without some cost-shifting, a bottom line the presentation today did not spell out, even as Netts pressed the idea that big fire trucks could be removed from the roads by shifting city personnel to smaller vehicles on EMS calls. One such option: let Palm Coast personnel ride along with fire rescues, though that would require more such rescues in the city's five stations, since there are only two rescues permanently based on city stations. (Effectively, that number is closer to four, because the county's airport fire stations is, in effect, in the city, and the county has a roaming rescue that spends much of its time in the city.)
Netts proposed a next step: have the county and city talk directly. "My goal is not to shift the burden to somebody else. My goal is to reduce the cost to everybody," he said.
Landon said that step will take place, but on an administrative level: the two sides' fire chiefs and administrations, rather than through the two elected bodies. "And then, the idea would be to have both the city council and county commission hopefully to get buy-in," he said.
County Administrator Craig Coffey, who was in the audience (with Commissioner Nate McLaughlin and County Fire Chief Don Petito) said he disagreed with some of the points made during the presentation, but also noted: "There's some I see some ideas that maybe we could work together."
"I hear if and maybe," Nobile interjected. "No, we will reduce the cost to the city residents of Palm Coast, because of this process that we're sending out fire trucks to heart attack victims."
"Let's let the professional staffs get together, flesh out these things," Netts said.
"Who's going to facilitate this?" McGuire said. McGuire, like others in the room, have been aware of the tensions between city and county administrations of late.
"We will," Landon said, then soon adding that the "we" included the county administration. .
The Palm Coast Fire Department started with 36 volunteers in 1973. It got its first fire station by 1977, its second by 1989. The city incorporated in 1999, when Palm Coast had two ambulances. By 2009, the department had five stations.