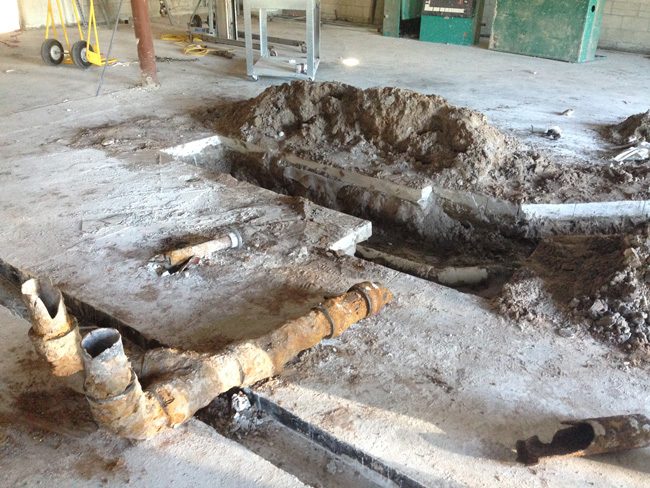 It's not clear what the Flagler County Commission will decide, if anything, when it meets Monday morning to hear the results of air testing at the Sheriff's troubled Operations Center in Bunnell. It may not even matter.
This much is clear: sheriff's employees have little trust in the report, some are saying they're not willing to return to the building regardless, especially since the report makes no medical findings explaining their problems, and the sheriff himself is cautioning that "it's going to be an extremely hard sell to the employees."
For the more than two dozen employees who reported health issues before the evacuation, those issues have all cleared up since the employees were evacuated to the county courthouse and the sheriff's old administration building. They don't want to return to the building they blame for those problems, especially not when their medical issues have not been explained.
The report doesn't explain what made employees sick, one veteran employee of the agency who contended with health issues said today. "We still have people that haven't even received medical attention, we had another diagnosis of skin cancer," the employee said. "Our immune systems were so suppressed we can't even handle a mild exposure, not to mention the hypersensitivities we have developed because of the exposure. They fail to examine the medical side of things, and just keep blaming it on not having the medical records."
That hurdle may have started to be resolved: medical records from at least two employees are being produced through attorneys, with more expected. Still, "there is a large number of us that will not return no matter what they say," the employee said. "We will be looking for other jobs, its not worth the health risks. Our people don't have the money or even a doctor that is specialized to help them. Some have lingering lung issues. I don't know what it is either, but until they get someone to examine and test all of us as a piece of the puzzle, I really have no faith in testing of the building at this point. I dare anyone to walk in there right now and tell me there is nothing wrong. I have no faith in the county overseeing the maintenance of our HVAC system either."
The employee ridiculed parts of the report that appeared to blame health issues on employees' environments away from work. "Every affected employee showed improvement once they left the building, only one is still struggling and that's because she's in the old admin building," the employee said.
Sheriff Rick confirmed the assessment, saying the only employee who still shows symptoms is assigned to the Crime Scene Investigations unit and had been spending time working in the building with evidence and equipment. She stopped going into the building two days ago.
Another long-time employee provided a response to the report in bullet points:
"1. Coffee and the County Administrators have no interest in publishing anything that would corroborate the claims of the sick employees. 2. There is something in that building making people sick. The amount of legitimately sick people cannot be a coincidence. 3. If the employees are made to go back to that building I suspect you're going to lose some experienced and valuable employees to a Sheriffs Office that has already had a mini exodus of experience."
The County Commission is scheduled for a workshop and potentially a special meeting, where it could take action, now that a lengthy if not fully conclusive report on the air quality in the troubled building has been issued. The county contracted with Fort Myers-based Engineering Systems Inc. to provide the testing, which was carried out in one day last month.
The report concludes that the building has no mold or toxin contamination and that what air-quality issues it does have could be fixed through "housekeeping" or air-conditioning maintenance.
But the report stops short of explaining why more than two dozen of the sheriff's employees have developed health problems usually associated with sick-building syndromes, some of them severe, all of them leading to the sheriff's decision to evacuate all 67 employees last month.
And there are no plans on either the sheriff's part or the county's part to provide an objective third-party analysis of the Esi report–a form of peer review that would not only evaluate the rigor, depth and validity of Zdenek Hejzlar's method (the consultant the county hired), but that would also–as peer reviews of scientific work are intended to do–point to gaps or necessary next steps in the process.
The lack of connection between the report's findings and the employees' health conditions is one such dark hole that has not been addressed, and that Hejzlar is saying is beyond his scope. But that means the heart of the matter remains a mystery.
Because of the paucity of medically-based conclusions in the air-quality report, it may scarcely matter what the county's consultant will say Monday in addition to what the report has concluded, or what the county administration or even commissioners may say: there simply is no trust in the findings to enable sheriff's employees to feel as confident about the building as does County Administrator Craig Coffey.
Coffey disseminated the report on Thursday and said his understanding was that"the building is deemed safe to occupy from all the tests we have conducted to date." He added: "Pending some other major issue, IT and General Services has been advised to be prepared to relocate the Sheriff's Office staff back in the building as soon as possible after July 25th."
That sent the sheriff's office staff into a "panic," according to Staly, and angered Staly, who fired back that he'd never been consulted about that timeline. He then sternly wrote his staff this afternoon, putting his remarks in bold: "I would also like to remind you that you do not work for the County. You work for the Office of the Sheriff. As I said in yesterday's email I have not agreed to any move back in to the Operations Center."
Staly met with his top staff this morning. Chief Mark Strobridge said the report is too extensive to have enabled anyone to go through it properly this soon, and that the analysis is ongoing. Staly, interviewed this afternoon, said he was not ready to address the substance of the report but expected to have something to say about it at Monday's meeting.
"I can tell you that in my meeting today, my employees still have unanswered questions and they are certainly not convinced that the building is safe," Staly said. He was displeased with the administrator's reference to preparing sheriff's staff to move back in later in July. "I don't control what he does with his employees, I know at this point my employees are not going back into that building," Staly said. Of Monday's meeting, he added: "I think it will be highly unlikely that there will be a resolution."
Coffey, at any rate, had retreated from the wording of his email regarding sheriff's employees. "I did not give the Sheriff a move in date and I don't believe it is my place to do so," Coffey wrote county commissioners. "I understand that the Sheriff has a lot to deal with on his end, which is different than our [role] as the building owner/manager. I simply indicated that I believe the building will be ready for re-occupancy after the 25th and that our team members in IT and General Services have been told be prepared to assist the Sheriff's staff to relocate anytime after that date. Improvements desired by the Sheriff could delay building ready date by about 2 weeks. I plan to relocate our County team members back there as soon as I can as I am comfortable with safety and environmental aspects of the building."
The county administration is responsible for providing and running the sheriff's facilities. It is a landlord, in effect. So it's the county's responsibility to ensure and certify the safety of those facilities. What's not clear is the potential gray area that is taking shape even ahead of Monday's meeting: the possibility that the county will certify the building "safe" while a constitutional officer–the sheriff–may decide it isn't safe enough for his employees to move back in.
Politics then begins to play a role, this being an election year. Staly is not running. But two county commissioners (Greg Hansen and Nate McLaughlin) are. There are signs around town calling for the firing of Coffey, though it's entirely possible that the anonymous signs are funded by supporters of Dennis McDonald, one of the candidates for the commission who's made the sheriff's building the centerpiece of his campaign. What's certain is that Coffey is not popular the way Staly is, and that the building controversy will likely play a role in the election. That's why Coffey is eager to put it to rest. Sheriff's employees appear disinclined to accommodate the political timeline.
Staly said nothing was decided. "I know I'm going to protect my employees to the best of my ability," he said.