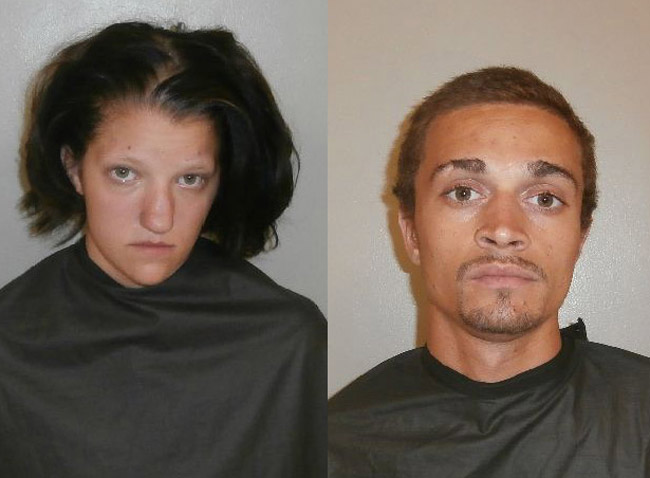 Haylie Harger's last posting on her Facebook page, 10 hours before she was arrested by Flagler County Sheriff's deputy for being an accessory to two burglars, was the image of an e-card she'd just found: "Once upon a time I was sweet and innocent. And then shit happened."
To her, her fiancée and their friend in particular. She had seen the very near future.
At 3:44 a.m. today (Friday, Aug. 16), the 911 dispatchers got a call that suspicious activity, perhaps a burglary, was taking place at Truss Systems, the manufacturer on U.S. 1, just south of County Road 304. Robert Peters, the shop foreman there, had reported seeing someone inside the businesses office—a man in a gray shirt, crouching near the vending machine. No one was supposed to be there, Peters told police when they arrived at the scene.
Several units responded and set up a perimeter surrounding the property. A K-9  unit was deployed. As a deputy and a K-9 approached the business, an alarm went off. "We then entered the gated area and walked toward the enclosed structure where the subject was seen," the deputy reported, referring to where Peters had initially seen one of the suspected burglars.
"We checked the outside perimeter and observed that on the south side of the building, there was a ladder against the window and the window was partially open," the report continues. No one appeared to be in the building, however, but dirt was visible on the window sill, indicating the entry point.
K-9 deputy Daily and his partner, Reno, along with other deputies, continued the search outside the building, and eventually, just after 5 a.m., located a man in the woods: Murphey Shaw, 23, of Orrville, Ohio, a small burg 50 miles south of Cleveland.
That, anyway, was the name he gave police. It wasn't his name. He's Corey Shaw. Reno bit Shaw, requiring medical treatment.
He had a large knife holstered to his belt, along with a black folding knife on his person, a black flashlight, and black gloves. He was arrested and read his Miranda rights.
Going back into the woods to retrieve allegedly stolen property, cops found another man crouched there: Michael Pettit, 24, of Jeromesville, Ohio, some 28 miles west of Orrrville. At first Pettit didn't move when ordered to come out. When informed that cops could see him, he put his hands up and walked out. A blue Nike bag, gloves, a flashlight, socks and a black folding knife were retrieved from the woods, where Shaw and Pettit had been.
Inside the Nike bag: $12.50 in quarters, a Canon Powershot camera valued at $300, gorilla glue and a first-aid kit.
The two men were taken to the Flagler County jail. The incident wasn't over, however.
A few hours later, at 8:15 in the morning, Shaw's cell phone began to buzz or light up with texts. They were from Harger, 19, of Sterling, Ohio, a village 13 miles north of Orrville. Text after text: "Where are you?"
A deputy texted back, keeping the exchange going. He found out that Harger was on her way to the Mobile gas station on U.S. 1 to pick up Shaw and Pettit. She was driving a two-door Pontiac with Ohio plates. She was stopped at Seminole Woods Boulevard and U.S. 1 and arrested. She told police that she'd cooperate. John's Towing removed the car.
Shaw is charged with armed burglary, grand theft of over $300, possession of burglary tools, resisting arrest, giving a false name, and also on an out of county warrant. Pettit is facing similar charges. Both are being held on $22,500 bond. Harger is charged with being a principle to a burglary. She's being held on $15,000 bond.
In late July, according to postings on her Facebook page, Harger said she was disowning her family "for good," the same day she'd posted that "snitches get snitches," and, in another posting the same day, had written: "Sitting out side by a big river jus chilling bc I have no where else to go. I'm hungry, I'm cold and I'm scared." The posting was sealed with the emoticon of a sad face.