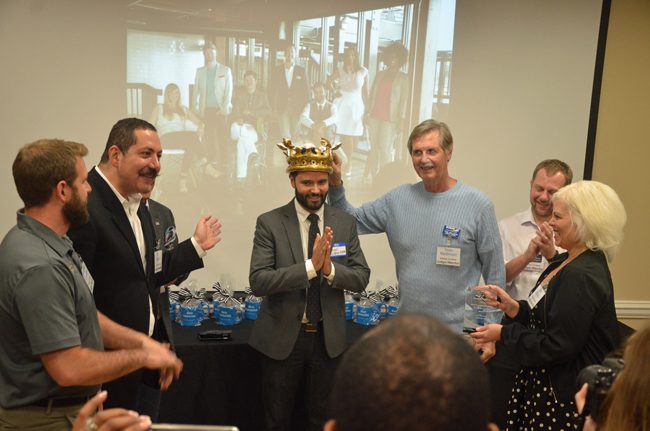 Angel Gonzalez's company is called Snappy Kraken, after the mythological squid-like sea monster. Except that the Snappy one's logo is all red and bedecked in very cool black shades: it was an early step in branding a company born only in April, and designed to let other start-ups or small companies brand and market themselves almost automatically, through Snappy Kraken's web-based solutions.
It's a new and original concept by a company based partly in Palm Coast, partly in Ormond Beach, and partly in Ohio and North Carolina (information-economy companies are notoriously borderless anymore). And Tuesday evening it won the 2016 Office Divvy Most Interesting Startup Contest.
"We want to give small-business owners access to marketing campaigns that are created by agencies, and we want to automate it for them," Gonzalez said. "We have agencies that create full campaigns, everything from Facebook pads to social media posts to email series to landing pages, pdf booklets." It would be a monthly subscription model, and whoever subscribes would have access to those campaigns, which Snappy Cracken would launch on their behalf. The cost would be under $100 a month.
If it sounds a bit difficult to wrap one's head around the concept, particularly the automated part. But that's the nature of an original start-up: it's why it won the contest. "The reason we're needed is a lot of companies aren't marketing themselves," Gonzalez, one of three Snappy Kraken co-founders, said. (Robert Sofia of Palm Coast is another.)
"It's going to change one industry to begin with, but there's going to be many more applications. So that can be a $100 million company, no doubt in my mind. Starting from here," Office Divvy's Ky Ekinci said.
Office Divvy, the now 9-year-old Palm Coast company that could have won that contest almost a decade ago, created the contest less than a year ago under the leadership of co-founders Ky and Lisa Ekinci.
"This felt like the timing was right, we're kind of maturing as a company, as a team, the area is maturing, the ways that start-ups connect with each other and connect with each other is maturing, through social and other ways." He said. "We thought this is like a good fire-starter to really kind of select one, surround it with resources, surround it with people who want it to succeed beyond just the founders, for a real chance to really grow and scale and take over the world."
The winner got a $1,200 cash prize, mentoring and advising from Ekinci's team, and a year's worth of co-work space and office support at Office Divvy's Palm Coast locations, free.
The contest asked participants to describe why there'd be a market for the product, how it would benefit the world, what sort of questions keep the creator up at night, whether the idea has clout and footing—or financing, "and most importantly, whether or not it's indeed interesting," Ekinci said.
There were 30-based entries, 21 of which ultimately rated a ranking from six judges. Some of them were still in the conceptual stage. Some were services, some were manufactured products, some were software-based, some were mined out of the information economy. All had the sort of creative if not quirky edge that gave the gathering of entrepreneurs Tuesday evening at Office Divvy's Airport Road location a sort of hothouse atmosphere. The bulbs brimming in that hothouse weren't tulips but ideas.
There was Jonathan Peace's SparcMotors, a concept aiming to "revolutionize the entire manufacturing process and sustainability of our product," in his words, the product being a fold-out electrical scooter that could fit into a suitcase. There was Curtis Ceballos's Digitz, which would enable consumers to make hacker-safe purchases using their fingerprint. There was Johnny Cozzone's Canine Massage (it's self-explanatory, and it's exactly what it says). There was Kayla Dougherty's plan for The Local Magazine, a new periodical that would keep track of Flagler County's events and culture. Other entrants included a spirits manufacturer, a wellness clinic, an events host, an intensive tutoring company, a publishing company that would enable gays to more broadly tell their stories, a non-profit voice for thrift stores, a glassworks maker, the newly created African American Entrepreneur Club in Palm Coast, and so on.
"When you have a startup you're emotional about it, you have some level of passion about it, so there is idealism in that sense, but realistic expectations in terms of growth," Ekinci said as he gave a thematic overview of entries. (He says Palm Coast's and the county's economic development departments "considered it" to increase the cash value of the prize, but the two governments "ran out of time.")
But the crown ultimately went to Snappy Kraken because despite its youth it seemed to have many key elements in place to be a success, beyond originality: a staff, a plan, an original idea, and a ready market.
Tom Hellman, a certified mentor with Volusia/Flagler Score, the organization of retired executives who provide free and confidential mentoring to small businesses, was among the judges of the competition. There was not much distance between the top 10 in terms of scoring, he said. Snappy Kraken was either his top choice or second choice. "There were some pretty damn good ones," he said. "The guy who invented the little scooter—very interesting guy and very interesting project."
Some of the concept didn't have as many possibilities, but he saw about 10 to 15 of them having enough potential to develop, assuming they get the support and mentoring that gives a new business a better chance of success.
"In many cases, the pre-startups, I'd say 50 percent, don't get beyond the thought process, once they realize what it takes, or the funding necessarily, they kind of drop off," Hellman said. "The ones that are prepared to do a business plan, the success rate is much better. Particularly of they go to groups like the [Business Assistance Center] here in Palm Coast or ourselves, and get mentoring Studies have shown that their probability of success increases by 40 percent."
One other prize for Gonzalez, the winner: a crown. An actual crown.
Ekinci isn't wasting time: Office Divvy's 2017 contest is open and accepting entries.