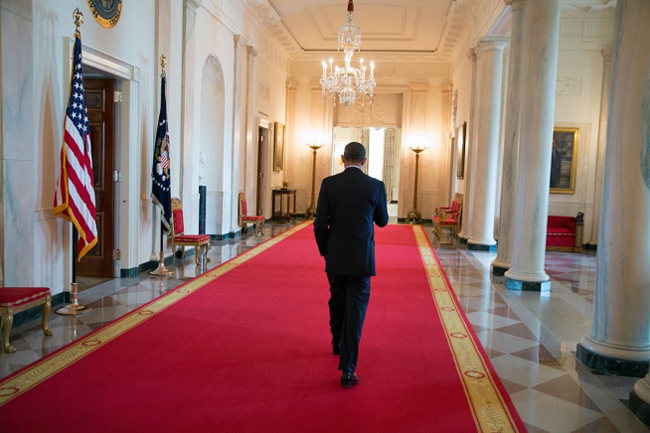 Here we go again. The United States is about to attack yet another Arab country over flimsy evidence that the regime used chemical weapons, with no clear strategy, no idea what to do next if the attack escalates a conflict that's never been America's to worry about, and no viable plan if Syria's maggoty but lethal allies—Iran, across the gulf from the Arab Peninsula, and Hezbollah in Lebanon—decide to slosh after their share of blood.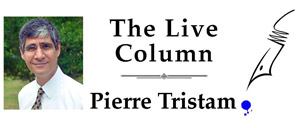 A chemical attack did take place in Syria. That we know. Several such attacks have taken place. But we also know that more than 100,000 people have been killed since that civil war began, more than the combined totals of the Hiroshima and Nagasaki bombings. Those atrocities are not less deplorable because they were the result of conventional weapons. There's no such thing as the conventional murder of innocents, as the majority of those deaths are, except in the distorted conventions of war rules: you may shoot a child with a .50-caliber weapon that could bring down an F-16, you may massacre a family of 10 with a single 220-mm shell, you may slit the throat of a girl's parents in front of her, rape her, slit her throat, then execute her unarmed relatives one after the other, you may level entire neighborhoods with your air force and go back and strafe the rescuers for good measure. None of that will get a peep from the press or the morality police at the White House. But drop sarin gas on a neighborhood, and all of a sudden a red line is crossed in Obama's weird calculus.
That red line was crossed two and a half years ago when the insurgency quickly turned into a civil war, which is the definition of a war crime by any measure, whatever the weaponry. The word civil gives it away. It is against every convention under the sun to target civilians in a war. But if we were to apply that standard the American military, its mercenary contractors and the joy-stuck men behind the CIA's drone warfare would have had to be brought up on war-crimes charges every week since the earliest days of the invasions of Afghanistan and Iraq, and now the rogue bombings of Pakistan, Yemen, Somalia.
That's why we have words to die for like "collateral damage." The word collateral is a disinfectant. Used in that context it means the opposite of what it describes: a coincidence, a secondary consequence. War's shruggable shit happens. And the word damage? It's what you fill out on an accident report, a nick in your trousers, the broken window from the neighbors' overzealous baseball throw. Bring the two words together, use them blandly during your press conferences about the war of the moment, and there you have it: the systematic obliteration of civilians is reduced to the acceptable, unremarkable footnote of collateral damage. You'll have to do better, much better, to catch our attention.
Cue the Crayola version of Obama's moralism, and a red line is drawn. And this is the guy I voted for thinking he'd help America finally grow up from the Strangelove juvenalia of the Bush years.
Firing a few dozen cruise missiles is not going to cripple Assad's regime. It is going to have the same effect as President Clinton's missile attack on Sudan and Afghanistan in 1998 after the bombings of U.S. embassies in East Africa. That attack demolished a medicine factory and drew ridicule for its symbolic stupidity. Barack Obama turning Syria into another American front is a grave mistake that has unintended consequences written all over it (talk about collateral damage). It would be as reckless as attacking Iran over nuclear weapons, even if Iran possessed them. (Pakistan does, and it's a more dangerous country than Iran has been: keep in mind that Osama bin laden lived for years unmolested within a few miles of the trigger bank of Pakistan's nukes.)
And where's the proof that the Syrian regime launched the attack? We were told that Obama was going to make a clear and irrefutable case that the Assad regime was responsible for the attacks that killed hundreds of civilians on Aug. 21. We have yet to see that proof. Maybe Colin Powell wasn't available to make the case. What we do have is even flimsier than what George W. Bush had when he claimed Saddam Hussein stockpiled weapons of mass destruction. We have one intercepted phone call from an alleged Syrian military official who thinks the attack turned out to be larger than planned. Who that official is, how do we know that he is tied to the regime, what proof do we have that the administration isn't making all this up? Don't ask. Obama won't tell. Curveball must have relatives.
There's also the not-so minor matter of those Syrian rebels. These aren't your garden variety freedom fighters. Not even the merely rape-and-pillage kind Reagan loved so much. Most aren't interested in democracy or lap-dancing with the Statue of Liberty. Many rebels are a rebranded version of the insurgency in Iraq. They're Sunni fanatics. The most powerful segment among them is backed by al-Qaeda. Another powerful segment may not have al-Qaeda's backing but is just as radical, just as ruthless, the sort of people who gave us beheadings, suicide bombings and the bloodletting of innocent, all in the name of their cause. So it would not at all be surprising if one of these factions staged chemical attacks to provoke the sort of reaction it has from Obama. If that's the case, we would essentially be attacking Syria in reaction to an atrocity perpetrated by the regime's enemies.
Syrian President Assad's regime has been winning the fight. It would seem outlandish that he would perpetrate an act that could turn the tide against him. But let's assume that the regime had, in fact, bombed its own with chemical weapons. Like father, like son: Bashar el Assad's father Hafez leveled the city of Hama in 1982 to silence the Muslim Brotherhood, killing 20,000 of his own citizens. Bashar learned well. Chemical attacks would be a change of clothes for him, not a change in strategy.
For all that, moral outrage isn't enough to risk an equally immoral response that will unquestionably murder civilians, inflame all sides of the insurgency, even those ostensibly on the side of reason, embolden and possibly strengthen Assad, stop no one from using chemical weapons again, and muddy what has been an internal war about Syrian identity.
I should clarify here that I would like nothing better than to see this man erased from the face of the earth. His father demolished my native Lebanon. If I have terrorized nights to this day, it's from the memory of Syrian guns aimed and firing regularly at our neighborhoods: I owe my knowledge of the sound and smell of 220-mm shells to the Assad family. A 220 would be too good for the son, too quick, too merciful. But revenge is reason's undoing, and not just at a personal level.
In the Middle East, the United States has perfected the klutz of intervening where it shouldn't in the name of supposedly higher callings no one there gives a damn about, because they're too busy answering callings of their own. We're about to do it again, as if the lessons of Iraq and Afghanistan are as distant as the lessons Britain never wanted to learned from those two countries when they bled Britain a century ago. But it's not our fight. It's not our business.
And what business there is, is neither original nor worth a drop of American blood. It's an overdue Reformation with stale slabs of Arab Spring thrown in for western consumption, to keep the munitions flowing. Majority Sunnis are sick of Assad's minority Alawite regime (a cultish strain of Shiitism), in power since 1969. Hezbollah's Shiites are terrified of losing their principal sponsor. And neither Iran nor Israel, in an unspeakably ironic but silent alliance, want to see Sunnis' more extremist strain win the upper hand. Assad was a good buffer for both of them. The sectarian battle is part of Islam's larger crisis of identity, but it's a very long way from being resolved. American missiles won't help. They'd just be the latest crusade, and we know how that keeps turning out.
The Pentagon isn't interested in attacking Syria. The British Parliament rejected an attack despite its conservative majority. The United Nations Security Council isn't endorsing the attack. And our own Congress, despite Obama's clever shove—a dilution of hubris disguised as broadening democratic engagement—is properly weary of granting a drive-by blessing. But Obama appears intent on launching missiles, evidence, legitimacy, consequences and bloodshed be damned. This born-again hawk is no reluctant warrior. He wants his imprint. He wants to color in his red line, because he can.
If this is audacity, Mr. President, you can shove it.

Pierre Tristam is FlaglerLive's editor. Reach him by email here.