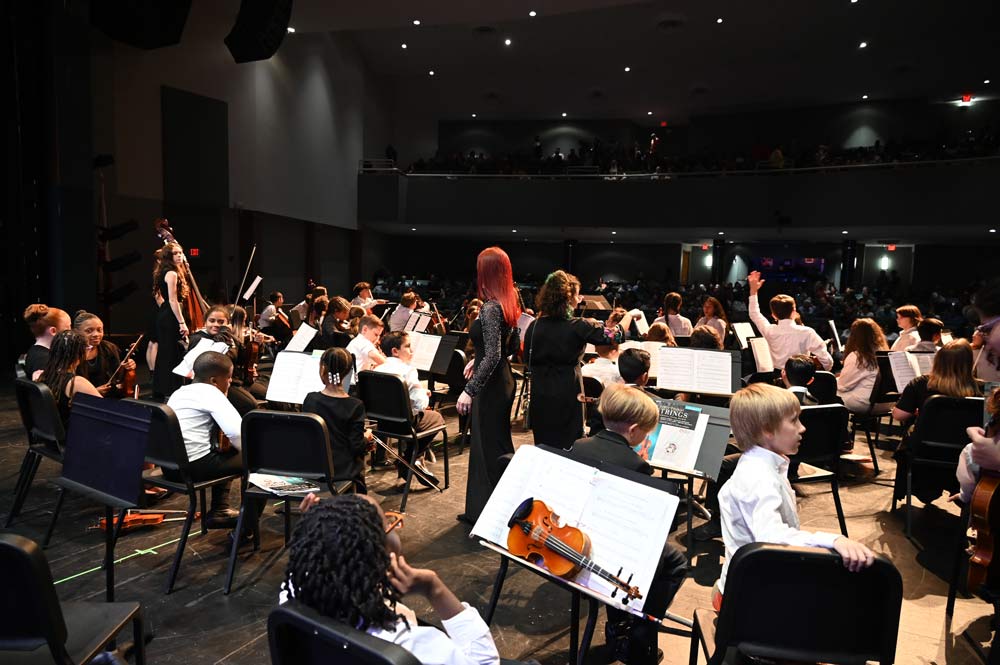 By Cheryl Tristam
I was going to be working for the Flagler Youth Orchestra until the morning of my funeral. At least that was the joke in my circle. It hurt me at my core when people would ask if I was going to resign once my son graduated. Somehow, they didn't see that the effort I put into this program wasn't for him. My family would make it happen for him regardless. I was doing this for the students who didn't have the same opportunity.
I couldn't imagine work any more rewarding than this program. Perhaps too much of my identity was woven into the mission and my role as Ms. Cheryl these 18 years, which is also why I could never imagine ending my involvement.




As of today I am no longer the director of FYO. I have requested that my contract for next year be pulled from consideration. It isn't what I wanted to do. But the conduct of some of our school board members toward me personally and toward the program has been reprehensible and inexcusable. It leaves me no choice.
More importantly, I have a family and my own future to care for. I was offered an incredible opportunity to work with an organization in an environment and with a mission that reminds me of the caring principles of the FYO at its best, with a hugely improved compensation package. I would be insane not to have taken it. These two or three malevolent school board members made their intentions clear. I am now making mine clear.
In a few weeks the audit of the FYO's books will reveal procedural missteps–no doubt because the district never trained me according to their procedures–but nothing more. Regardless: the malevolent will again use sly innuendos and unchallenged claims to continue one way or another to peddle their poisoned intentions. They'll have to do it without me, because this punching bag is moving on. Some of the misinformation and fabrications that led to this point have already been reported, and no doubt there'll be more ahead. Let me set the record straight.
There is a lot to be proud of. First, there's nothing else like FYO in the state. In 2005 I was trying to salvage a fee-based version of the program on behalf of what used to be the Flagler Symphonic Society. It had fewer than a dozen students and was too expensive for most. Then-superintendent Bill Delbrugge stepped in. He was willing to incorporate the program into the district and fund one teacher. His only request was that we (we being my husband, Pierre, and me) run it as volunteers. We all agreed to one fundamental principle: it would be a free program, affording anyone who wanted to learn an instrument the opportunity to do so.  In partnership with a very dynamic and beloved artistic director, we launched a very accessible, free program.




I remember the first discussion at a round table in Delbrugge's old office where the excitement about possibly having 40 students made us giddy. The reality of that first year was three times that. If students couldn't afford an instrument, the orchestra would be responsible for providing them a scholarship instrument through fund-raising, for which Delbrugge set up the Friends of the Youth Orchestra account as a district account. Between ticket, concession and ad revenue, we thought we could take on that cost. Delbrugge set up the account to that end.
Knowing what I know now, I can say I had no idea what I was doing back then. I was given no guidance, no parameters, no expectations. But I caught the bug of the mission. I was inspired by Delbrugge, by the artistic director and above all by the students, whose enthusiasm was overwhelming, and that fueled a passion to provide something to hundreds of students–and soon, thousands–that I didn't get a chance to do myself as a child.
Right about then I was given a clip art plaque at a school board meeting thanking me "for her outstanding service and dedication to the implementation of the Flagler County Schools Strings Program." I wasn't so much a martyr that I couldn't see this was a job requiring compensation. Once I started getting paid in the second year and I crafted a framework for the program, Pierre stepped aside, only volunteering when I didn't have the help I needed, and even that ended before long. FYO became like a child I could nurture.
The district's engagement level all this time was minimal. No directives relating to the running of the program and my engagement with the finance department, other than the timesheets and invoices for our compensation, was limited to once-a-year inquiries confirming the statement balance for the account. They eventually stopped asking that question. I had never worked for the school district before and had nothing to compare it to.
I had every reason to believe, since it was the district's account and had full access to it, that they were overseeing it. They were, but with benign neglect that, in the broken-telephone-like succession of five superintendents, became more neglectful. Somewhere along the line, key folks in the district made some assumptions about what "friends of the youth orchestra" was. I know without any doubt that some conspiracy-minded members of the public were told incorrectly by district staff that we were a non-profit. Not so. We were and have always been a district program.




So for all these years, I'm believing the sky is blue, I'm thinking the board members and the administrators think the sky is blue. The unquestioned renewal of the program year after year certainly pointed that way. There were odd moments over the years, as when the district sought a "memo of understanding" (MOU) for who would cover what portion of the cost of teachers. An MOU is between two separate organizations. We were the same organization. But to me, it sounded like a more detailed, reasonable way of laying out responsibilities, and it gave us a chance to pledge how we could fund-raise enough to pay for a teacher (starting with the 2010 economic crisis, when the district pulled back funding), then two and at times three teachers.
But we were still treated like outsiders when discussing our twice-weekly use of Indian Trails Middle School classrooms, or when conducting recruiting tours in schools at the beginning of each year, or since 2021, when board members would speak negatively about funding the program, as if we were a separate organization.
Delbrugge-era procedures were no longer aligned with more recent procedures. But the finance department losing track of this program was unfortunate for the district, for the program and for me. Under any other board, there would have been a directive to get things into alignment with current policies and procedures. I would have finally been properly trained, the account would have been routinely audited (as it should have been) and we'd have moved forward with approving the contracts to start the 19th season of the strings program, very likely with 400 student-musicians enrolled.
Instead, my name being associated with the editor of FlaglerLive became fodder for conspiracy theorists. That's unfortunate and ridiculous. But to these conspiracists, there's no interest in figuring out the facts first or most importantly, in protecting this vital program. Here are a few examples of their baseless claims that need correcting, and that I will be glad to update as necessary.
I paid FlaglerLive to advertise FYO. False. A couple of faction folks, and folks who should know better, misread the FYO financial report and got it backwards. FlaglerLive gave money to the FYO, not once the other way around. (Not that advertising on the platform with the cheapest and broadest reach of any local media would have been inappropriate, had FYO not been getting plenty of free advertising.) Ironically, we've personally been donating to the FYO every month for years.




The school district has funneled hundreds of thousands of dollars into this account. False. The school district pays teachers directly, once it receives timesheets. The FYO's internal account doesn't get a dime from the district–never has. To the contrary. Again, the flow of funds is the exact opposite. Out of FYO's internal account, we have given over $60,000 to the school district in the past five years to offset the cost of the teachers.
We're renting instruments, the implication being that we are generating unaccounted-for income through rentals. False. Only independent companies rent instruments to our students. FYO has no involvement in the transactions. A 30-second read of our FAQ page on our website explains how to get information about companies who rent instruments. The FYO does not rent instruments.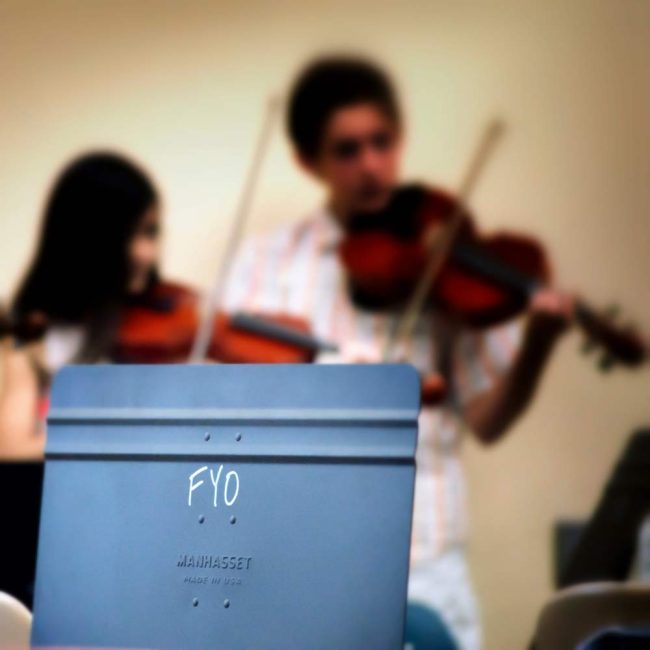 I make more money than the average teacher in Flagler,as if I somehow have a sweetheart deal. This is an old, laughable claim, an example of how you can literally make anything up these days without accountability. Since 2015, I've been paid $30,000 a year as a self-employed contractor. After paying self-employment taxes, and receiving no benefits at all from the district, I took home $24,000 to run a highly specialized program the size of a small school of 350 students, manage a teaching staff of six, no overtime for working well over 50 hours a week, many weeks during the season and pre-season. I haven't had a raise in eight years. Before 2015, I made between $15,000 and $19,000 per year.
There are other outrageous claims, such as "someone" on the school board being paid off or my family profiting from the district's EIN number. Not being able to imagine where this is coming from, the only thing I can think of is a board member's name does appear in our financial reports because she has made donations to the FYO. It's another example of misreading the report. And the EIN business is just absurd–or more likely a projection by someone intimately familiar with denying the law.




Last month I requested and was granted time to present at the school board's informational meeting, to introduce the three new members of the board to the FYO. It was the most detailed presentation I've ever given, getting them up to speed on how we're structured and how we execute the program, and to essentially brag about the great year we had fundraising, and our continued successes. What I got in return was predisposed hostility clearly scripted by the conspiracists.
Until last month, I wanted all those board members to love what we do. I wanted them to genuinely be impressed. At a time when we seem to be divided about just about everything, I wanted the youth orchestra to be the thing we could all agree on, because that's exactly what FYO has been for its hugely diverse community.
I expected their respect for the results we achieved. I wanted them to marvel at how we've kept their cost at the same level for the past eight years, at the fact that we have never asked for a dime to cover the very expensive cost of music or scholarship instruments, or anything else required to run the program for 18 years. They paid me and some of the teachers. FYO picked up the cost for everything else.
In all, the district's investment was almost exactly equal to the average annual cost of one teacher with benefits. For that, the district was reaching on average 350 students each year from all walks of life. If, as one board member has proposed, the investment was shifted to within the school day as opposed to the current model, it would pay for one teacher reaching a few dozen students at most, only within certain grades and at certain schools, eliminating vast swaths of students and choice (FYO serves 8 to 18 year olds). It would no longer be the program founded on the principle of free access to all.
The audit is taking place. I've made whatever information the district needs available and will continue to do so. I received the procedural handbook for internal accounts for the first time in May. It's worth repeating, I fully expect the audit will come back with procedural exceptions documenting errors that reflect that lack of training. These are the sort of errors the finance department sees regularly, but it will be clear: Every revenue and expense was tracked.
I was reluctant to withdraw my contract before the results of the audit came in, but that became irrelevant for several reasons, not least a job opportunity as if tailor-made for my skills and ideals, without the political noise.




The faction's conspiracy theories on the board and on social media, with current board members engaging and taking prejudicial positions in these threads, have made me realize that the audit could come back with routine or minor exceptions, only for these folks to be disappointed, not relieved. They cannot see past my last name. They are looking for an execution, not a solution. I cannot work for people cheering for failure, and for whom the program is an afterthought.
So I have no hope for a working relationship.
To this current board: I wish you the very best moving forward. I thank Colleen Conklin and Cheryl Massaro for their institutional knowledge and their unfailing support.
To any family who has come through this program, either for a month or ten years: you brought me tremendous joy, and I hope you know how much I cared for you, students and parents alike. In all of my time with the FYO I made decisions out of love, fairness, and what I thought was going to make for the best experience for the kids.
To all of the artistic directors: thank you for your very unique contributions to this program. You were divinely placed in this role just when we needed your expertise. I respected all of you a great deal for what you brought to the position, and I am grateful for the time you invested in me to learn more about the art of string instruction.
To all of the FYO teachers of the past 18 years, you were magical miracle workers. I still marvel at what we were able to accomplish with so little time in a massive group setting. I was honored to support your efforts in the classroom. Thank you for being open to ideas and for sharing yours with me. We laughed a lot, worked hard but had fun. You inspired our students, and you inspired me. I couldn't have asked for more. I will miss our times together.




To this community: thank you for supporting the program with your donations, your attendance at our 50 concerts at the Auditorium, most of them sold out, your invitations for us to play at your gigs, and your supporting voices over the years, and especially in the last few. I am grateful for the relationships I developed with you. My sincerest hope is you will continue to support music programs for our youth.
And to my family: thank you for making it possible for me to have this meaningful work. I didn't realize until recently how much of a sacrifice you were making for me to do this job. I know there were many times over the years when I chose FYO work over spending time with you. Thank you for having the same enthusiasm and love for the mission.
Only a few decisions in one's life are so difficult that we wish we did not have to make them. This was one of those decisions for me. I make it with great regret. But regret, in these circumstances, is not reluctance. I wish the Flagler Youth Orchestra the very best.
Postscript: I didn't make it clear that my contract with the district ended on June 30th. That means moving forward any work I might do on behalf of the strings program would be during a timeframe I would not be receiving any compensation. If my contract was renewed, it would be retroactive to July 1, but that was in the best of times when renewals were routine and respect for the program mirrored respect for its director. That is no longer the case. The contracts are not on any future agenda.
I had 17 years of unanimous approval. My decision to resign was founded in having no hope that there is majority support from this board for me to continue leading this program. Surely I'm not expected to stick around to work without pay, waiting to find out whether I have a job next year.

Cheryl Tristam was the executive director of the Flagler Youth Orchestra between 2005 and 2023. Reach her by email here.