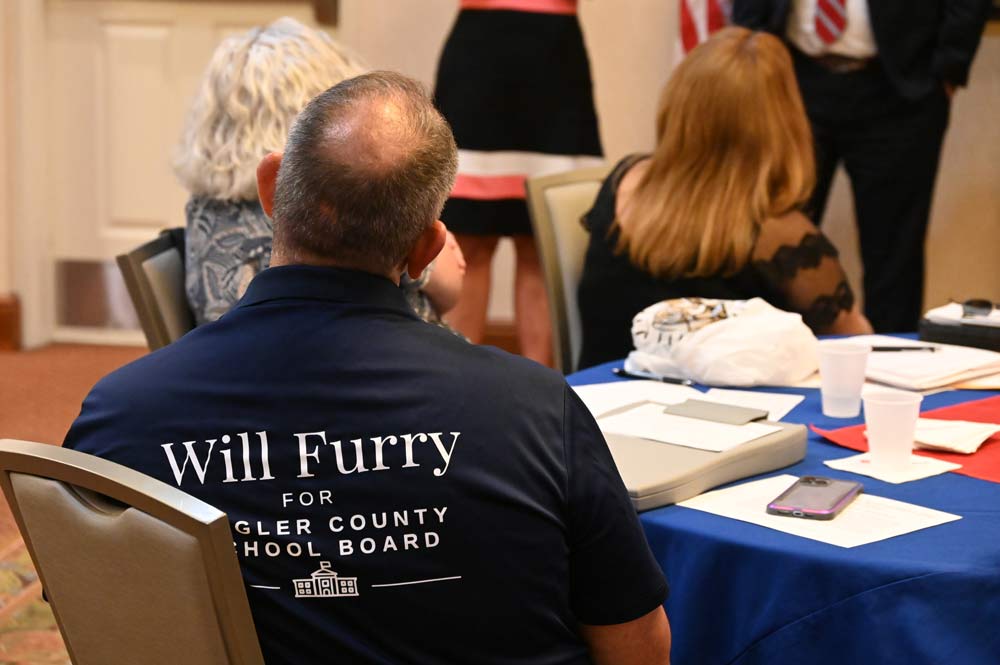 You could see Will Furry's eyes beading up when the school district's finance chiefs told him this afternoon that the Flagler Youth Orchestra had paid advertising money to FlaglerLive. This was his holy grail, what Furry and his whisperer Jill Woolbright have been after all this time: FYO has been bankrolling that pinko liberal queer-loving blogger's website all this time.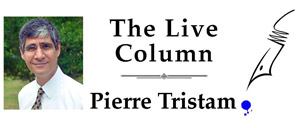 Except that it wasn't. District staff had erred. Staff had it in reverse, and corrected itself but not soon enough, not clearly enough. It's FlaglerLive that's been paying for advertising in FYO concert programs ($975 just since 2018), FlaglerLive that's been giving complimentary advertising to FYO, I'd estimate the equivalent of a couple of thousand dollars in value over the years.
Furry, the school board member elected last November on a raft of deceptions, is the type to  rootle in conspiracies and fabrications. He's been working on this one for a while. It has nothing to do with the Flagler Youth Orchestra. He doesn't know what the FYO is. I don't think he cares. He's never inquired about it, never seen a performance, never shown curiosity about its rehearsals, its teachers, its 375 students (this year; it's had upwards of 3,000 over the years). 




He has, however, obsessed about my wife, and more particularly about her name, being mine. He doesn't like FlaglerLive. We get that. I can't blame him. If I was a sleaze who deceived voters, who libeled my opponents and trashed my superintendent on bogus evidence, I wouldn't like the character who'd report it either. But Furry has not been able to wrap his mind around the fact that a Tristam is running a star district show, a fabulous program everybody keeps talking about, that she's been doing it for 18 years no less, without a hint of impropriety or anything amiss all those years, and that she's married to the editor of FlaglerLive. 
That's what this is about. As Colleen Conklin, the school board member who's been on the board since the program's inception in 2005 put it at the end of today's workshop, "this is more about Pierre Tristam than about Cheryl." And Furry–who, in fairness, has never been accused of being the board's most analytical or discerning seat–is willing to let burn a district program unlike any in Florida, because he can't see past his obsession. It is the bane of small minds. But the FYO shouldn't be paying the price. 
All conspiracy theories need a sliver of truth to seize on and grow from. In this case, there's no question that Bill Delbrugge, the superintendent in 2005 whose vision gave birth to the program, saw further than his books, as he often did in all things. He wasn't interested in details. That's what it takes sometimes to run a more interesting district. It's also why his tenure resulted in an A-rated district four years in a row, a feat never since repeated (the district has had an A rating just once since.) 




I remember when Bill established the parameters of the program at a round table in his office with Cheryl, the late Jonathan May, the program's first and (at the time) only music director, and me: a free after-school program for anyone who wanted to play a string instrument. We thought it would attract a couple of dozen, maybe three dozen students. Jonathan would teach, Cheryl would organize, I'd be their gofer. (At the time I had a 40-hour job at the News-Journal, so I had all the time in the world.) Both Cheryl and I were volunteers. Delbrugge put both our names on the FYO account, I have no idea why. Maybe he calculated (correctly) that I could get Tippen Davidson, then the publisher of the News-Journal and a champion of the arts, to be a sponsor. He briefly was. I didn't intend to sign a thing and never did. 
The program in its first year drew 150 students. Cheryl scrambled to find a couple of additional teachers, which the district funded, and it grew from there, with my involvement rapidly diminishing and long ended when FlaglerLive launched in 2010. Cheryl had just as rapidly built a corps of volunteers and had the program well in hand. 
The district's bookkeepers did not.  As superintendents came and went (five, counting Delbrugge), the books weren't audited. At some point the district gave out the wrong information: that FYO really was an independent account (it isn't). That started the conspiracy theories snowballing from the district's benign negligence. Furry's questions may have gotten the district to follow the procedures it should've been following all along, but they came wrapped in malice and malevolence, looking to fabricate a crime rather than to fix a minor and unforced error. 




An ongoing audit may find methodological differences–a signature may have been missing here and there, or this accounting procedure should've been used instead of that one–but nothing else. In other words, this whole thing could have been flagged and fixed at a few dozen points over the last few years, as even Cheryl flagged it several times, and could've been flagged even now (as other innumerable fixes are after auditors' letters) without theatrics, certainly without ulterior motives. 
But Furry can't help himself. Just as it never was about FYO, it only was about ulterior motives. He saw an opportunity for his vindictiveness. He pounced, to the cheers of his gang. I'm thinking not only of Woolbright, who's still on the hunt for her little satans (she tried this last year with Janet McDonald, and McDonald tried it the year before), but of the Alan Lowes and the Joe Mullinses still hosting socials around all this in Flagler's scummier gutters, and who knows what remaining Euryales on the school board.
So there are only two possible outcomes. The district renews the FYO program that swelled and broke our hearts for 18 years. Or it doesn't. Either way, the damage is done, because of Furry's colossal miscalculation. FlaglerLive isn't going away. By some miracle, the FYO may not even go away, at least on paper. 
But I can't say the same about the other Tristam, because my message to her is very simple: Your years with FYO have been wonderful, inspiring, and astounding, even at near-exploitative wages. Your student-musicians, your grateful families and your crack teaching staff have deserved every bit of you. But these goons on the board don't. And so, enough. There's no sense wasting wonders on small minds atrophying by the day. It's time to move on. 
Just as Cheryl as a rule doesn't have a say in what I write, I don't usually have a say in what she decides. I hope this is an exception. 

Pierre Tristam is FlaglerLive's editor.