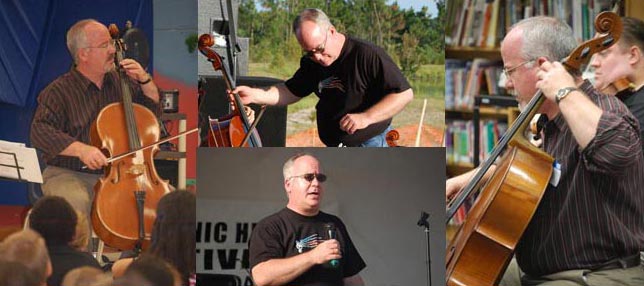 For the past five years, I've had the luck to be associated with Jonathan May, Florida's leading music director of youth orchestras. He was the conductor and artistic director of several orchestras in Central Florida, including the 250- student Flagler Youth Orchestra, which the Flagler school district underwrites and my wife runs, and where I lend a hand here and there. On Feb. 27, Jonathan died of a stroke. He was 51. He was scheduled to lead the youth orchestra in its second concert of the season Monday night at Flagler Auditorium.
The concert will go on. So will the Youth Orchestra, thanks to the district's commitment. But for the region's orchestra communities – thousands of students, many more parents, aunts, uncles, grandparents and friends who'd been touched by Jonathan's two decades in Central Florida – the loss is no less grievous than that of a great coach at the top of his game or, if there were such a thing, a beloved senator of music. There's a shock to play through, temptations of defeat to resist. To quote Jonathan's most recurrent words to his students: "You must adjust."
Walking into the Flagler auditorium on the orchestra's concert nights, we're used to seeing Jonathan running just a bit late with his last rehearsal, his baton smoothing out one final dazzle from his ensemble, his reassuring command of the stage managing to channel the trills of a hundred eager bows into the harmonies of a hundred young musicians. Near curtain time, he would disappear backstage for a few moments and reappear in his suit, pride and puns in tow, ready to lead an orchestra that then played for him at least as much as it played for the rest of us. Because to perform with Jonathan was to love him, and to love him was to live the joy that was his musical offering. His students lived that joy on rehearsal days. It was ours on concert nights.
Not tomorrow tonight? Jonathan's philosophy would have us rephrase that question in no uncertain terms: Especially tomorrow tonight.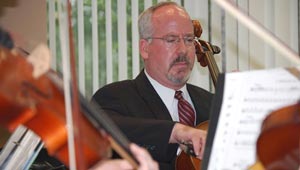 Jonathan's modest frame, so disproportionate to the influence of a giant, may not be at its rightful place onstage, but he'll be there as surely as the musicians he taught and inspired. His admiration for his students will be just as clearly reflected by their presence and, as many parents have experienced by now, their renewed commitment to a life in music. Jonathan's deservedly immodest praise for his students won't be heard, at least not in so many of his words, but it will be in many of ours: He inspired us, our children's cheerleaders, well, too. And although his terrible punch lines may have taken an untimely vow of silence, his humor is the undying accompanist to every memory that bears his name, and his ultimate life lesson: The orchestra not only plays on. It exults through loss to the cheer and elation that even the most sorrowful requiem brings, because music as Jonathan taught and played it is beauty, and beauty is joy's eternal twin.
It'll always be a mystery to us how he did it all. His orchestras across Florida – our own Flagler Youth Orchestra, which he'd been leading since 2005, the Florida Young Artists Orchestra he led in Orlando since its inception in 1998, his Trinity Prep School orchestra in Winter Park and the Central Florida Youth Orchestra in Leesburg – are each like the voices of his greatest fugue composition, and his innumerable students the notes that formed the art of his fugue.
From his youth in Wisconsin and South Dakota – in a family as musically prolific as the Bachs – to his student days in Colorado to his years at the height of his powers in Florida (lucky us), he cradled his art as he did his cello when he performed, his head with that slight tilt of anticipation of his: He wore his hunger for life on the sweat of his brows.
Jonathan died just past his half-century mark after living life enough for three centenarians and touching lives enough to form a small country. The thousand students he was leading this year are a fraction of the students he taught and led in 30 years, an entire generation of musicians now scattered around the globe.
Their teacher took an extended leave of absence Feb. 27. His teaching, his art and his voice didn't.
And just as musicians gather to play Bach and Mozart and Haydn and all the other long-departed victims of Jonathan's puns who live on through their music, so will Jonathan's students, now and for decades to come, be joining again in small or large groups, at reunion concerts or family gatherings, and, of course, in performances of the Flagler Youth Orchestra, to play in his name. That legacy is just beginning.