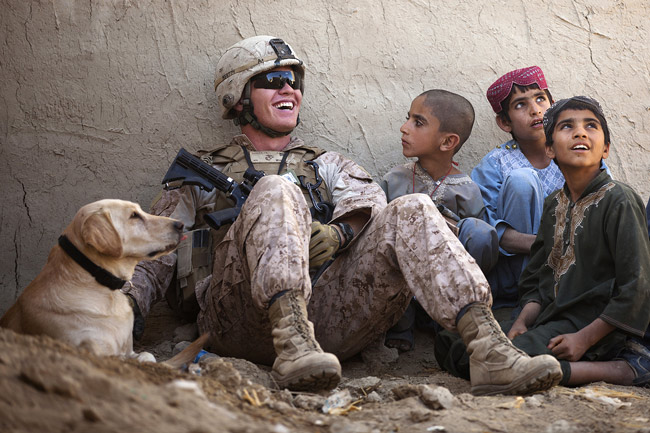 When the Los Angeles Times published photographs of American soldiers posing with corpses and body parts of Afghan insurgents this week, Secretary of Defense Leon Panetta apologized and did what men in high places do when confronted with lowly acts of men in their charge. He released a statement. The soldiers' behavior "absolutely violates both our regulations and, more importantly, our core values," Panetta said. "This is not who we are…. If rules and regulations were found to have been violated, then those individuals will be held accountable."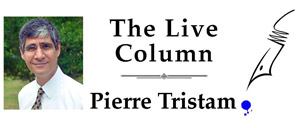 Panetta should be a very effective spokesman for the virtues of recycling by now. It's pretty much the same statement he trotted out when a video of U.S. Marines urinating on insurgents began circulating in January. Or when he asked the Marines in mid-February to look into evidence of soldiers posing with a Nazi SS flag. Or, later that month, when the American occupiers threw piles of Korans in burning trash, triggering weeks of deadly riots. Or when, in March, Staff Sgt. Robert Bales went around from home to home, cold-bloodedly murdering 16 Afghans, including nine children.
In every case, the military and civilian establishments attempted to distance themselves from what's now reflexively chalked up to the rogue acts of a few bad apples, though there's been enough of those to seed a sprawling orchard in Washington State. The behavior, we're told, in no way reflects on the military or its mission, wherever and whatever that mission happens to be—as if, say, the well-calibrated drone attacks on innumerable targets that as often as not massacre civilians in "surgical" missiles' paths are somehow more legitimate than soldiers pissing on corpses.
Back when the torture of Iraqis by American soldiers and interrogators was revealed at Abu Ghraib, the quick excuse was that the soldiers were not quite the ready-for-prime-time, exquisitely trained sort that the military takes pride in. They were part of a Maryland Reserve unit that went bad. That homage to weasels isn't as convincing anymore. Sgt. Robert Bales, the Washington State all-American who killed those 16 Afghans in March, was no reservist. He was one of those admirable professional soldiers—an excellently trained killer—hometowns place at the head of their July 4 parades when such heroes come home. But in his case, as one official put it in time for the talking point memo making its way across news desks, he "snapped." Family issues. Alcohol. Stress.
The same psychological courtesy is not usually granted terrorists, particularly terrorists with darker skins who murder children.
The soldiers posing with body parts weren't reservists or weekend warriors, either. The were members of the elite and revered 82nd Airborne Division. The soldier who gave the 18 photographs to the Times had a reason: he was concerned about "a lack of discipline, leadership and security that he said compromised soldiers' safety — and he cited the photos as one example," the paper reported. At least that motive was defensible, unlike the Pentagon's habit of sanitizing to the point of censoring what soldiers actually do in its splendid wars while pliant media usually play along and a public that's made a fetish of men in uniform gladly pretends that its heroes are as infallible as the pope. The Los Angeles Times's willingness to publish the soldiers' macabre games is an exception.
Soldiers will do gruesome things in war. They always have, they always will as long as wars are fought. It doesn't excuse what the soldiers did in any of these circumstances. But let's add a little perspective. Look around: the soldiers are acting barbarically, but they're in barbaric environments where behavior is routinely debased. The Taliban is barely more than a death cult. Its public executions and torture sessions such as stoning and maiming supposed miscreants cheapen life and make a mockery of the religion in whose name the Taliban claims to be fighting. The soldiers who burned Korans at Bagram Air Force Base were stupid, being well aware of the powder keg they were lighting. But stupidity isn't a crime. Rioting and murder is. The Afghans who caused the death of at least 40 people subsequent to the Koran burning are the fanatics, the barbarians, the murderers. Which raises the question: why the hell are Americans losing their lives fighting for these people?
And a more pertinent question: Who's really at fault, the young soldiers who are under immense strain, fighting a war they shouldn't be fighting, in a place they shouldn't be, and committing gruesome acts and atrocities along the way, or the commanders in chief who put them there, having known for years that there is no such thing as victory in Afghanistan?
George W. Bush started a war no one expected him to finish: little was expected of him and he didn't disappoint. Barack Obama presumed otherwise. He had a chance to end this war. He escalated it instead. It was part of his electoral strategy in 2008, an atrocity that ensured that the likes of Robert Bales, who might have spent the rest of his life doing nothing worse than brawling with a spouse and maybe detoxing in a county jail on occasion, "snapped" and obliterated several families along the way.
Obama's cynical ploy worked. He got elected. Like John Kennedy in his first term, Obama's been willing to send innumerable young men and women to their death to prove he's no pushover on the world stage. But Osama bin laden is now dead. The mission is accomplished. And never mind that a trillion dollar war never had to be fought to find and kill the guy. Look at the here and now. The United States has no business being in Afghanistan anymore, whether it ever really did or not. Yet Obama carries on, the American objective there as vague as ever, while insurgents, as they showed last Sunday, pull off a mini-Tet Offensive and contradict every claim of American or Afghan successes on the battlefield. Mitt Romney and his Republican acolytes in Congress would be no different. On that score, they're Obama's most reliable accomplices.
Yes, American soldiers are committing atrocities. But put the ultimate blame where it belongs: on a military and political leadership that's leaving them there for an 11th year, for no useful purpose, with no end in sight, no love from Afghans and no strategic gains on the battlefield. That's the real atrocity.