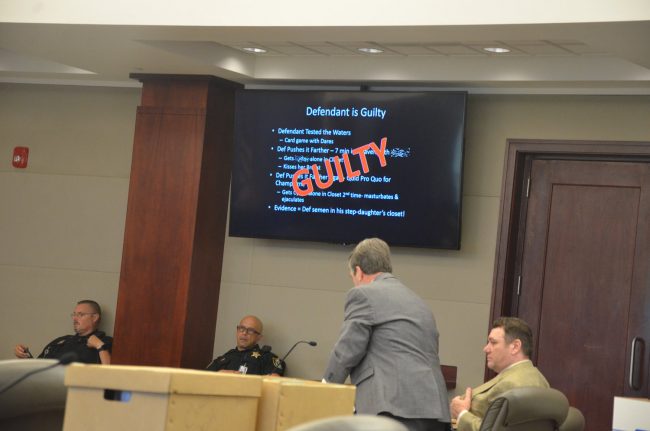 For the jury to find Michael Bowling not guilty of molesting a 15-year-old girl visiting his step-daughter for a sleepover in July 2016, it had to believe that the girl was lying. That the girl fabricated a story weeks after the incident, in collusion with the step-daughter with whom she was no longer friends by the time she revealed the alleged assault to an investigator, because of vague notions that the step-daughter was upset at Bowling.
The jury had to believe that Bowling did not, as the alleged victim accused him of doing, plant his mouth on her breast and masturbate in front of her in the step-daughter's closed closet during a game of "Seven Minutes in Heaven," even though a semen stain traced to him by DNA was found on the closet wall, and even though Bowling had adamantly, almost indignantly, told an investigator that his semen couldn't possibly be in his step-daughter's closet.
The jury had to believe Bowling's latter-day story–never told to the detective–that the semen, after all, ended up there because he had an amorous encounter with his wife, who gave him a hand-job in there, a story he told the jury when he testified after hearing everyone else's testimonies and knowing of the DNA evidence against him.
The jury had to believe Bowling's claim that, even though he was being accused of molesting an underage girl and was facing a long prison term if true, he did not want to tell the detective that he'd had a hand-job with his own wife in his step-daughter's bedroom, because he considered it a private act that was "nobody's business," in his words–even though he'd boasted to the same detective that he'd had sex with his wife in his brother-in-law's room, whom he called an "asshole."
The jury had to believe that that sexual encounter with his wife took place while his step-daughter and niece slept on a couch in the living room, though it was not late at night (the couple had just returned home), that, by his own account, it continued when his stepdaughter caught him and his ex-wife in the act, that he and his step-daughter locked eyes, that he maintained his erection throughout, and that he and his ex-wife nestled themselves further into the closet until he could finish.
The jury had to believe Bowling story, and not his ex-wife's, who adamantly said she'd never had sex in her own daughter's bedroom or closet.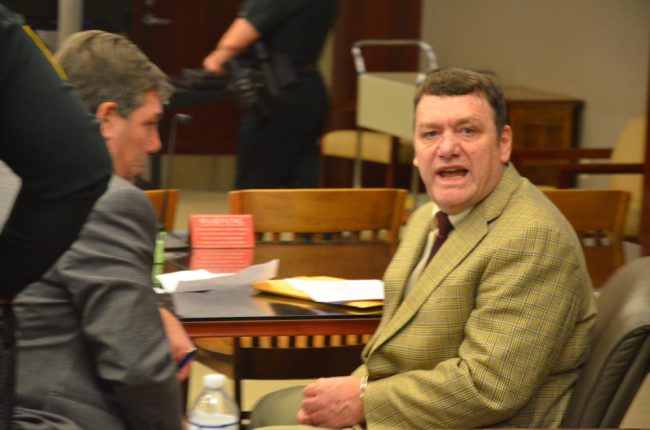 The jury had to believe that the 15-year-old victim made up the story about being in the closet with him and, in her words, feeling something "warm and wet" strike her right shoulder. That this girl–"she's a very meek, very timid young lady," in Assistant State Attorney Melissa Clark's description, a girl who did not finish high school and later earned her GED, a girl who showed no evidence of a wild imagination–managed to concoct a story that aligned with the exact precision of the sperm's location, even though when she made the claim that she'd been assaulted, she had no idea that investigators would later find a sperm stain in the closet, and could never possibly imagine what her friend's parents' sexual habits were. As far as she was concerned, she'd been stained herself but had wiped off the sperm with a piece of clothing she found on the closet floor.
So the jury had to believe that the girl was capable not only of making lewd and heinous imaginative leaps to weave her accusations, but that she was willing to make them on behalf of a friend toward whom she'd cooled by the time she made the accusations–she blamed her for the alleged assaults–and that somehow, her imaginative leaps matched the physical evidence recast as Bowling's after-the-fact dot-connecting from the witness stand.
The jury would have had to believe that it was normal for a 47-year-old step-father to insinuate himself into his teen-age daughter's sleep-over with her friend, to play games with the two girls over and over, and not just any games but games typical of adolescent dares, that he was doing so because he was trying to figure out whether his step-daughter had flashed herself on a website even though that matter had been settled a month earlier. And it would have had to believe that it was normal for Bowling never to tell his wife later of his investigative games with the girls, nor his step-daughter's asking him for alcohol, nor of his giving her a bottle of champagne. Or that he had supposedly emptied the bottle of champagne and filled it with water before giving it to her.
To find Bowling not guilty, the jury would have had to go along with Bowling's stories and Assistant Public Defender Bill Bookhammer's argument, that yes, the girls fabricated the accusations and contradicted each other at every turn since the incident unfolded in July 2016 in a Mondex mobile home.
Late this afternoon, a jury of four men and two women did not believe any of it.
It found Bowling guilty of lewd and lascivious molestation, guilty of lewd and lascivious exhibition.
The two second-degree felony counts carry a maximum penalty of 15 years in prison each.
The alleged victim sat through the final day, as she had most of the five days of the same trial in December, when it ended in a mistrial and left her in tears outside the courtroom.
The victim no longer speaks with the step-daughter: if the accusation had indeed been a fabrication, as the defense claimed, there'd long been nothing to gain from it. The ex-wife filed for divorce on November 6, 2017, six weeks before Bowling's arrest. The step-daughter is no longer with him. The defense's claim of a fabrication rests in part on the assumption that the alleged victim, though disconnected from her former friend, would then be willing to further the lie and herself submit to innumerable private and public humiliations–the forensic interview with the Child Protection Team, interviews with attorneys, depositions with both sides' attorneys present, public testimonies at pre-trial hearings, the trial in December, and again the trial this week.
The alleged victim could just as easily opted not to put herself through either trials, compelling the state to drop the charges. The state would have had no case without her. She did not drop them, making the case hers alone and entirely disconnected from the supposed motive the defense had put forth.
The prosecution could never make those points. Trial rules don't allow it. They don't even allow–as Clark, the prosecutor, tried to do during her closing arguments–mention of the innumerable steps the alleged victim had to go through in the legal process. It's "soliciting sympathy," as Bookhammer, the defense attorney, objected. The alleged victim's decisions in those regards are not evidence, nor is her presence or absence from the court.
That presence bore its own weight regardless.