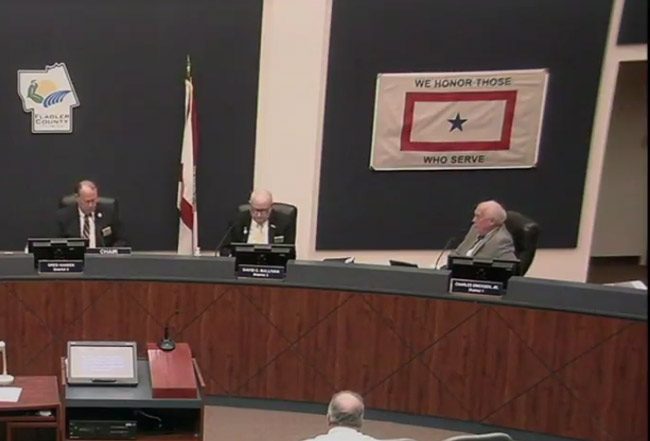 The ban on medical marijuana dispensaries is now in effect in unincorporated Flagler County. The County Commission this morning, ignoring an "appeal" from one of its own to reverse course, voted 3-2 on the second reading of an ordinance that prohibits the siting of any dispensaries anywhere outside of Palm Coast, Flagler Beach or Bunnell.
Bunnell is enacting a similar ban. Palm Coast and Flagler Beach approved ordinances that limit dispensaries to specific areas of town: they're prohibited on the beach side in Flagler Beach, leaving them permissible along State Road 100. In Palm Coast, they're permissible along State Road 100, Old Kings Road and Palm Coast Parkway. There are no medical marijuana dispensaries preparing to open just yet.
This morning's vote ends a long debate on the county commission that saw the panel shift back and forth over the months, between allowing and banning dispensaries, and with Commissioners Greg Hansen, Dave Sullivan and Charlie Ericksen switching votes or position along the way. The three ended up voting for the ban, with Commissioners Nate McLaughlin and Don O'Brien consistently in favor of dispensaries.
None of the votes were mere formality. Each time the issue led to debate on the commission and drew often passionate public comment, as was the case today. A woman who said she'd gone through four cancers and innumerable surgeries pleaded with commissioners to allow the dispensaries, saying she could not understand their reasoning against them. She said people who frequent dispensaries are like her: "gray" and "old," and struggling to reduce their levels of pain.
On the other hand, opponents of dispensaries said the businesses bring crime and destabilize communities–two claims that have been proven to be true only to the extent that many businesses, including convenience stores, banks, pharmacies and grocery stores, are also the target of robberies. What has not been shown to be the case, and what opponents of dispensaries have not acknowledged, is the claim that dispensaries are targeted more than other businesses. In fact, what studies have been conducted (they're few) show that banks and convenience stores are still ahead of medical pot dispensaries as robbery or burglary targets. But one recurrent theme in the many local government meetings dealing with the issue has been the distance from factual claims that opponents of medical marijuana have brought to the debate.
The ban in unincorporated Flagler will not have a significant impact on residents–at least not for now, and not differently than does the non-existence of pharmacies in unincorporated Flagler. For years residents have had to travel to Flagler Beach or to Palm Coast for their pharmaceuticals. And medical marijuana patients also have the option of ordering product by mail, though it's expensive.
Today, McLaughlin took a new approach as he attempted to sway at least one more vote his way. He said the ban would "basically segregate district five, the west side, from the rest of the county," even though the west side–which McLaughlin represents–is "poised for growth," with a $1 million fire station soon to be built at the corner of State Road 100 and County Road 305 in recognition of that area's expected growth. "This is essentially an effect against that area of the county," McLaughlin said of the ban.
"I want to be clear," he added, citing emails and online comments. "These are not, cannot, will not be pot shops." He said 40,414 citizens in Flagler, or 71.2 percent, approved the constitutional amendment legalizing medical marijuana in November 2016, and that their wishes should be respected even if it takes local governments some effort to work through compromises.
But his plea fell short.
"We just heard a plea to give it a try," said Ericksen, who had bristled earlier when a member of the public accused him of voting on an issue he had said explicitly he did not understand. "Well I still think the unincorporated part of the county can go with the ban and then we'll learn if Palm Coast and Flagler Beach will have a good episode, and then we'll bring it up at some point. I'm not ready to change my vote at this point."
Sullivan said he was voting for the ban "in accordance with what the state gave us the prerogative to do." State law gives local governments the option either to ban dispensaries in their jurisdictions outright, or to allow them in the same way that they do pharmacies–which is to say, with no additional regulations.
"We are not denying access to medical marijuana to anybody in Flagler County," Hansen said, calling it a "quality of life issue."