An obituary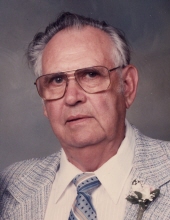 Marvin Franklin Seagraves, 91, of Emmett, MI, died
Tuesday
morning March 28, 2017, at McLaren Port Huron Hospital. He was born June 8, 1925, in Lawrenceville, GA the son of the late John Henry and Ida (Tuck) Seagraves.
His marriage to Catherine Buono was June 17, 1944 in Santa Maria del Mar Catholic Church, Flagler Beach, FL. Catherine died June 2, 1979.
His marriage to Genevieve VanTiem was March 15, 1980.
Marvin was employed as a sheet metal worker in FL and with the Sheet Metal Workers Union Local #80 of Michigan for 37 years until his retirement in 1980.
He enjoyed bowling, fishing and hunting.
Surviving in addition to his wife Genevieve of 37 years are two sons and daughters-in-law, James and Maureen of Lake Wales, FL and Timothy and Kathleen of Lapeer, Genevieve's children, Elizabeth and Anthony and their families; grandchildren, Cathy DeVlaminck, Kevin Lovell, Daniel Lewandowski Jr., Tina Lewandowski, James Seagraves Jr., Katie Francis, Heidi Caswell and Joseph Seagraves, great-grandchildren, Joseph, Carissa, Kevin, Brandon, Nick, Aine, Aeronwyn, Aisling, Beckett, Ben, Timothy and Brody and several nieces, nephews and friends.
He was preceded in death by two daughters, Mary Ann Stanley (1994) and Betty Lou Lewandowski (2011) and 10 older brothers and sisters.
The family honors the memory of Marvin and invite you to visit and share memories
Friday
5:00 to 8:00 p.m.
at Kaatz Funeral Directors, Richmond, with Scripture services at
7:00 p.m.
Fr. Sean Bonner associate pastor of St. Augustine Catholic Church, Richmond, will officiate. Burial will be
10:00 a.m.
Wednesday, April 5, 2017
at St. Mary's Cemetery, Korona, FL.
Memorials are suggested to American Lung Association or Blue Water Hospice.
For information and Guest Book