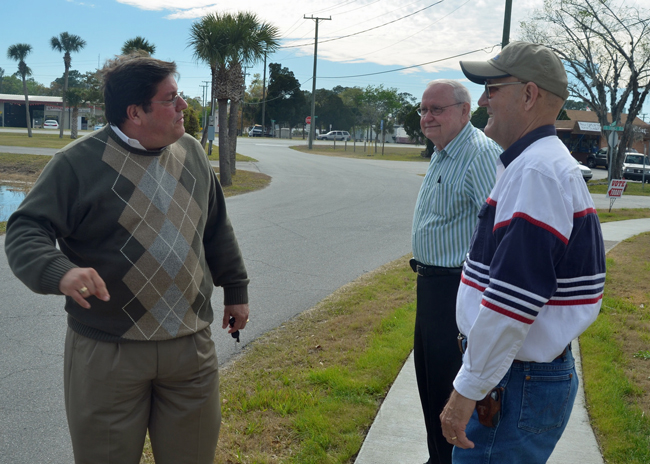 Citing a meeting a year ago when Bunnell City Commissioner Elbert Tucker said he did not want another manager from Miami, ex-Manager Armando Martinez has filed a discrimination complaint against Bunnell through the Equal Employment Opportunity Commission.
Martinez, a Cuban-born American who spent a large part of his career as a police officer in Miami, said in his complaint that Tucker's assertion that the next manager should "not come from South Florida or Miami" was "interpreted by all those who heard it that Commissioner Tiucker did not want another Hispanic city manager. I complained to Mayor Catherine Robinson about this discriminatory comment made by a city commissioner in connection with the termination of my contract."
Several days after that meeting, Tucker in an interview explained that the comment was not referring to ethnicity, but to the size of cities in South Florida. He said he was opposed to hiring a city manager from a large city, as Martinez was, when Bunnell is a city of fewer than 3,000 inhabitants, warranting a manager with experience in smaller cities. The manager who was eventually hired. Larry Williams, had managed two cities of roughly similar size.
Tucker made the point again in an interview Tuesday. "I didn't want anybody from Orlando, Tallahassee, Jacksonville, I think I even mentioned Lake City, I think I mentioned Miami first," Tucker said. "I didn't want a big city person. That was the drift of it. It was a surprise when I was told it was a discrimination suit because of what I said, and I thought well, they didn't play the rest of the disk. But it'll come out."
Martinez did not return a call placed to his cell phone.
Typically with an EEOC charge, the first step is mediation between the parties. If that fails, the charge will be forwarded to an EEOC investigator. If the investigator finds that discrimination took place, Bunnell will be asked to voluntarily settle the matter. Absent a settlement, either EEOC office could file suit against the city or Martinez will be told that he can himself sue. In some cases, however, when the case is too weak to pursue, the EEOC office will dismiss the charge without an investigation or mediation.
Bunnell has until Oct. 31 to respond to the charge. On Tuesday, City Manager Larry Williams declined to comment about the complaint, which had been forwarded to city attorney Wade Voss. Voss provided a copy of the complaint, but did not provide a statement.
Martinez was city manager from January 2006 until mid-October last year. He was fired once, in a 3-2 vote a few minutes after midnight on June 11, in a meeting that had started almost six hours earlier the previous day. But the commission reversed itself in another 3-2 vote the following month, when commissioners agreed to enter into contract talks with Martinez. The commission assigned then-City Attorney Lonnie Groot to negotiate with Martinez, who made clear from the start that he would not accept a salary as low as the $80,000 a majority of commissioners wanted to offer him.
On Aug. 12, the commission voted 3-1 to advertise for a new city manager. It was in the context of that discussion that Tucker made his remark about South Florida. Martinez currently lives in Palm Bay in Brevard County.
"Despite my empirical success," Martinez writes in his EEOC complaint, citing his [promotion from police chief to city manager and "excellent performance reviews" during his employment at the city, "I was targeted and ultimately terminated because of my national origin (Cuban) and race (Hispanic)." The parentheticals are Martinez's. He claims he has been "retaliated against for my complaints of race and national origin."
A city manager works at the pleasure of the board that hires him. The board may fire him at any point, or, in this case, choose not to renew his contract. Martinez was paid about $50,000 in severance. There's little question that once the majority on the city commission shifted in March 2013, with Bill Baxley, a Martinez opponent, replacing Daisy Henry, who'd been a Martinez supporter, Martinez's days a s city manager were numbered. The relationship between the manager and the commission's new majority turned contentious. The city administration experienced an exodus. Martinez himself was already looking elsewhere, and not for the first time.
Tucker's comment about Miami aside, there never was, during Martinez's tenure, a single occasion in commission meetings when his national origin or his race were discussed as part of any city business in any way that could be construed as discriminatory. Since last fall, Martinez has been the subject of recurring criticism by commissioners, especially those who fired him (Tucker, Bill Baxley and John Rogers), but the criticism has focused on the unraveling of a financial record that left the city facing a nearly $1 million deficit. The commissioners and current city manager blamed Martinez for that. The city has closed the gap since through deep budget cuts, including a shrinking of the police force.