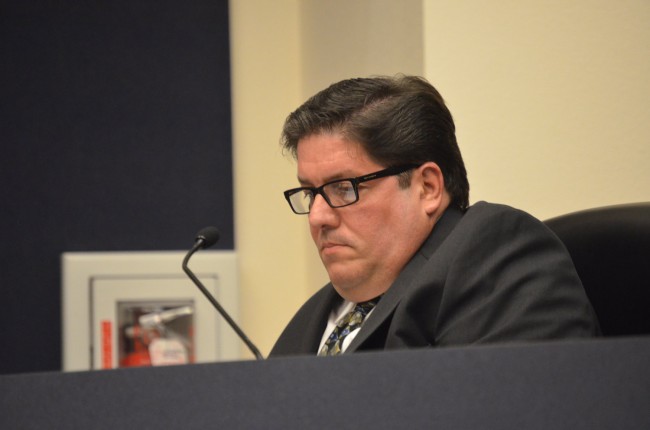 It's one of those old jokes with innumerable variations. In this 90s-vintage version, four men are bantering the morning away at the Miami square where they meet and play dominoes. One of them tells the story of Bill Clinton dying and having his body cryogenically preserved until he wakes up again in 2015, when he learns from a Jewish fellow that all is well in the Middle East, and from an Irishman that Ireland is unified again. He then goes up to a Cuban fellow and asks him how things are on the island. "Let me tell you my friend," the Compadre replies, "I can feel it in my bones. Any day now Castro's gonna fall."
Bunnell City Manager Armando Martinez—a native of Cuba—wouldn't want to have much in common with Fidel, but he might appreciate the joke, considering the number of times his own demise has been wrongly predicted in the city he's dominated with his personality and authority. He's done so first as police chief (starting in January 2007), then as manager starting the following year after a typically messy Bunnellian succession after the sudden resignation of his predecessor, Richard Diamond.
Martinez's fate as manager is again hanging by a vote, which he could lose when the Bunnell City Commission meets at 7 this evening.
Commissioner Elbert Tucker is once again bringing up the matter of Martinez's contract. The contract is set to renew automatically for a year, on Oct. 13—unless the commission gives "written notice of non-renewal at least 60 days prior" to the end of the renewal.
Tucker appears uninterested in renewing. (See Martinez's original contract here.)
Tucker and Commissioner John Rogers tried to end the contract in April, in what turned into an untidy process that let both commissioners stunned by a third commissioner's apparent reversal: Bill Baxley, who'd just been elected, and who had previously made his dissatisfaction with Martinez clear, did not join Tucker and Rogers in a vote to dismiss Martinez.
There was a reason for that, Baxley said Monday afternoon: he wasn't prepared to fire Martinez and pay him five months' severance, or roughly $45,000.
Baxley is prepared not to renew Martinez's contract, however. That would negate the need for severance. And it would fulfill a campaign promise.
"What I campaigned on was I would not renew Mr. Martinez's contract as written," Baxley said, citing the too-high salary of $104,470 (16 percent higher than when he was hired at $90,000 a year). "Based on my pledge to the people that elected me, I have to vote that way, and based on some other facts that I have found out."
That appears to seal it for Martinez, should Rogers and Tucker stick by their former vote. Rogers could not be reached. Tucker merely said, referring to Martinez, that he was "not going to attack his character," but that he was bringing up the issue again because there may be interest in another vote. If so, and if the vote goes against Martinez this time, it would end five rollercoaster years. (Reached later Monday afternoon, Rogers said he tells Martinez that "he's overpaid all the time," but he would not say whether he'd renew the contract. "You're going to have to come out and see," Rogers said.)
Martinez was immediately at loggerheads with Tucker when the commission hired him as manager in October 2008. Tucker was unhappy with Martinez demanding—and getting—an extra $6,000 a year as "hazard duty" pay on top of his $90,000 annual salary. "Is the manager's job that hazardous?" Tucker asked at the time with characteristic wryness. It wasn't. But Martinez managed to keep that pay by keeping the title of public safety director as well, which let him keep his cop's shield (and the gun he carried everywhere) until questions were raised several years later about that: constitutionally, Martinez couldn't have two titles. So he gave up the title and the gun, but a majority of commissioners voted to let him keep the extra pay.
Over time, the 4-1 majority that had endorsed Martinez eroded to 3-2 with the election of John Rogers in March 2011 (when he edged Baxley by three votes), and shifted against Martinez with the election of Bill Baxley last March (when Baxley beat incumbent Daisy Henry by a similarly slim margin). Baxley campaigned on two issues:  Cutting taxes and not renewing Martinez's current contract.
Baxley has since been attending city administrative meetings—directors' meetings—where he's familiarized himself with city operations, and with Martinez's style. He describes his relationship with Martinez as  "a business relationship only," and credits him with some good works, while, without elaborating, "some other areas I'm not too pleased with."
Martinez himself has been well aware of political winds shifting against him. He's at least twice applied for jobs closer to his home and family in Brevard County, from where he commutes every day, the last time making the finalists' list for the city manager's job in Satellite Beach. Still, his resilience has not been coincidental. Between his own maneuvers–at the April meeting, Martinez had packed the chamber with supporters ready to speak on his behalf–and  Mayor Catherine Robinson's own crafty use of procedures at commission meetings, Martinez's last chapter may not have been written yet.


The Bunnell City Commission is scheduled for 7 p.m. Monday evening in the commission chambers of the Government Services Building in Bunnell. The meeting is open to the public.