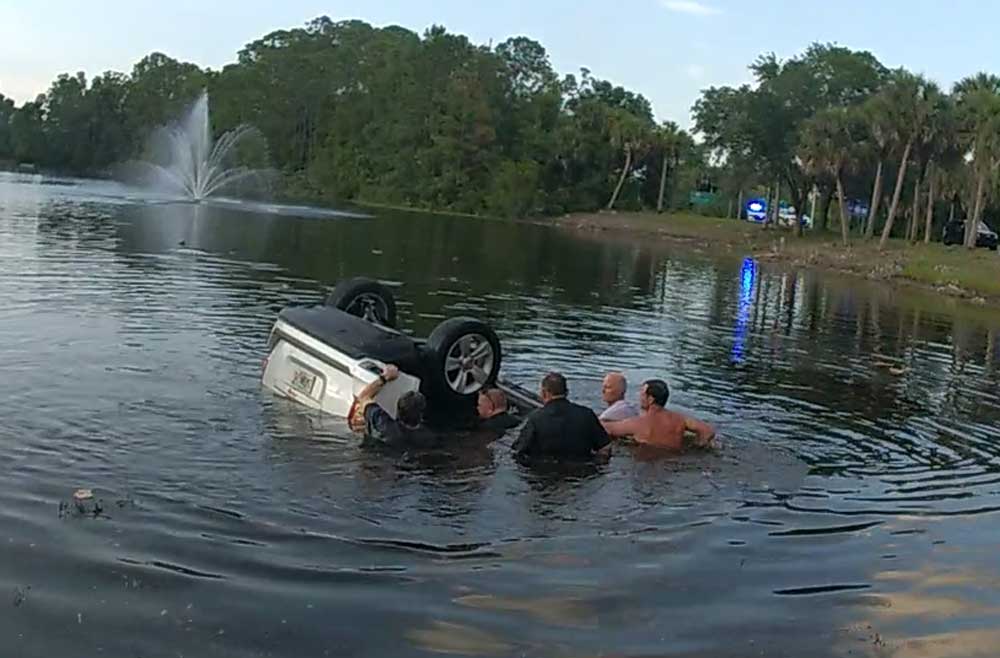 April 21 update—The Flagler County Sheriff's Office confirmed on Thursday (April 20) that Mark Anthony Smith, the Palm Coast resident rescued from his submerged car on April 16, died subsequent to his injuries.
Rescuers Pull Mark Anthony Smith, 40, Out of Submerged Car at I-95-Palm Coast Parkway Exit




April 17–The Flagler County Sheriff's Office got emergency calls around 6:50 p.m.: vehicle in the water. Not for the first time, a car had veered off an exit ramp at I095 and Palm Coast Parkway flipped upside down into the retention pond.
Mark Anthony Smith, a 40-year-old resident of Sedgwick Trail in Palm Coast, was the only occupant, though rescuers did not know that at first: there was a child seat in the back. Callers to 911 reported seeing the car flip into the water–and seeing no one come out.
It soon became clear that Smith, the driver, was entrapped.
Eight minutes later, with Flagler County Fire Rescue personnel, sheriff's deputies and civilians in the water, Smith was brought out, unconscious. A body camera shows one of the rescuers immediately starting CPR as Smith was brought to dry ground.
Searchers continued frantically looking for other victims, since they had no way immediately to know if Smith was alone, and his driver's license did not have an emergency contact.




"Thanks to everyone's quick action and bravery, the driver was able to be located quickly and life saving measures were immediately given," said Sheriff Rick Staly. "We pray the driver makes a full recovery. Thank you to the citizens who also jumped in to help."
While Flagler County FireFlight, the emergency helicopter, was placed on standby for a brief time, Smith was transported to AdventHealth Palm Coast. It isn't clear if he was later transferred to another hospital.
The interchange has been the scene of several dramatic crashes into retention ponds: in August 2017 a 28-year-old man ended up in critical condition when his car flipped into the pond off the southbound off ramp. The man's brother was in the car and had minor injuries. Three years earlier a 53-year-old man lost his life when his car veered off the northbound exit lane onto Palm Coast Parkway, driving his car into the pond. There are no guard rails along the ramps.