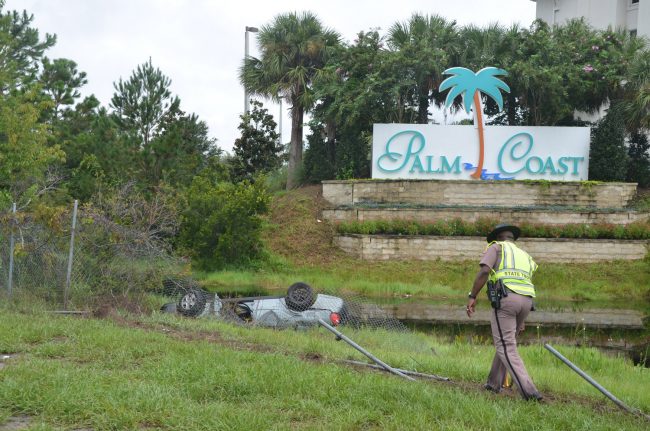 William Birch Jr., 28, was pulled out of his car with fluid in his lungs and in critical condition late this morning after the car he was driving with his brother flipped and crashed into the retention pond off the exit ramp from southbound I-95 at Palm Coast Parkway. The vehicle sheared off about 100 feet of fencing as it flipped.
His brother, Aaron Gordon, 25, escaped serious injuries and was walking and talking at the scene. The crash took place a little after 10 a.m., shutting down the southbound off ramp from I-95 onto Palm Coast Parkway as the Florida Highway Patrol investigated.
Flagler County Fire Flight, the emergency helicopter, was called but could not fly because of bad weather. A Flagler County Fire Rescue ambulance transported birch to Halifax hospital in Daytona Beach. He was breathing, but he had a Glasgow Coma Scale reading of 3, the lowest possible on the scale.
According to his brother, Birch was at the wheel of a Chevy Malibu, driving from Charlotte to Ft. Lauderdale.
Gordon described the crash and what led up to it. "We were coming from the rest area, typical rest area, and my brother was letting me know he wasn't feeling good. He's a sickle cell patient," Gordon said. One of the symptoms of sickle cell is anemia and fatigue. "I told him to go to the hospital, but he refused. So when he refused, that made me question him like, are you serious? So I said, can you pull over? There's a Days Inn right there. Before we get to the Days Inn, we spinned around and flipped and went into the water. When we went into the water, I immediately looked all around me to see if any windows were up. They were down. The door was unlocked. I got out of the [car], went for help, jumping up, screaming."
He went back to the pond. "He was nowhere to be found, I was screaming again." By then "people had stopped their car," Gordon said. "When I went back he was floating up in the water, I saw him, I put him out, me and this other white male," and brought him toward the fence. (Moments later he described it a slightly different way: "I went back on the passenger side, and I went up under the water to feel his hand movement, and I just pulled him.")
"When they came," Gordon said, referring to paramedics, "they said he was breathing, he had fluid in his lungs but he was up under the water for three minutes."
The two brothers had been arguing over pulling over. "When he stated to me he wasn't feeling good, I told him to pull over, let me try to take you to the hospital, let me try to do something, call an ambulance, and it just didn't work that way," Gordon said. "I think he lost control of the vehicle, it's slippery and wet. We were driving all morning in the rain, and that happened, I think that he was so upset to the point to where he just lost control." Birch, his brother said, feared being hospitalized, not wanting to be kept in the hospital.
"I didn't want to argue with him, so I say, you know, I can't take it no more, I don't want him to refuse no more," Gordon said, "something just told me to pull over, when I pulled over we flipped." At that point, Gordon spoke as if he was at the wheel, and continued to speak as if he were driving: "I was going to stop for a minute to see if he was OK, to check on him, to see if he was OK, if he wasn't capable of driving I would have had to stay here overnight and put him in a hospital."
But he said Birch had been driving. "What's so funny, my momma asked to come with me, and I'm so glad that my mother didn't come," Gordon said. "But I don't want my brother to die."
Palm Coast Fire Department paramedics had tended to Birch, who stood by the scene of the wreck, wrapped in a poncho and drinking water. Witnesses Birch had referred to were not at the scene some 45 minutes after the crash.
The Palm Coast Fire Police regulated traffic. The exit was expected to remain closed for a few hours as FHP conducted its investigation.