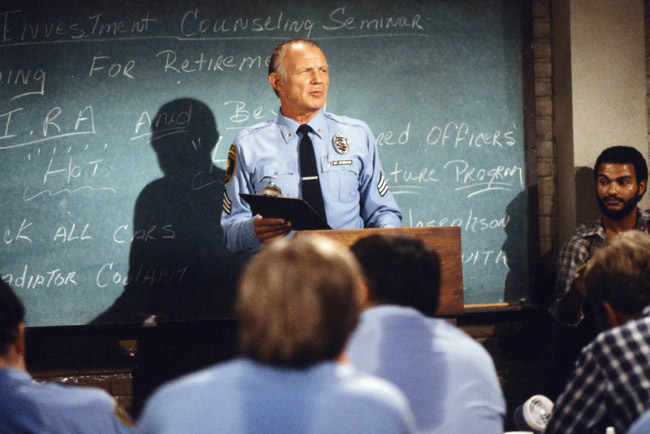 Adding to a series of setbacks and difficulties, including one other lawsuit and a pending ethics investigation, Flagler County Sheriff Jim Manfre is facing a federal lawsuit by at least four former deputies over overtime hours they say they were not paid for years because of the way briefings were routinely held off the clock. The practice dates back to the administration of Sheriff Don Fleming, who was in office for eight years, until the end of 2012.
The lawsuit was originally filed in late July by ex-deputy Daniel Ruddell and has since amended in late September as additional ex-deputies have joined it. Ruddell is represented by Kimberly De Arcangelis Woods of the powerful Morgan and Morgan Orlando law firm. (She dressed as Superwoman on Halloween).
On Oct. 21, a motion was filed to turn the filing into a class-action lawsuit, potentially including all road deputies who worked for Manfre in the last two years. Ruddell would be the class representative.
The lawsuit has implication beyond those parties and could potentially affect every rank and file employee at the agency, including civilians. Because of the lawsuit, and according to people who have followed the union negotiations, Sheriff's Office negotiators have told union representatives that money for a 1 percent raise that the County Commission made available to the sheriff in this year's budget cannot be awarded as such, and has been set aside to cover the cost of the lawsuit, should back pay have to be awarded the former employees.
The sheriff and the unions have been negotiating since February, and late last month the union declared an impasse, though the sheriff said last week that the issue may be resolved soon. Even modest employee raises appear less than likely this year, however, upsetting employees who don't want to be punished over a lawsuit they have nothing to do with.
---
A 1 percent raise due Sheriff's Office employees may go unawarded as the money for it is diverted to the lawsuit.
---
Ruddell is a 44-year-old Palm Coast resident who worked at the sheriff's office from September 2006 to April 2014, and for seven years at the Daytona Beach Police Department before that. He charges that during his employment at the sheriff's office, he was required to attend mandatory briefings but was not allowed to clock in for those briefings, which lasted at least 15 minutes.
"I have personal knowledge that all of the other deputy sheriffs/road deputies I worked with were subject to the same pay practices because they were also required to attend the 'shift briefings' without pay," Ruddell wrote in his lawsuit declaration. "In fact, because I complained about our attendance at the shift briefings without pay, the FCSO acknowledged that this policy was contrary to the Fair Labor Standards Act."
In an April 15 email to other administrators, Jim Troiano, the agency's human resources director, acknowledged Ruddell's complaint and explicitly stated that "According to the Fair Labor and Standards Act, we cannot ask someone to come in early to prepare for a shift or work event without compensating them. Since this will cause additional overtime, we are not going to authorize it." The email also refers to a grievance Ruddell had filed—the same month his employment ended at the agency.
Referring to broadening the case to a class-action lawsuit, Ruddell wrote, "Some of the FCSO who are still employed expressed an interest in joining the lawsuit, but they are in fear of being terminated or of the backlash that they think will come from the Sheriff and others who work for the Sheriff's Office should they join."
Since then, ex-employees who joined the lawsuit include Chris Ragazzo, who worked there 10 years until May 2013, Anthony Macchia, who worked there from 2006 to October 2011, and August Arinia, who worked at the agency from 2007 to May 2013.
In his complaint, Ruddell charges that by being denied the additional pay for time worked, which may have resulted in overtime pay, the sheriff "knowingly, willfully, or with reckless disregard carried out its illegal pattern or practice of failing to pay proper overtime compensation with respect to" Ruddell and other deputies. Ruddell also claims that the sheriff's office "failed to maintain accurate pay and time records in violation of the FLSA's record keeping requirements."
In the sheriff's brief response to the lawsuit, filed on Oct. 20, Mark Levitt, an attorney with Winter Park's Allen, Norton and Blue, denied most allegations and came down to this: "Any alleged violation of the Fair Labor Standards Act by [the Sheriff's Office] was not willful and was wholly unintentional." The sheriff's attorney is also claiming that the office is protected by qualified immunity and that the statute of limitation may apply "in whole or in part." The response was surprising for its brevity, but may have been driven by an apparent attempt by the sheriff's office to resolve the matter sooner than later, and avoid further court action.
The sheriff's strategy appears to be to block the case from turning into a class action and instead limit potential losses by negotiating a settlement with the four ex-deputies. That would mean paying them what they say they're due (and using the money once earmarked for the 1 percent raise to all employees) and preventing a much more expensive lawsuit or eventual settlement.
Two days after the ex-deputies filed the motion to win class-action status, Manfre and Riddell jointly filed a motion to stay the case for 60 days. The move is intended to allow both sides "to engage in
formal mediation and settlement negotiations to determine whether the Parties can reach a resolution of the claims pending in this litigation." District Judge Marcia Morales Howard granted the stay on Oct. 27. It's valid until Dec. 23.
Mediation is scheduled for Dec. 3.