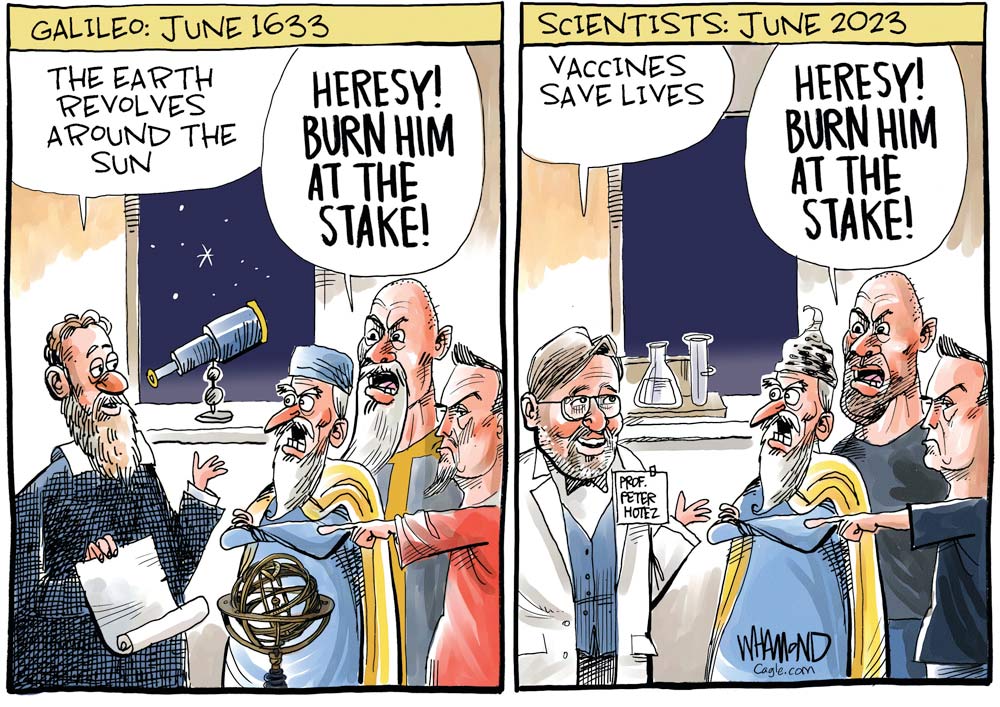 To include your event in the Briefing and Live Calendar, please fill out this form.
Weather: Showers and thunderstorms. Highs in the upper 80s. Southwest winds 10 to 15 mph with gusts up to 25 mph. Chance of rain 90 percent. Wednesday Night: Mostly cloudy. Showers and thunderstorms likely, mainly in the evening. Lows in the lower 70s. South winds around 10 mph. Chance of rain 70 percent.




Today at a Glance:
The Flagler County Technical Review Committee meets at 9 a.m. at the Government Services Building, 1769 East Moody Boulevard, Bunnell. The committee will review an application for a strip mall at Matanzas Shores, a proposal that has drawn local opposition.
Florida Speaker of the House Paul Renner is the featured speaker at Flagler Tiger Bay, 11:30 a.m. Hammock Dunes Club, 30 Avenue Royale, Palm Coast. Advance registration and payment required: $35 for members and $40 for guests. Early registration is encouraged. Book here. Renner was elected to the Florida House of Representatives in 2015, representing the 24th District, which includes Flagler County and St. Johns County.  Currently he serves as the Speaker of the Florida House of Representatives, starting in November 2022, making him the first legislator from Northeast Florida to be chosen for the leadership position in more than two decades. As a Commander in the Navy Reserves, Renner received orders to serve as an Intelligence Officer in Afghanistan in 2011.  Paul led a team focused on counter-terrorism efforts, and was awarded the Defense Meritorious Service Medal for his "direct and significant contribution to the disruption of foreign facilitation networks [that] led to the capture or arrest of numerous key network leaders, delivering a considerable blow against the enemies of our Nation."
The Flagler County Contractor Review Board meets at 5 p.m. at the Government Services Building, 1769 East Moody Boulevard, Bunnell.
Two Flagler Beach City Commissioners host a joint meeting of local government representatives to discuss future strategy of managing the large number of tourists who visit Flagler Beach, largely at the city's expense. City leaders say the city alone cannot be left to contend with the consequences. The meeting is at 6 p.m. at Flagler Beach City Hall.
Separation Chat, Open Discussion: The Atlantic Chapter of Americans United for the Separation of Church and State hosts an open, freewheeling discussion on the topic here in our community, around Florida and throughout the United States, noon to 1 p.m. at its new location, Pine Lakes Golf Club Clubhouse Pub & Grillroom (no purchase is necessary), 400 Pine Lakes Pkwy, Palm Coast (0.7 miles from Belle Terre Parkway). Call (386) 445-0852 for best directions. All are welcome! Everyone's voice is important. For further information email [email protected] or call Merrill at 804-914-4460.




The Circle of Light Course in Miracles study group meets at Vedic Moons, 4984 Palm Coast Parkway NW, Palm Coast, Fl every Wednesday at 1:20 PM. There is a $2 love donation that goes to the store for the use of their room.   If you have your own book, please bring it.  All students of the Course are welcome.  There is also an introductory group at 1:00 PM. The group is facilitated by Aynne McAvoy, who can be reached at [email protected].
Weekly Chess Club for Teens, Ages 9-18, at the Flagler County Public Library: Do you enjoy Chess, trying out new moves, or even like some friendly competition?  Come visit the Flagler County Public Library at the Teen Spot every Wednesday from 4 to 5 p.m. for Chess Club. Everyone is welcome, for beginners who want to learn how to play all the way to advanced players. For more information contact the Youth Service department 386-446-6763 ext. 3714 or email us at [email protected]
Notably: I was struck by this picture and article in the June 20, 1964 New York Times ("Whites Repulsed in St. Augustine"), the day after Congress passed the Voting Rights Act, about an attempt by a white mob, "shouting threats and obscenities", to bust a police line and get at a procession of Blacks celebrating the passage of the Act. (The Times used a different word than Black.) "The whites, fired up by Ku Klux Klan speakers, followed the 180 marchers through dark, narrow streets but were repulsed at every turn by state troopers and other officers."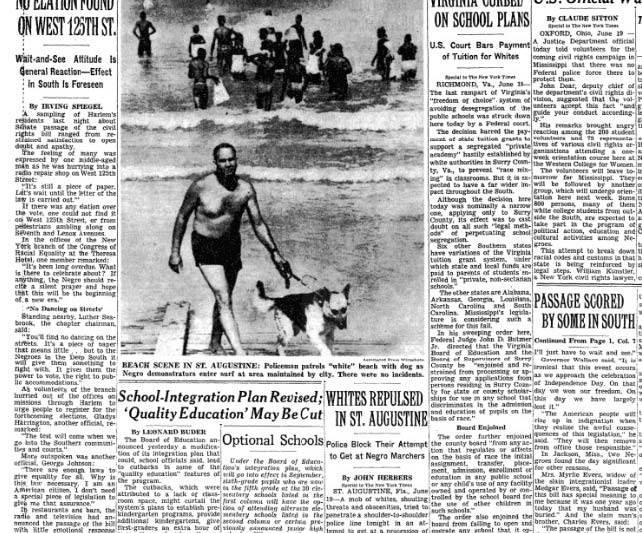 It's curious though that The Times would choose to run that picture mere months after the Supreme Court decided Sullivan v. New York Times, four years after the ad at the center of that case and many images since had brought attention to police use of dogs against Blacks in the South. The image above would immediately evoke those same assumptions. The caption: "Beach scene in St. Augustine: policeman patrols 'white' beach with dog as Negro demonstrators enter surf at area maintained by the city. There were no incidents." But why was that dog there? The image reminded me of my last trip toi St. Augustine a couple of weeks ago, when I noticed the same unleashed snarls still very much in evidence in that city of such inglorious bigotries, as our friend Ray Warren could tell us (since his father defeated the worst of the city's bigots a couple of generations ago):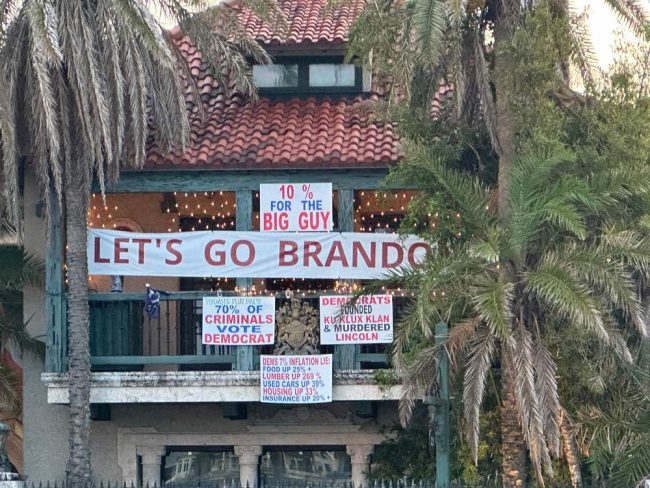 —P.T.
Now this:

The Live Calendar is a compendium of local and regional political, civic and cultural events. You can input your own calendar events directly onto the site as you wish them to appear (pending approval of course). To include your event in the Live Calendar, please fill out this form.
For the full calendar, go here.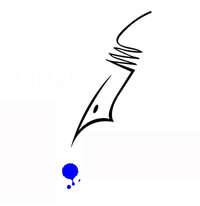 There were two very fine looking slaves arrived here from Louisiana, one of them had his master's name branded on his forehead, and with him he brought all the instruments of torture that he wore at different times during 39 years of very hard slavery. I will try to send you a Photograph of him he wore an iron collar with 3 prongs standing up so he could not lay down his head; then a contrivance to render one leg entirely stiff and a chain clanking behind him with a bar weighing 50 lbs. This he wore and worked all the time hard. At night they hung a little bell upon the prongs above his head so that if he hid in any bushes it would tinkle and tell his whereabouts. The baton that was used to whip them he also had. It is so constructed that a little child could whip them till the blood streamed down their backs. This system of proceeding has been stopped in New Orleans and may God grant that it may cease all over this boasted free land, but you may readily imagine what development such a system of treatment would bring them to. With this class of beings, those who wish to do good to the contrabands must labor. Their standard of morality is very low.
–From a letter by Cornelia Hancock, a nurse in an army hospital near Gettysburg who also worked in a hospital in Washington, November 15, 1863, four days before Lincoln delivered his Gettysburg address.