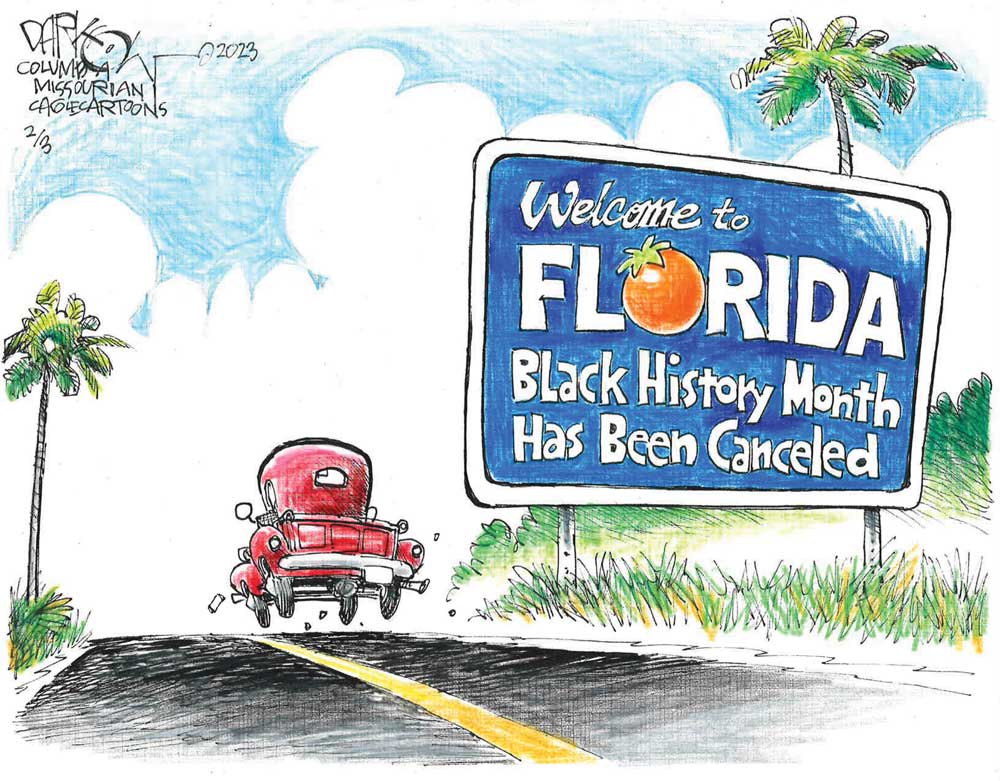 To include your event in the Briefing and Live Calendar, please fill out this form.
Weather: Mostly cloudy. Highs in the mid 60s. Northeast winds 10 to 15 mph with gusts up to 25 mph. Saturday Night: Mostly cloudy. A slight chance of showers after midnight. Lows in the lower 50s. Northeast winds 5 to 10 mph. Chance of rain 20 percent.
Today at the Editor's Glance:
Palm Coast hosts the 2nd Annual Tunnel to Towers 5K Run/Walk Palm Coast on Saturday, February 4, at 8 a.m. at Central Park in Town Center. All proceeds from this event will benefit the Tunnel Towers Foundation, which supports severely wounded veterans and first responders, gold star families, combating veteran homelessness and other timely causes. Most recently, the organization has been working to provide relief efforts for areas of southwest Florida that were most devastated in the aftermath of Hurricane Ian. Registration for the Tunnel to Towers 5K Palm Coast opens on Tuesday, November 1 at 10 a.m. via the event registration page. Participants will be able to sign up and get 50% any registration cost by using the promo code FIRSTRESPONDER at checkout through 10am on November 3. Those interested in volunteering may also sign up via the volunteer registration page. All participants and volunteers will receive a Tunnel to Towers t-shirt, and customized medals for the event. For all inquiries or sponsorship opportunities, email [email protected]
The First Saturday Creative Bazaar Arts and Craft Market, a flea market presented by the Palm Coast Arts Foundation, is scheduled for 9 a.m. at the foundation's grounds, 1500 Central Avenue in Palm Coast's Town Center.




The Saturday Flagler Beach Farmers Market is scheduled for 9 a.m. to 1 p.m. today at Wickline Park, 315 South 7th Street, featuring prepared food, fruit, vegetables , handmade products and local arts from more than 30 local merchants. The market is hosted by Flagler Strong, a non-profit.
The 2023 Flagler Home and Lifestyle Show is scheduled for Feb. 4 and 5, from 9 a.m. to 4 p.m. Saturday and 10 a.m. to 4 p.m. Sundat, at Flagler Palm Coast High School, 5500 State Road 100, Palm Coast. Free parking and admission, food trucks, arts and crafts, service fair and more. The lifestyle show is a fund-raiser for Flagler County Schools' Flagler Technical College.
Sunshine and Sandals Social at Cornerstone: Every first Saturday we invite new residents out to learn everything about Flagler County at Cornerstone Center, 608 E. Moody Blvd, Bunnell, 1 to 2:30 p.m. We have a great time going over dog friendly beaches and parks, local social clubs you can be a part of as well as local favorite restaurants.
Grace Community Food Pantry, 245 Education Way, Bunnell, drive-thru open today from 10 a.m. to 1 p.m. The food pantry is organized by Pastor Charles Silano and Grace Community Food Pantry, a Disaster Relief Agency in Flagler County. Feeding Northeast Florida helps local children and families, seniors and active and retired military members who struggle to put food on the table. Working with local grocery stores, manufacturers, and farms we rescue high-quality food that would normally be wasted and transform it into meals for those in need. The Flagler County School District provides space for much of the food pantry storage and operations. Call 386-586-2653 to help, volunteer or donate.
Love is Love Pridefest 2023 in DeLand: Saturday, starting at 2 p.m. on Artisan Alley, near the intersection of New York Avenue and South Woodland Boulevard. Pride Marketplace, Live Entertainment, Youth Activities, and more.




"Rent," the Jonathan Larson musical, at Flagler Playhouse, 301 E. Moody Blvd. Bunnell. 7:30 p.m. on Friday and Saturday, 2 p.m. on Sunday. Tickets are between $25 and $30. Book here. Set in the East Village of New York City, Rent is about falling in love, finding your voice and living for today. Winner of the Tony Award for Best Musical and the Pulitzer Prize for Drama, Rent has become a pop cultural phenomenon, with songs that rock and a story that resonates with audiences of all ages. Based loosely on Puccini's La Boheme, Jonathan Larson's Rent follows a year in the life of a group of impoverished young artists and musicians struggling to survive and create in New York's Lower East Side, under the shadow of HIV/AIDS. The physical and emotional complications of the disease pervade the lives of Roger, Mimi, Tom and Angel. Maureen deals with her chronic infidelity through performance art; her partner, Joanne, wonders if their relationship is worth the trouble. Benny has sold out his Bohemian ideals in exchange for a hefty income and is on the outs with his former friends. Mark, an aspiring filmmaker, feels like an outsider to life in general. How these young bohemians negotiate their dreams, loves and conflicts provides the narrative thread to this groundbreaking musical. This is theatre at its best – exuberant, passionate and joyous.
In Coming Days:
The Annual Jazz Brunch and fund-raiser at the African American Cultural Society is scheduled for 11 a.m. (doors open at 10:45) at AACS, 4422 North U.S. Highway 1, Palm Coast (just north of Whiteview Parkway). Brunch at 11, music starting at 12:30 p.m. Tickets are $50. Call 386/597-5786 or 386/627-1174 for tickets.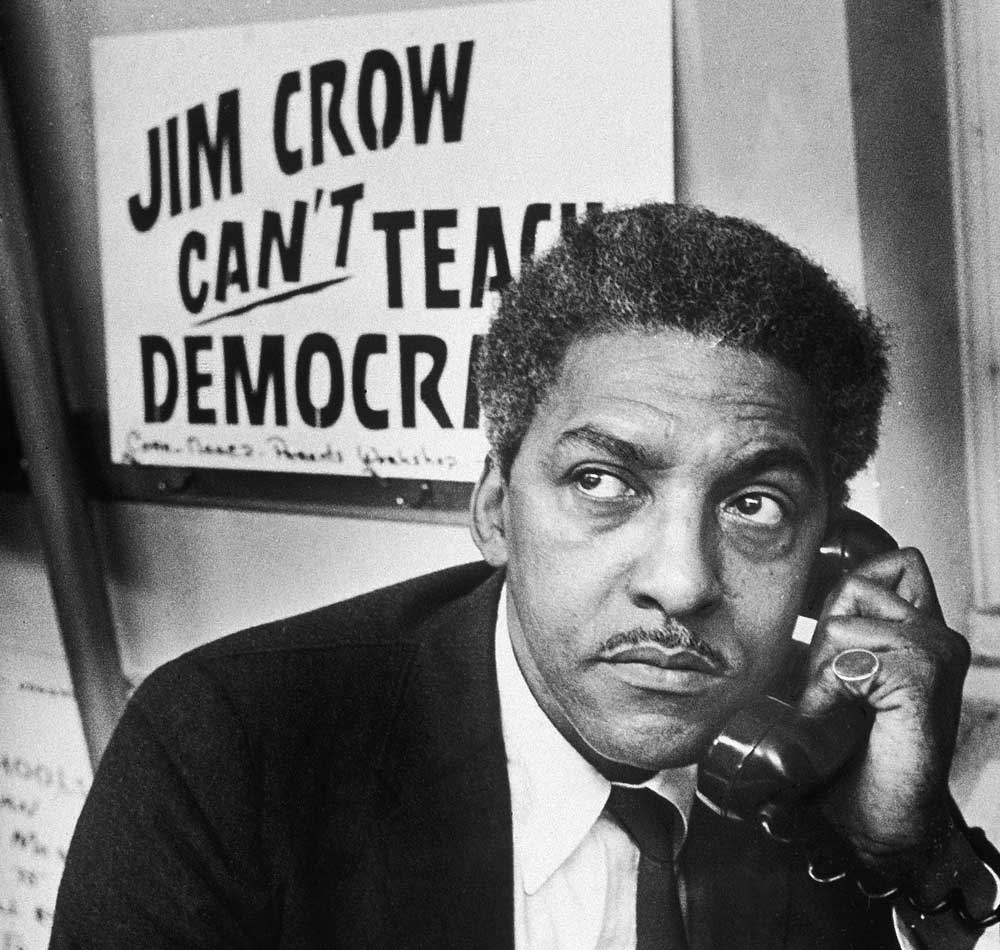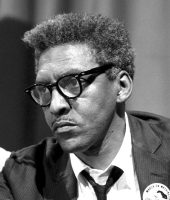 Notably: It is Rosa Parks's birthday (1913). Though many individual acts of bravery and resolve  preceded the civil rights era–the Second Reconstruction, now so desperately awaiting a Third–it was her refusal to give up that bus seat to a white person that symbolically marks the beginning of the movement. But let's remember for a moment one other Rosa Parks-like incident, the one involving the great Bayard Rustin. It was 1942. He was riding a bus from Louisville to Nashville. He did not sit in the back. The driver called him the usual N-nigrating words at every stop, trying to get him to the back of the bus. "My friend," Rustin told him, "I believe that is an unjust law. If I were to sit in the back I would be condoning an injustice." Thirteen miles north of Nashville, police sirens. The bus stops. Four cops get on, order him to get up. He refuses. They drag him out, knock him down, kick him. Three white men got out of the bus–and stopped the cops. One of them, an elderly Southerner, promises him he'll get him justice. Rustin was arrested and driven to a Nashville police station, made to go through a gauntlet of abusive cops. Rustin kept his cool, angering them that he wasn't scared. The Southern gentleman shows up, repeats he's there to get Rustin justice. He appeared before the district attorney, who asked him to tell his story, trhen asked the cops to tell theirs. After an hour, the DA told him: "You may go, Mr. Rustin." Writing of the account in Fellowship, in July 1942, Rustin recalled: "left the courthouse, believing all the more strongly in the non-violent approach, for I am certain that I was addressed as 'Mister,' as no Negro is ever addressed in the South; that I was assisted by those three men; and that the elderly gentleman interested himself in my predicament because I had, without fear, faced the four policemen, and said, 'There is no need to beat me. I offer you no resistance.'" There are many more stories like this. See the day's quote below. But keep in mind: reading these accounts is illegal in Florida.
Now this:

The Live Calendar is a compendium of local and regional political, civic and cultural events. You can input your own calendar events directly onto the site as you wish them to appear (pending approval of course). To include your event in the Live Calendar, please fill out this form.
For the full calendar, go here.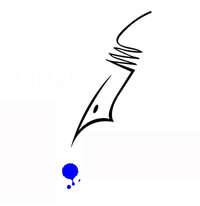 "This Negro soldier was sitting on a seat opposite to a white man. The bus was not crowded, and he wasn't sitting in front of any white. But the driver came back and told him to move. He refused. The driver shouted, 'I'm gonna move you.' The Negro took his coat off and said, Well I'm fixing to go off and fight for democracy. I might as well start right now.' And I want to tell you that bus driver backed down. It did me good to see it."
–From Sterling Brown's "Out of Their Mouths," Survey Graphic, 1942, reprinted in The Library of America's Reporting Civil Rights, Part One 1941-1963 (2003).