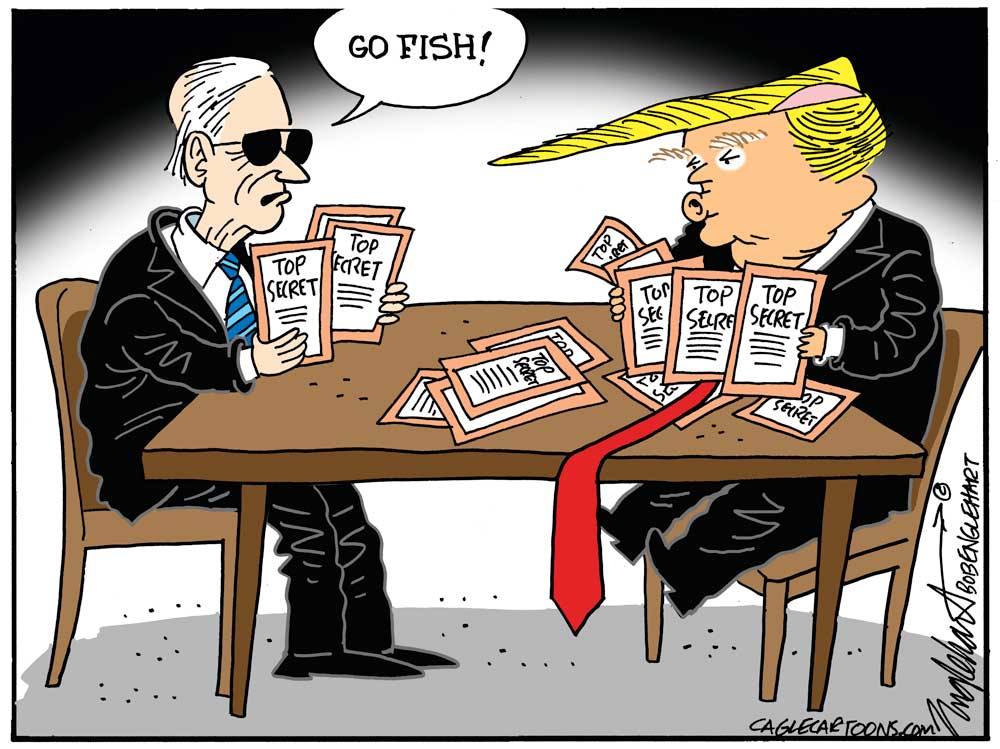 To include your event in the Briefing and Live Calendar, please fill out this form.
Weather: Areas of frost in the morning. Sunny. Highs in the upper 50s. Northwest winds around 5 mph. Sunday Night: Clear. Widespread frost after midnight. Lows in the lower 30s. North winds around 5 mph in the evening, becoming light and variable.
Today at the Editor's Glance:
Flagler County's Cold-Weather Shelter Opens: The Sheltering Tree's shelter will open at Church on the Rock, 2200 N State St, Bunnell, at 5:30 p.m. It will close the following day at 8 a.m. Guests, who may be homeless or who may simply need a heated place, as some homes in the county lack heat, will receive a hot dinner and a hot breakfast, free of charge. The shelter is run entirely by a corps of Sheltering Tree volunteers, who operate in teams. Security is provided, as is overnight supervision and transportation, if needed. Though the shelter is hosted by Church on the Rock, the shelter operation itself is non-denominational, and open to people of all creeds, faiths or no faith. The county will provide bus transportation along two routes, along this schedule:
Dollar General at Publix Town Center, 3:30 p.m.
Near the McDonald's at Old Kings Road South and State Road 100, 4 p.m.
Dollar Tree by Carrabba's and Walmart, 4:30 p.m.
Palm Coast Main Branch Library, 4:45 p.m.
Dollar General at County Road 305 and Canal Avenue in Daytona North, 4 p.m.
Bunnell Free Clinic, 4:30 p.m.
First United Methodist Church in Bunnell, 4:30 p.m.
Call 386-437-3258, extension 105 for information about transportation to the shelter. The Sheltering Tree is urgently in need of volunteers. Please call 386-503-0816 to help. 
Grace Community Food Pantry, 245 Education Way, Bunnell, drive-thru open today from 1 to 4 p.m. The food pantry is organized by Pastor Charles Silano and Grace Community Food Pantry, a Disaster Relief Agency in Flagler County. Feeding Northeast Florida helps local children and families, seniors and active and retired military members who struggle to put food on the table. Working with local grocery stores, manufacturers, and farms we rescue high-quality food that would normally be wasted and transform it into meals for those in need. The Flagler County School District provides space for much of the food pantry storage and operations. Call 386-586-2653 to help, volunteer or donate.




'Honky Tonk Angels' at City Repertory Theatre, by Ted Swindley, directed by John Sbordone, starring Chelsea Jo Conard, Ben Beck, Robin Neill-Kitaif and Michele O'Neil. At  7:30 p.m. Jan. 13-14 and 20-21, and at 3 p.m. Jan. 15 and 22. (Note: the two Sunday matinee shows are sold out.) Performances will be in CRT's black box theater at City Marketplace, 160 Cypress Point Parkway, Suite B207, Palm Coast. Tickets are $30 adults and $15 students, available online at crtpalmcoast.com or by calling 386-585-9415. Tickets also will be available at the venue just before curtain time. Borrowing its title from a 1993 album by legendary country songbirds Dolly Parton, Loretta Lynn and Tammy Wynette, "Honky Tonk Angels" is the brainchild of Ted Swindley, creator of the hugely popular "Always . . . Patsy Cline." Three women with Southern roots, who are variously bored or frustrated or antsy about their lives, decide to pursue their country music dreams in Nashville, and they meet and take up singing at a bar appropriately named Honky Tonk Heaven. See Rick de Yampert's preview, "Taking the Edge Off, 'Honky Tonk Angels' Countrify City Repertory Theatre."
The Sounds of Soul at Flagler Auditorium at Flagler Auditorium, 5500 State Road 100, Palm Coast, 7 p.m. Tickets are $44 to $54. Book here. The Sounds of Soul have performed at a myriad of select venues from Los Angeles to the French Quarter and have done featured concerts at the American Airlines Arena in Miami, The Sun Dome in Tampa Bay, and the beautiful Registry Hotel in the heart of California. The group is a regular attraction on Cruise Ships and took Cozumel by storm during a "Motown Excursion" sponsored by CBS Radio. The group has appeared on the internationally syndicated show "Dance Connection", which was seen in over 100 television markets and they have shared the stage with The O'Jays, Bobby Brown, and funny man Sinbad. Currently, The Sounds of Soul call the Tampa Bay Area of Florida home and engage in an exhausting performance schedule that has them averaging over 450 shows per year. The Sounds of Soul are a must see for audiences of all ages!
In Coming Days:
Qualifying for Municipal Elections in Flagler Beach, Bunnell and Beverly Beach begins Monday, Jan. 16 and runs through Friday, Jan. 20 at noon. The elections are on March 7. Two seats are up in Bunnell, where incumbents Tonya Gordon and John Rogers have filed for re-election. The Gordon seat is a special election to fill the term of Robert Barnes, who resigned less than a year into his new term because of health reasons. Two seats are up in Flagler Beach, and four seats are up in Beverly Beach, including that of the mayor.




Flagler Woman's Club 1st Responders Chili Challenge: Saturday, January 28th, the Flagler Woman's Club is hosting its annual Chili Challenge! The Flagler Woman's Club invites all First Responders, active and retired, to enter the Chili Challenge to make their best chili and serve it up at the Challenge from noon to 3 p.m. at Veterans Park in Flagler Beach. From 2 to 3 p.m. the club will be calling off raffle winners, 50/50 winners and ultimately the trophies and top prizes. Deadline for entry is January 20. Call Mary Louk at (386) 569-7813 or email [email protected] to enter.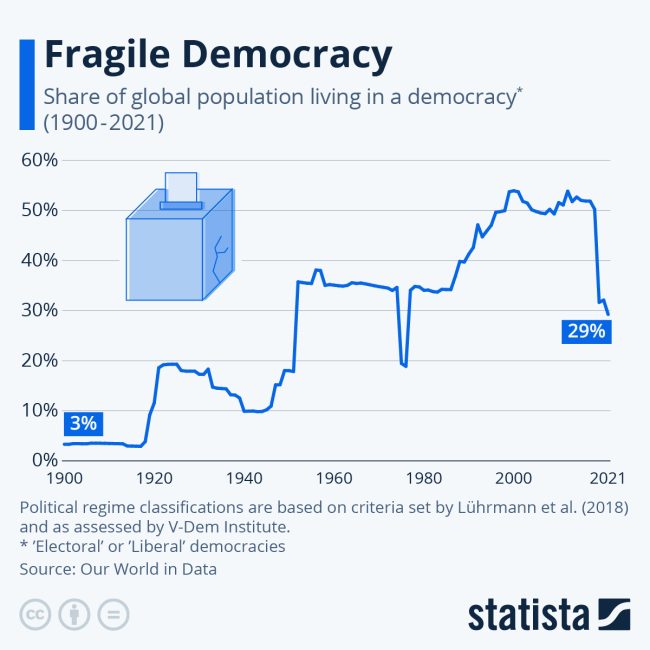 From Statista: Fragile Democracy: While democracy has held out in the United States after the Capitol riot and so far in Brazil now too, an analysis collated by Our World in Data highlights how fragile it can be. The share of the world living in either an electoral or liberal democracy was at its highest in the year 2000 when the figure was at 54 percent. As our infographic illustrates, this took a steep dive in 2019, dropping from 50 percent down to just 32. While the fragility of democracy is also plain to see elsewhere in the chart, this is the most dramatic example over the assessed period. The main cause of this decrease was India and its downgrade by Freedom House to a 'partially free democracy' and to an 'electoral autocracy' by the V-Dem Institute at the University of Gothenburg since Modi's win in the country's 2019 election. The latter downgrade was justified by the alleged "increased pressure on human rights organizations, rising intimidation of academics and journalists, and a spate of bigoted attacks, including lynchings, aimed at Muslims" leading to a "deterioration of political rights and civil liberties".
Now this:

The Live Calendar is a compendium of local and regional political, civic and cultural events. You can input your own calendar events directly onto the site as you wish them to appear (pending approval of course). To include your event in the Live Calendar, please fill out this form.
For the full calendar, go here.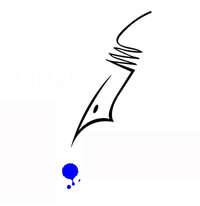 The vaccine disinformation playbook includes the use of fake experts, logical fallacies, impossible expectations, cherry-picked data and conspiracy theories. Not a single qualified medical or public health expert has supported the claim that my husband died from Covid vaccination. Logical fallacies, also known as cognitive biases, are mental shortcuts we use to simplify information, but which also leave us vulnerable to errors in judgment. The most common logical fallacy is to say that because A happened before B, A must have caused B. Given that over 80 percent of the U.S. population has received at least one dose of a Covid vaccine, chances are that most Americans who die today will have been vaccinated, but that doesn't mean they died from their vaccinations. To be clear, there is no increased risk of death from non-Covid causes after Covid vaccination. Other logical fallacies include non sequiturs, posing the question while assuming the answer and failing to consider alternative hypotheses.
—From  Céline Gounder's "Grant Wahl Was a Loving Husband. I Will Always Protect His Legacy," The New York Times, Jan. 8, 2023.