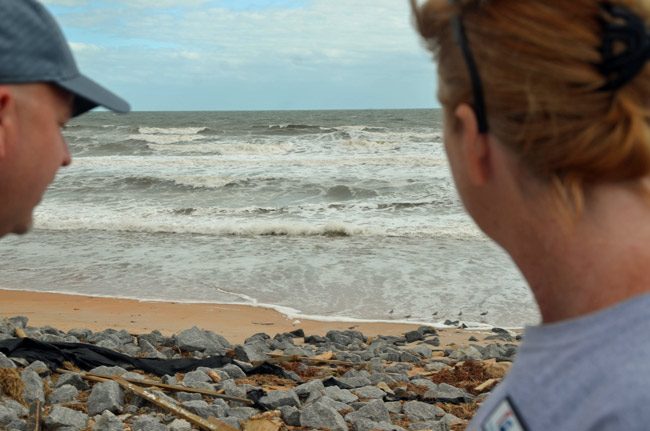 Today: Sunny, a few clouds, highs in the upper 70s, lows in the lower to mid-50s. Details here.
Drought Index is at 134.
Today's tides: at the beaches, at the Intracoastal Waterway.
Today's document from the National Archives.
The OED's Word of the Day: mirabile dictu, adv. (and n.).
The Live Community Calendar
Today's jail bookings.
Today's Briefing: Quick Links

 "Florida, in those days, was a very odd place: a peninsula where the sky itself rode overland like a blue locomotive, clouds chuffing across marshes; where orange trees and orderly rows of vegetables gave way to deep woods and then, further south, broke into an endless acreage of ten-foot grass."
–Karen Russell, "Swamplandia" (2011).
Note: all government meetings noticed below are free and open to the public unless otherwise indicated. Many can be heard or seen live through each agency's website.

On Free For All Friday on WNZF at 9 a.m., host David Ayres welcomes Ron Jimenez, CEO of Florida Hospital Flagler, Larry Jones, the Democratic candidate for Flagler County Sheriff, and Brian Kelley, who will talk about Obamacare in 2017, starting with a commentary by FlaglerLive Editor Pierre Tristam on Hillary Clinton clinching the presidency.
Friday: Unemployment: Florida's and Flagler's September unemployment numbers are released at 10 a.m.
Friday: Halloween Boo Bash: 5-8 p.m. at Belle Terre Park, 339 Parkview Drive, Palm Coast. Boo Bash is a family friendly event for all ages presented by the Palm Coast Parks & Recreation Department and Wadsworth Elementary School. Come in costume and enjoy safe, fun activities which include costume contests, refreshments and games. More info: 386-986-2323.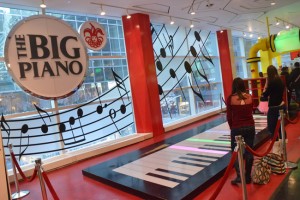 Saturday: Toys for Tots Registration: It's that time of the season, and the Toys for Tots of Flagler County is in the gift-giving spirit by sponsoring a popular holiday program that gives brand new toys to children in need. From now until December 9th, there will be numerous activities throughout the community in support of the children of Flagler County. Last year, over 1800 children in our local communities received Christmas gifts from the Toys for Tots program in Flagler County. With the increase of ages of children served and the recent storm, we anticipate serving over 2000 children this season. Sign up your kids for the Christmas gifts program if you are a resident of Flagler County, with children from birth to 12th grade. Parent Identification, Proof of Residence, and Birth Certificates for the children are required. Join us at one of the following dates, times and locations to sign up:
Oct. 20, 5-7:30 p.m.: Buddy Taylor Middle School (4500 Belle Terre Pkwy).
Oct. 22, 10 a.m.-noon: The Purpose Center (210 Old Kings Rd S #700).
Nov. 19, 9 a.m.–noon: Bunnell Elementary School (305 N Palmetto St).
Saturday: Gamble Acoustic Jam: Jam out at Gamble Rogers Memorial State Recreation Area with the Saturday Jam Session in the park. Musicians of all levels are encouraged to bring instruments and a chair to join the circle for a casual acoustic jam session. Or just come to listen to great music! Feel free to bring snacks and non-alcoholic beverages. The Jam is held on the 2nd and 4th Saturday of each month, weather permitting, at the west side pavilions. Park entrance fee is $5.00 per carload of 2-8 people; one person is $4.00; bicyclist or pedestrian is $2.
Saturday: Haunted Trails and Fall Festival: What's spookier than a wagon ride through the woods at night in October? Maybe a headless horseman? Magic shows, carnival games, and haunted house provide spine-tingling fun for all ages. A variety of food and drinks will be available for purchase. Please come in costume if you like….plenty of folks do. Be sure to wear sensible shoes you'll be walking and you never know what might be lurking in the sands beneath your feet. 6-11 p.m., Florida Agricultural Museum, 7900 Old Kings Rd North, Palm Coast.
Weekend: David Mamet's "Boston Marriage," a play staged by Stetson University Theater Arts, 8 p.m. nightly at Second Stage Theater in the Museum of Art, 600 N. Woodland Blvd., DeLand. Tickets are $12 for adults, $10 for seniors and non-Stetson students. Stetson students, faculty, and staff are free with their ID. For ticket reservations or questions: 386-822-8700
Closure Notice, State Road A1A in Flagler Beach: The road collapse on SRA1A (Oceanshore Boulevard) as a result of Hurricane Matthew closed a 1.4 mile stretch of highway. Traffic is being detoured one block west to South Central Avenue between South 9th Street and South 22nd Street. South Central Avenue is a residential street where children, dog walkers, pets, and bicyclists are accustomed to very light traffic and much slower speeds. The speed limit on South Central Avenue is 25 mph. The goal of this Public Service Announcement is to educate travelers that the speed limit is 25 mph and to obey the multiple stop signs along the detour route and to caution that police will actively patrol the detour area and enforce compliance with the posted speed limit and stop signs. Many businesses that were previously accessed from SR A1A have set up secondary access points off South Central Avenue. It's important to be especially cautious when pulling in and out of these temporary driveways.
Watch every presidential debate since 1960.


Updated jail bookings and day and night shift incident summary reports are available here.

Your Election Will Not Be "Rigged": Flagler Elections Supervisor Kaiti Lenhart Explains

Gov. Scott Orders State Transportation Department to Expedite A1A Reopening in Flagler Beach

Parents of Mainland student killed by car mourn determined young woman

Florida Justices Overturn 42-Year-Old Death Sentence in "Black Revolutionary Army" Killing

David Sullivan, Flagler County Commission Candidate: The Live Interview

Sen. Bill Nelson, in Flagler Beach, Pledges to Kick "Posteriors" to Channel Repair Dollars for Road and Beach

School Board Scraps Part of Thanksgiving Week Off: 2 Make-Up Days Scheduled That Week

In Florida and in State Government:
Note: Some proceedings below can be followed live on the Florida Channel.

The Florida Commission on Ethics is scheduled to meet. (Friday, 9 a.m., 1st District Court of Appeal, 2000 Drayton Dr., Tallahassee.)
Medical pot: A debate and panel discussion will be held Nova Southeastern University about a proposed constitutional amendment that would broadly legalize medical marijuana. Supporting the amendment will be Ben Pollara, campaign manager of the group United for Care, and state Rep. Joe Geller, D-Aventura. Opposing it will be Barney Bishop, CEO of the Florida Smart Justice Alliance, and state Rep. Dennis Baxley, R-Ocala. (Friday, 11 a.m., Nova Southeastern University, Resnick Auditorium, 3200 South University Dr., Davie.)
CAMPAIGN FINANCE REPORTS DUE: State candidates and political committees face a Friday deadline for filing reports showing updated finance information through Oct. 14.
–Compiled by the News Service of Florida and FlaglerLive

In Coming Days in Palm Coast, Flagler and the Occasional Beyond:
♦ Oct. 24: Early voting begins in Flagler County and runs through Nov. 5, with polls open from 10 a.m. to 6 p.m. at three locations: The Flagler County Supervisor of Elections office in Bunnell (in the Government Services Building), at the Flagler County Public Library on Palm Coast Parkway, and at the Palm Coast Community Center on Palm Coast Parkway, off of Clubhouse Drive. Voting by mail has been under way since mid-October. Keep up with the number of ballots cast in Flagler here.
♦ Oct. 25: Entrepreneur Night at Channel Side in Palm Coast, 5:30 to 7 p.m., 1 Yacht Club Dr. At the event, you will enjoy free appetizers along with a cash bar. As always, you can expect to make many new connections and have meaningful conversations with Entrepreneurs, Investors, and folks who provide support and services to entrepreneurs. Free. RSVP here.
♦ Oct. 27: the Flagler County Chamber will host "Meet the City Managers" with Dan Davis of Bunnell, Jim Landon of Palm Coast and Larry Newsom of Flagler Beach. Each manager will provide a short update of what's happening in their city and be available to answer questions. 8 to 9:30 a.m., Hilton Garden Inn, 55 Town Center Blvd., Palm Coast, Registration at 7:45 a.m., $20.00 for members in advance with payment. Contact Tiffany Edwards for more information, [email protected].


♦ Nov. 1: Stetson Sounds New XII: First Glimpse, World premieres by Stetson composers, 7:30 p.m. Lee Chapel in Elizabeth Hall, 421 N. Woodland Blvd, DeLand, call 386-822-8950. Complimentary Admission.
♦ Nov. 2: Stetson Guitar Ensemble, Stephen Robinson, director, Featuring students of the studio of Stephen Robinson performing in various ensembles with guitar, 7:30 p.m. Lee Chapel in Elizabeth Hall, 421 N. Woodland Blvd, DeLand. Call 386-822-8950. Complimentary Admission.
♦ Nov. 3: Stetson Guest Recital, Denise Gainey, clarinet and Yakov Kasman, piano. Yakov Kasman is a Van Cliburn silver medalist, and Denise Gainey is a Backun Artist and student of Kalman Opperman. Both are faculty members at the University of Alabama, Birmingham. 7:30 p.m. Lee Chapel in Elizabeth Hall, 421 N. Woodland Blvd, DeLand. Call 386-822-8950. Complimentary Admission.

♦ Nov. 4-5: The Florida Agricultural Museum will host the seventh annual Pellicer Creek Raid on Saturday and Sunday, from 10 a.m. to 4 p.m. The program will involve a number of living history groups from around the southeastern United States. Approximately 150 infantry, artillery, and cavalry troops will be demonstrating military life in Florida circa 1864. Parades will take place at noon and battles at 1 p.m. on both days of the event. During the rest of the program, the re-enactors' historic camps will be open to the public. Admission is $5 per person. For more information, please contact the Florida Agricultural Museum at (386) 446-7630 or [email protected]. The museum is located at 7900 Old Kings Road North, Palm Coast.
♦ Nov. 4: Stetson's 27th Undergraduate Annual Juried Arts Exhibition, with Reception and awards ceremony 6-8 p.m. at the Homer and Dolly Hand Art Center, 139 E. Michigan Ave., DeLand, 32723 (call 386/822-7270).
♦ Nov. 4-5: Stetson Homecoming Concert, Featuring Stetson's Concert Choir, University Symphonic Band, and Chamber Orchestra, 7:30 p.m. Lee Chapel in Elizabeth Hall, 421 N. Woodland Blvd, DeLand, 386-822-8950, Complimentary Admission.
♦ Nov. 5-6: Tommy Tant Memorial Surf Contest and Food Festival in Flagler Beach. (Cancelled.)
♦ Nov. 5: Flagler Fun Coast Bed Race, with Nov. 6 as rain date, In Flagler Beach. (Cancelled.)
♦ Nov. 6: Reflections Salon, Inc, a local family owned business, will be offering $10 haircuts from 9 a.m. to 1 p.m. and donating all proceeds to stage 4 cancer survivor and Hurricane Matthew victim Kevin Kosinski. The salon, which opened in 2014, is at 25 Pine Cone Dr, Ste 3, Palm Coast. Call (386) 225-4503 for information.
♦ Nov. 6: Stetson Faculty Chamber Ensemble, Featuring Brahms' Trio for Piano, Clarinet, and Cello, Lynn Musco, clarinet, David Bjella, cello, Michael Rickman, piano, 3 p.m. Lee Chapel in Elizabeth Hall, 421 N. Woodland Blvd, DeLand. Call 386-822-8950. Complimentary Admission.
♦ Nov. 8: Election Day.
♦ Nov. 8: Stetson Chamber Orchestra, Anthony Hose, conductor: A rare opportunity to hear Roberto Molinelli's Twin Legends, featuring David Bjella, cello. 7:30 p.m. Lee Chapel in Elizabeth Hall 421 N. Woodland Blvd, DeLand, 386-822-8950. Tickets: $10 adult, $8 senior, $5 youth and student, no charge for 12 and younger. Tickets available at the door or at www.stetson.edu/music-tickets.
♦ Nov. 29: A hearing is scheduled before Circuit Judge Scott DuPont in the case of Dunn v. Flagler County Schools, the case involving an allegation that two children were bullied and one of them was sexually assaulted by other children at a voluntary pre-kindergarten at Old Kings Elementary school in 2015. See the background story here. 1:45 p.m., Courtroom 402, Flagler County Courthouse.
♦ Feb. 6: The great violinist Itzhak Perlman opens the 2017 season of the Amelia Island Chamber Music Festival with a 7:30 p.m. performance at First Baptist Church, 1600 South 8th Street in Fernandina Beach. Tickets here.

"Working is completely necessary to speed up integration," said a Syrian refugee in the Netherlands https://t.co/PPrly9Y2TH pic.twitter.com/CuRd2ckKOz

— The New York Times (@nytimes) October 20, 2016
Ivanka Trump's quest to float along, empowered but unsullied, beside her father has been getting harder and harder. https://t.co/bJ46xczVxM

— The New Yorker (@NewYorker) October 21, 2016
Watch Hillary speak live at the #AlSmithDinner in New York City: https://t.co/yuy57F9LFz

— Hillary Clinton (@HillaryClinton) October 21, 2016
Today in History: U.S. Senate ratifies Jefferson's Louisiana Purchase treaty, opening up the west, 1803 #otd #tih https://t.co/g6v4hKn55V pic.twitter.com/k4YxFhytYa

— Library of Congress (@librarycongress) October 20, 2016
Bipartisan books https://t.co/RZKoWaHkYP

— Arts & Letters Daily (@aldaily) October 20, 2016

Fact-Checking the Knaves:


Palm Coast Construction and Development Progress Reports
The following is an update of ongoing permitting, construction and development projects in Palm Coast, through Oct. 14 (the city administration's full week in review is here):
Click to access palm-coast-developments-mid-october-2016.pdf

Road and Interstate Construction:

The Life and Times of Donald J. Trump: A Feature Film Set to Pink Floyd's The Wall
Previous Codas: