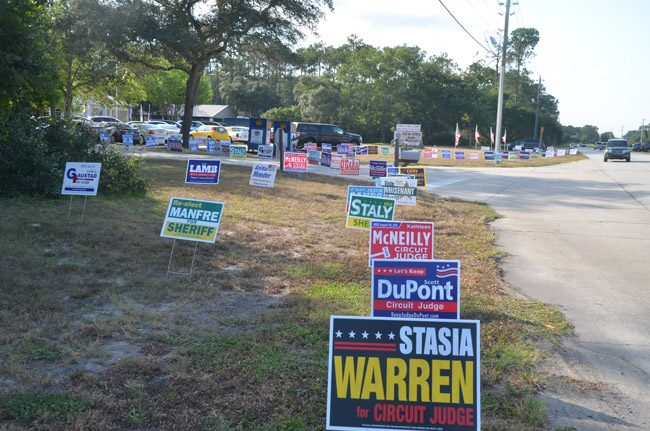 Today: Mostly sunny with slight chance of showers and thunderstorms in the morning…then partly cloudy with chance of showers and thunderstorms in the afternoon. Highs in the lower 90s. Southeast winds 5 to 10 mph. Chance of rain 30 percent. Heat index readings 100 to 104. Tonight: Partly cloudy. Lows in the mid 70s. South winds 5 to 10 mph. Details here.
Today's fire danger is moderate. Flagler County's Drought Index is at 511.
Today's tides: at the beaches, at the Intracoastal Waterway.
Today's document from the National Archives.
The OED's Word of the Day: parajournalism, n..
The Live Community Calendar
Today's jail bookings.
Today's Briefing: Quick Links


"Francis Bacon's aphorism seems to me distinctly less axiomatic by the day: Knowledge — at least the sort of knowledge I have been able to dig up — does not come to very much in the way of power."
–Clifford Geertz, from "Available Light" (2001)
Note: all government meetings noticed below are free and open to the public unless otherwise indicated. Many can be heard or seen live through each agency's website.
VOTER REGISTRATION DEADLINE: Floridians face a Monday deadline to register to vote in the Aug. 30 primary elections.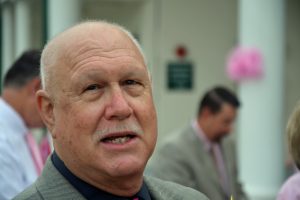 The Flagler County Commission has three sessions today, the first two at board chambers at the Government Services Building. At 9 a.m., it will meet for a regularly scheduled meeting, when it will consider approving a long list of Tourist Development Council grants to various organizations, the largest of which a $150,000 construction grant for the Palm Coast Arts Foundation's performing arts venue in Palm Coast's Town Center. It will also consider appointing Troy duBose to the county's Planning and Land Development board, even though DuBose is a candidate for the Palm Coast City Council. Stephen Baker, a group-sales representative at the Hammock Beach Resort, is up for an appointment to the county's Tourist Development Board, to replace Tim Digby, also of Hammock Beach. Baker is not running for office. At 10:30, the county commission will offer up a tribute to Frank meeker, who died on July 22. At 1:30 p.m., the commission will reconvene for a workshop at the Emergency Operations Center, behind the Government Services Building, to hear a presentation on Fluoride by the county health department, discuss issues related to the county fire department ("community para-medicine"), and welcome signs for the county.
The Flagler County School Board distributes Macbook computers to 11th and 12th graders at Flagler Palm Coast High School at 3 p.m. Matanzas students get theirs Tuesday.
Ribbon Cutting: Hobby Lobby holds its grand opening at 8:30 a.m., with a ribbon cutting at 9 a.m., at Palm Coast's Island Walk Shopping Center, 250 Palm Coast Pkwy NE.

Updated jail bookings and day and night shift incident summary reports are available here.
Palm Coast Council Candidate Troy DuBose May Abandon Run and Opt For County Post: Troy DuBose, a candidate for the District 1 seat on the Palm Coast City Council, may be dropping out of the four-way race–depending on Monday's outcome of a county commission appointment. The legality of the maneuver is unclear.
With Latest Claims Against County Government Thrown Out, Flagler Prevails in 25 of 26 Cases: In all, 25 of 26 actions brought against county officials have been resolved, 22 by being thrown out. Two were settled after minor campaign ad violations. Another, involving Commissioner Barbara Revels, resulted in a $2,500 fine for not disclosing a business relationship on a vote for the new sheriff's operations center. One additional complaint against Revels is pending. It relates to a financial disclosure form.
Gov. Scott Censures and Reprimands Sheriff Manfre in Executive Order, Ending Ethics Case: The order, long expected, is the final formality in a two-year wrangle between Manfre and the Florida Ethics Commission that began when an ex-sheriff's employee filed a complaint with the state agency accusing the sheriff with several ethics violations. Linda Bolante had been Manfre's finance director. She also filed a wrongful termination suit against him. The suit is pending.
First Four Cases of Mosquito-Borne Zika Virus Reported in Florida–And the U.S.: Florida has seen a steady increase in Zika diagnoses in recent months, with the total number of cases nearing 400. But until Friday, health officials said cases stemmed from people who were infected because of travel to places such as South America, where the virus emerged last year.
5 Jacksonville Teens Arrested and Tied to Latest Burglary Spree in Palm Coast's B-Section: There were five in all. The oldest is 19-year-old Jordan Vital. The youngest is 14. Two are 15 and one is 17. All are from Jacksonville. The five were arrested early this morning and associated with 23 vehicle burglaries that had taken place overnight in Palm Coast's B-Section, and one of them, a 15 year old, was linked to a vehicle theft late Friday night. The vehicle, a Dodge Ram, had been stolen out of St. Johns County and was recovered in Palm Coast.
Mystery Woman Killed in US1 Wreck on July 10 Identified as Kathleen Tillman of Bunnell: A pedestrian killed in a crash with a motorcycle on U.S. 1 near Church on the Rock in Bunnell on July 10 has been identified as Kathleen Tillman, a 56-year-old Bunnell resident. She was eventually identified by her husband, police said. The couple had been separated.
Carla Traister, Champion Protector of Flagler's Homeless, Wins Outstanding Leadership Award: On Thursday, Flagler County government announced Traister as the 2016 Northeast Florida Community Action Agency's "Outstanding Community Leadership Award" winner. As always–because awards are not a new thing for Traister: she was the winner of a national Point of Light award in 2011, and has been routinely recognized for her efforts–Traister took the news with more embarrassment than pride, at least for herself, while turning over the entire credit to her volunteers.
Texting 911? After Orlando Massacre, More Cities and States Moving Toward Next-Generation System: Texting 911 could be valuable in emergencies like the Orlando shooting or a domestic violence incident, where it is unsafe to make any noise let alone talk out loud about the danger at hand. And sending text messages to 911 could allow people who are deaf or have speech impairments to communicate without other special devices.

In Florida and in State Government:
Note: Some proceedings below can be followed live on the Florida Channel.

Kidcare: The Social Services Estimating Conference will discuss expenditures in the KidCare subsidized health-insurance program. (9 a.m., 117 Knott Building, the Capitol.)
Voting rights: Groups of community and religious leaders in Leon and Palm Beach counties will hold news conferences to call for restoring the voting rights of people who have been convicted of felonies and have fulfilled their sentences. (11 a.m., Leon County Supervisor of Elections, 315 South Calhoun St., Tallahassee. Also, 11 a.m., Palm Beach County Supervisor of Elections, 240 South Military Trail, West Palm Beach.)
–Compiled by the News Service of Florida and FlaglerLive

In Coming Days in Palm Coast, Flagler and the Occasional Beyond:
♦ Aug. 1: The Flagler County Commission hosts a tribute to the late Frank Meeker, who served on the commission from 2012 until mid-July, when he died of cancer. The tribute is in board chambers at the Government Services Building at 10:30 a.m.
♦ Aug. 4: What role does "Responsible Development" play in economic growth and development? A panel of experts representing the Flagler County Chapter of the Volusia County Association for Responsible Development (FCARD/VCARD) will share their insights during this breakfast meeting, 7:45 a.m. at the Hilton Garden Inn, 55 Town Center Blvd, Palm Coast, $20 in advance, $30 at the door. Contact Gretchen Smith to reserve a seat: [email protected].
♦ Aug. 5: Sen. Travis Hutson and Rep. Paul Renner present a ceremonial $535,892 check to the Flagler County School Board at 9 a.m., representing the restoration of state funding for the Flagler County Adults with Disabilities Program. At 1 Corporate Dr, Palm Coast. At 10:30 a.m., the legislative duo will present a ceremonial $300,000 check to the Flagler County Commission, funding for Malacompa drainage improvements, at Bing's Landing, 5862 N. Oceanshore Blvd. The public is invited to attend both events.
♦ Aug. 8: The News-Journal hosts an election forum featuring the candidates for Flagler County sheriff, at the Buddy Taylor Middle School cafeteria, 6 p.m.
♦ Aug. 10: School resumes for all students in the Flagler County School District, two weeks earlier than last year, but with a new calendar that enables students to complete their coursework ahead of high-stakes exams, that ends quarters more logically with holidays, and that restores a full week's holiday around Thanksgiving, Nov. 21-25. See details here.
♦ Aug. 11: Flagler Votes Hob Nob, the Flagler County Chamber of Commerce's pre-election event for voters to meet candidates, from 6 to 8 p.m., at the Flagler County Association of Realtors' building, 4101 E Moody Blvd in Bunnell. Participating candidates must pay $150 a table for their space, but it's otherwise free to attend. As part of their free admission, attendees will enjoy light snacks, great conversation and a ticket to vote in an electronic "straw poll," the results of which will be revealed at the end of the evening. Beer, wine and water will be available for nominal cash donations.
♦ Aug. 19: The latest pre-trial hearing in the case of Florida v. Kimberle Weeks, continued from July 22, is scheduled for 3 p.m. before Circuit Judge Margaret Hudson in Courtroom 402 at the Flagler County Courthouse. Weeks now faces nine third-degree felony counts, down from 12, stemming from allegations that she illegally recorded various individuals in her capacity as supervisor of elections and in her private life. Weeks resigned that post in January 2015.


♦ Sept. 7: The Flagler Youth Orchestra holds its open house for all new or prospective students who'd like to join the county's largest (and free) music program. The open house is at the Indian Trails Middle School cafeteria at 5:30 p.m. Any Flagler student, including homes chooled students, in grades 3-12, are eligible to enroll (must be 8 years old by Sept. 1, 2016.) Students may elect to play violin, viola, cello or doublebass. One-hour classes are held at Indian Trails Middle School Mondays and Wednesdays, from 3 to 6 p.m., with students enrolled in the hour block appropriate to their skill level and schedule. The first class for first-time students is Sept. 19. (Auditions for returning students start on Aug. 22, the first class for returning students is Aug. 31.)
♦ Sept. 10: African Art: Ancient Egypt to the Contemporary World, a pair of presentations by Bertrand Green, former chairman of African American studies at Lehman College, City University of New York. The first session is from 10 a.m. to noon, the second session from 2 to 4 p.m., at the Hilton Garden Inn, Palm Coast. $20 for PCAF members, $25 for general admission. Call 386/225-4394 or email [email protected] to reserve your seat.

Hey #Florida, the deadline to register for the primary #election is tomorrow, August 1. https://t.co/gnc03p16qB pic.twitter.com/9VLS8z7moC

— ACLU of Florida (@ACLUFL) July 31, 2016
Trump may need to sweep 3 biggest swing states after shutting the door to himself elsewhere. https://t.co/MrnbWRPMo4 pic.twitter.com/BMDRzpcsmV

— NYT Politics (@nytpolitics) July 31, 2016
This is so incredibly disrespectful of a family that endured the ultimate sacrifice for our country. https://t.co/TQcMuwXTKV

— Jeb Bush (@JebBush) July 31, 2016
Trump defends criticism of Muslims https://t.co/Uj6pOCxRYG

— The Daily Star Lebanon (@DailyStarLeb) July 31, 2016
Doping is now so sophisticated and hard to police, and the rewards so significant, that it cannot be eradicated. https://t.co/CgZL07hBr3

— The New Yorker (@NewYorker) July 31, 2016
The Summer Olympics should always be in Los Angeles—no other city makes economic sense, argues Andrew Zimbalist https://t.co/FuV7XGVhcp

— Brookings (@BrookingsInst) July 31, 2016

Fact-Checking the Knaves:


Palm Coast Construction and Development Progress Reports
The following is an update of ongoing permitting, construction and development projects in Palm Coast, through July 15 (the city administration's full week in review is here):
Click to access week-in-review-july1.pdf

Road and Interstate Construction:

Mabuhay Singers-Planting Rice-Magtanim Hindi Biro
Our friend Daniel Masbad, a recent high school graduate on his way to Bard College this week–and the Flagler Youth Orchestra's Concertmaster for the past several season–sent us this coda the other day, which we found disturbingly fun. Flagler County without Dabiel Masbad will not be the same. We're trying to convince him to chronicle for us his year at Bard.

Previous Codas: