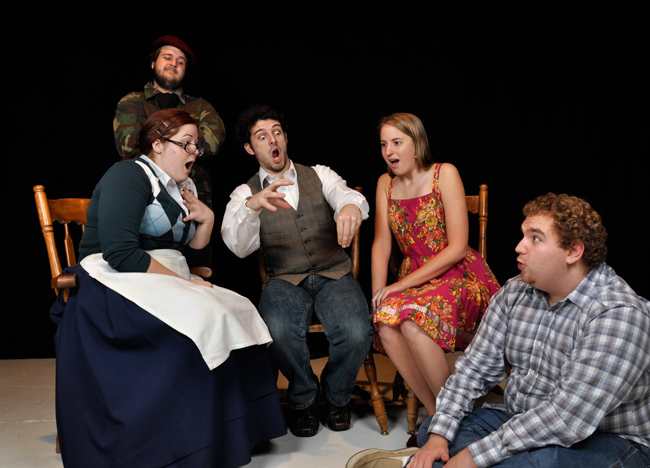 From Stetson University:
Stetson University and the Sands Theater Company present "The Foreigner," the hilarious comedy by Larry Shue. This slapstick adventure is directed by Dr. Ken McCoy, Stetson professor of Communication Studies and Theatre Arts, and will run two weekends at the Athens Theatre, DeLand, November 3 through 13, 2011. The historic Athens Theatre is located at 124 N. Florida Ave., in downtown DeLand.
"The Foreigner" takes place in a fishing lodge in rural Georgia often visited by "Froggy" LeSeuer, a British demolition expert who occasionally runs training sessions at a nearby army base. This time "Froggy" has brought along a friend, a pathologically shy young man named Charlie who is overcome with fear at the thought of making conversation with strangers. So "Froggy," before departing, comes up with a clever plan: that Charlie is from an exotic foreign country and speaks no English. Once alone, the fun really begins as Charlie overhears more than he should and becomes the center of attention.
The cast of "The Foreigner" features Kaleb Knoblauch as Charlie, Jacob Manos as Froggy, Corley Groves as Catherine, Preston Stanger as Ellard, and Drew Neitzey as David, with special guest stars Rachel Yadanza as Betty, and Brendan Rogers as Owen.
"The Foreigner" will be presented on Thursdays through Saturdays, Nov. 3-5 and 10-12, at 7:30 p.m., with matinees on Sundays, Nov. 6 and 13, at 2:30 p.m.
All tickets will be available online at The Athens Theatre website, or by calling the Box Office at (386) 736-1500. Box Office hours are Thursday, Friday and Saturday 1-5 p.m. and 1½ hour before live performances.
Single Ticket Prices: VIP/Preferred (Rows A-E) $20; General Admission: $16; Seniors: $14; Students: $10. Groups of 8 or more: $12. "THURSDAY BUY-ONE-GET-ONE PROMOTION" is available for opening night Nov. 3 only. Get 2 for 1 pricing on General Admission and Senior Tickets. Purchase online and use promo code: BOGO. Stetson students, faculty, and staff presenting valid I.D. will be admitted free of charge.