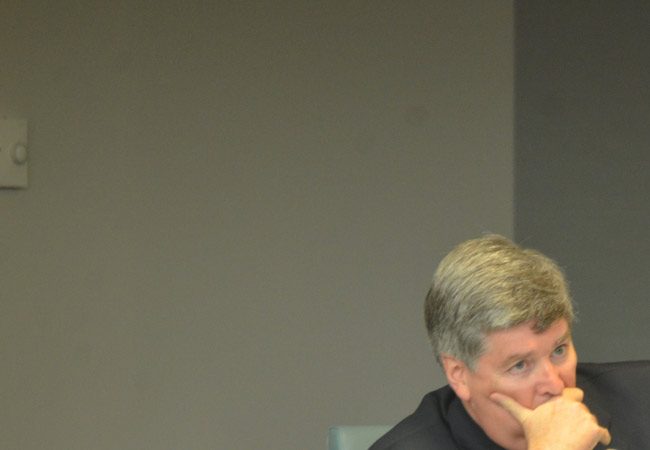 Assuming Palm Coast City Manager Jim Landon hasn't resigned by then, the City Council will hold a workshop at 9 a.m. Aug. 3 to discuss his fate, namely, how to end Landon's 10-year tenure. That workshop is expected to be followed with a special meeting in a matter of days to ratify whatever decision council members reach on the 3rd.
It's an extraordinary workshop in at least two regards: the council has not held a workshop outside its normal bi-monthly schedule in recent memory. And Landon will not be at the table. Council members, including Mayor Milissa Holland, Nick Klufas and Steven Nobile, want the session to be an opportunity for the members themselves to discuss the matter without interference from Landon, who can be among audience members if he so chooses. The meeting, at the council's usual workshop venue at City Hall in Town Center, is open to the public.
Four council members want Landon gone, and agreed to set a special workshop at last Tuesday's meeting. Landon himself, put on notice by Nobile, held individual meetings with all five council members earlier this month, trying to convince them to accept a deal that would have him stay two years longer, until 2019, in exchange for him retiring then, and not costing the city the price of his golden parachute, which would equate to roughly a quarter million dollars. A majority of council members are not interested in what Landon termed his "succession plan," nor are they interested in letting Landon have a say in choosing his successor. One of Landon's proposals was to install Beau Falgout, one of his directors, as his successor after his retirement.
Landon is unlikely to resign before the workshop. If he does, he would lose his severance. He has told some of the council members outright during his closed-door meetings with them that, in his words, "it doesn't matter to me either way." Staying on his terms would benefit him for those additional two years, he told council members, getting fired would result in his taking his severance.
The council will not make a decision at the Aug. 3 meeting, and absent a special meeting that would have to be scheduled in the interim, it would vote on a decision–if there is a decision to make–no sooner than the regularly scheduled Aug. 16 meeting, almost a month from now.
Nobile said he would want a special meeting scheduled within days of the special workshop. "My plan is not to take action at a regular meeting, either," he said, but rather following the workshop "having another special meeting for the action." He said that for a decision of that sort, "we can't sit around and wait two, three, four weeks, it should be within the next few days."
Landon's administration was responsible for scheduling the special workshop, in line with the availability of council members, some of whom were vacationing this week and working out of town the next. Virginia Smith, the city clerk, worked with Mayor Milissa Holland's calendar and what Smith knew about other council members' schedules before sending out an email proposing Aug. 3 or 4.
Holland had been under the impression that next week Klufas was either on vacation or out of town. He's not. "I'm not going anywhere until the end of August," he said. He was not contacted about earlier dates. "It's weird that the 3rd or 4th were the first options they gave everybody." Council member Heidi Shipley went on vacation Tuesday, immediately after the last council meeting, but is returning in time for next Tuesday's workshop, and would have been in town the rest of the week.(On July 26, Shipley emailed that she would not return until July 28). Nobile and Cuff both said today they were in town the next few weeks. Neither got dates other than Aug. 3 or 4. But Holland, contacted this afternoon, said she would be traveling the latter part of next week, following the workshop, making an earlier meeting impossible.
It's not clear if Landon had a hand in the scheduling (Smith's email was cc'd to him), though whether he did or not the end result is that the extended time on the clock may give him an opportunity to further try to sway council members back his way, or to devise a strategy of his own.
The latter date also allows Landon to use up more of the vacation time he's accrued that exceeds the 130 days he can claim as part of his severance package. Those 130 days are owed him, on top of the equivalent of six months' pay he'd get in his severance, at his normal rate of pay. He makes a base salary of $175,600, but the golden parachute would reflect the full pay package, which, with deferred compensation and other benefits, would be closer to the annual $226,700. Earlier this month he had 137 accrued personal days days (down from 160 in February), seven of which he would lose if he does not use them before his last day with the city, should he be fired and he becomes eligible for the severance package.
On Tuesday, Landon said the special meeting "sounds great" and that he was "looking forward" to it in order to get what he called "the true story instead of some of the fiction and some of the rumors and misinformation out there." The Observer asked him if he was referring to the FlaglerLive story, where council members spoke of their displeasure of him. Landon, who has made false claims about local media in the past, claimed he'd not read the FlaglerLive story that first detailed his council members' intentions.
Though scheduled earlier this week, the Aug. 3 workshop was not posted on the city's website as of Thursday evening, as is the norm with all other council meetings and workshops, and as is the case with an Aug. 1 meeting. (Notice of the meeting was added on July 21, in capital letters.)