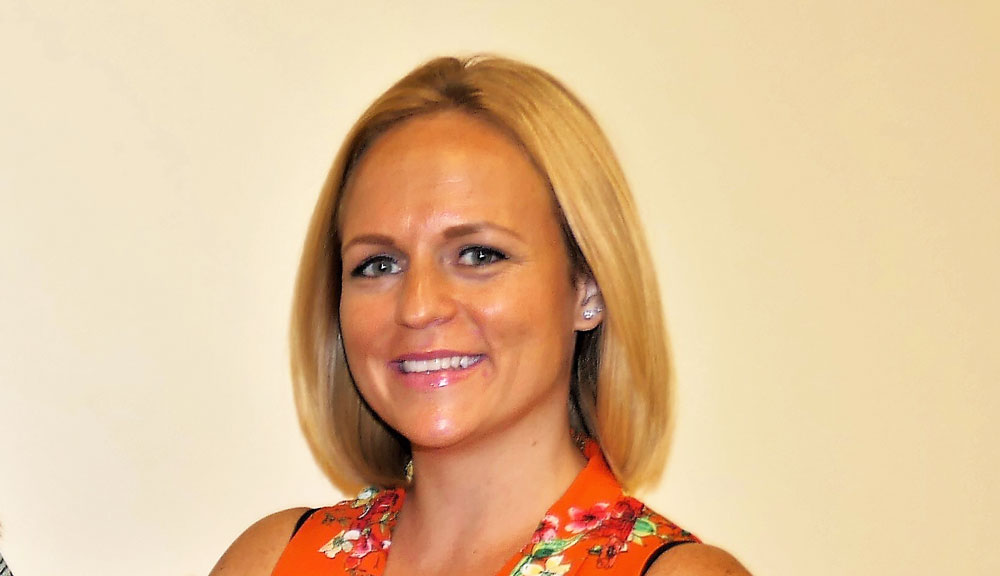 In local government, Brittany Kershaw, the Flagler County Sheriff's public relations director, is unrivaled in her field. She brings an unusual level of transparency and candor to a job better known for obfuscation or hype, at an agency that before her tenure–which paralleled Sheriff Rick Staly's–feared information more than shared it.
Kershaw tendered her resignation on Wednesday. "I have received an attractive job offer from a local organization and after careful consideration, I have decided to accept the position," she wrote Sheriff Rick Staly.
Kershaw starts as Palm Coast's director of "Public Information and Engagement," as her new position has been named, on May 17.
If Palm Coast government and the Flagler County Sheriff's Office were the Yankees and Red Sox–not an outlandish analogy, given recent antipathies between the two administrations–Palm Coast's latest move would be comparable to the Yankees swiping Babe Ruth from the Sox, to Boston's rage and chagrin. Even the salaries are comparable. The Yanks bought Babe Ruth for $125,000, at the time the highest fee ever paid for a baseball player. Palm Coast is paying Kershaw $105,000. It's an unusually high salary for a public relations employee in local government.
For instance, Flagler County's chief spokesperson has a salary of $61,600, the public information director for the Florida Department of Transportation's District 5, a nine-county region that includes Flagler, is paid $73,000, and a not-too-distant predecessor of Kershaw's at the city, who held the title of "manager" of public information, was earning $78,000. Kershaw herself had a salary of $76,341. Brad West, who had been leading the city's communications office as senior communications officer since September, has a salary of $72,000.
The difference is in the title: the city is elevating Kershaw's position to the level of director, and in all local governments, directors' salaries begin in the 90,000 and go up from there.
"We're just kind of rebranding it and restructuring it," West said. The division, soon to be a department, has been in flux (to put it mildly) since City Manager Matt Morton's arrival and the departure of Cindi Lane, who'd held the position as communications manager for many years under the previous administration of Jim Landon. Lane was followed by Michael Schottey for a brief six months. Schottey and Morton had a public falling out and Schottey ran for mayor last November. He was followed by Tyler Jarnagin in an interim role before West's arrival. Jarnagin, whose title had also been communications officer, left in November ("he felt it wasn't a fit for him anymore, he resigned on his own," West said.)




The emphasis on public information didn't start with Morton: his predecessor was big on "branding" and marketing, and the communications department was equally stocked at the time. In January 2020, Cynthia Schweers had been named director of citizen engagement, a position she retains. It's not clear how that position and Kershaw's, with a partly similar title, will interact or overlap.
For Kershaw, "it was just a really good opportunity that I couldn't say no to," she said this morning. "It's definitely bittersweet. I'm going to miss everybody here." She added: We could all work together better I think. I could help with that," an allusion to the occasional strains between the Sheriff's Office and the city administration.
West himself said he was not interested in the director's post. "It wasn't something I even was looking for, I don't think I had that level of experience to do that yet," he said. He did not apply for the position, nor was aware of when the position may have been open.
Just weeks ago Morton announced a reorganization of the city administration's top tier, with the naming of two chiefs of staff instead of continuing the search for a deputy city manager. He named Denise Bevan and Lauren Johnston as co-chiefs. It was then Johnston who, in early April, approached Kershaw to offer her the job in Palm Coast. "I was approached, I did not go looking for this," Kershaw said.
There was no broader search. Kershaw will be reporting to Johnston. The two had come to know each other through their work, then became friends. Both also have (or had) spouses who work with the city: Kershaw's husband has been rising rapidly through the ranks in the IT department, his hands deep into Palm Coast Connect, the city's citizen-engagement platform on the web. Johnston's husband had been employed with public works but that ended about a year ago when he joined a local construction company.




Morton in an interview recognized that the communications office has had its difficulties, what he described as "a successive string of not victories" and "stress," and that it was not about the individuals so much as the structure of the division, prompting the decision to create a director's position. As for the salary, he said he's been intent on equalizing what had been an unfair scale, with several women directors making salaries in the $90,000 range while men were in the $115,000 to $120,000 range. "I want to just know that we're treating our directors fairly, especially our women directors," Morton said.
Some of the directors' titles may seem as if the job descriptions overlap. "Everything we do overlaps, everyone we have in our organization overlaps, I want them to overlap," Morton said, wanting to end a segmented approach in favor of more "interacting, dialoguing, and breaking down silos, people sharing, people mentoring each other."
A release the city hurriedly issued after FlaglerLive had contacted it about Kershaw's appointment put it this way: "Kershaw will play a critical role in evolving ongoing communication efforts while overseeing the Public Information and Engagement team within the City. She is committed to building a transparent, responsive communications platform that reflects the needs of Palm Coast residents."
The communications department Kershaw will oversee had a budget of $542,000 before her arrival. It consists of West, Public Relations Associate Kimberly Norman, and Content Creation Associate Angeline Davis, who is primarily responsible for the city's social media platforms. Kershaw has not met the staff yet. She described Sheriff Rick Staly as "disappointed" when she told him of her move, as he had been heavily reliant on her to extend the agency's reach into the community with social media and other means: the sheriff's steep popularity in no small part is owed to Kershaw's combination of immediate and revealing messaging with a folksiness and humor that the sheriff has clearly thrived on, though Shannon Martin, Kershaw's colleague at the Sheriff's Office, shares those skills.
Kershaw had briefly left the Sheriff's Office to return to work at her old grounds at Palm Coast Data for a while. That didn't work out, and she was back at the law enforcement agency. She acknowledged that she'd have a learning curve ahead with municipal government, but said she'd never worked in law enforcement, either, when she started at the Sheriff's Office, and now brings a more substantial level of experience in government as she starts her new job.
Reader Interactions