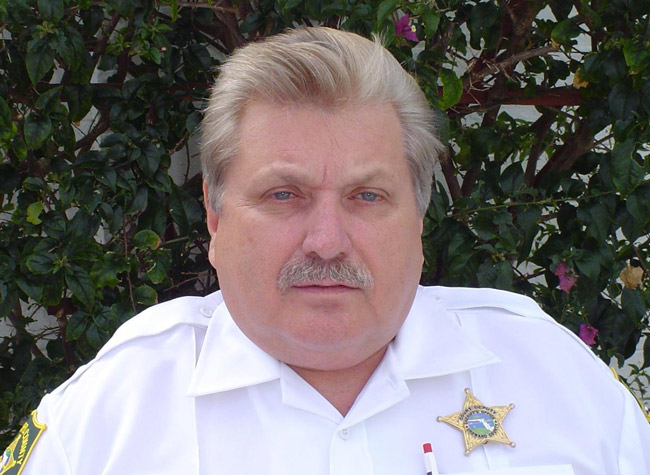 Karl Tozzi is a candidate for Flagler County Sheriff, running in the Aug. 14 primary election. Tozzi, a Democrat, spent his career in the Broward County Sheriff's Office. He ran for sheriff four years ago, losing in the four-way Democratic primary (he came in fourth).
Three Republicans, including incumbent Don Fleming, and two Democrats, are in the running. All except for Tozzi are originally from New York or New Jersey. Tozzi is from Miami. The winner of each primary will face off in the general election on Nov. 6.
In these races, only registered Republicans may vote in the Republican primary, and only Democrats may vote in the Democratic primary. Independent voters may not cast a ballot in either.
The sheriff was paid $120,253 in 2011, a salary set by state law but paid out of local dollars.
FlaglerLive submitted 15 identical questions to the five candidates, who replied in writing, with the understanding that some follow-up questions may be asked, and that all exchanges would be on the record. Follow-up questions, when necessary, appear in italics, and may be awaiting answers.

The Questions in Summary: Quick Links

Place and Date of Birth: Dade County, Fla., June 12, 1945.
Current job: Retired, Certified Deputy Sheriff, Broward County Sheriff's Office.
Party Affiliation: Democrat.
1. It's a very busy field. What makes you the best qualified candidate for Flagler County Sheriff?
Flagler County needs a fresh look for its top cop. As a distinguished team member of the Broward County Sheriff's Office (Ft Lauderdale, Fl) for 34 years, and I might add the only Florida Sworn Deputy Sheriff of the group, as well as Florida born and raised, I feel I'm in a unique position to give Flagler County residents exactly what they need. Experience, Honesty, Loyalty and Integrity.

2. What specifically makes your case for unseating Sheriff Fleming? He's been in office eight years. If you're challenging him, you must think he's not doing the job as well as you could, or that he's failed along lines you wouldn't. Please be specific with regards to both.
I'm not technically challenging Sheriff Fleming. I'm challenging all the candidates who qualified seeking the office of Sheriff for 2013. That will be the candidate that wins the Republican Primary…that's who I will be challenging. As to specifics, I believe I can do a better job in general.
The Yogi Berra homage of your last sentence aside, surely you can expect readers to want a few more specifics than that.
No disrespect intended to Sheriff Fleming, but I feel that I'm the better man for the job. I feel Sheriff Fleming has lost touch with both the people of Flagler County and the men and women of the FSCO. Changes must be made to make the people feel safer and morale of the force stronger. When I take office I will first install my Under sheriff, have meetings with my staff to let them know what I expect from them, share with them my goals and objectives and then take a few weeks to get to know my department.

3. What is the most dangerous thing or temptation about a sheriff's power, and how do you intend to control it?
If you have morality there isn't temptation.
It doesn't appear that you were tempted to answer the question.
The Sheriff is one of the most powerful positions in the county. As Sheriff you are being entrusted and sworn to do your job to protect the citizens of your county and the men and women under your authority. As a lifetime Florida Sworn Deputy Sheriff I understand that power, I have the morality within my self to know that every individual stands equal and deserves the opportunity to be treated without malice.

4. What is your greatest weakness in so far as the scope of your leadership is concerned? How has it shown itself? What have you done to address it?
I have no weakness; I have only passion in what I do.
Are you really telling us that you have no flaws, no faults that could trip up your leadership?

It's difficult to share these things with the public, but I suppose my biggest flaw or weakness is trust. In the old days, my early days in the department you could trust a person with a handshake. My word is my bond, if I say I'm going to do something I'm going to do everything in my power to do it. Times have changed though, and so has my ability to trust…

5. As sheriff, what would be your top three priorities for the agency?
Improve the leadership, improve the morale, fair and equal advancement.

6. In your view, what are the three most pressing problems with regards to public safety in the county? Please be specific: for example, if you cite such things as drugs or gangs, please cite documented numbers that show why this is a more pressing problem today than previously.
First we know that there is a problem with drugs and gangs in Flagler County. But as you should know, that information is unavailable because most of those crimes are committed by juveniles and those records are inaccessible at this time. As for the violent crime rise and record number of aggravated assaults was available on Flagler April 30, 2012 released by the Florida Department of Law Enforcement stating that it was a staggering 44 percent increase.
But what would you do about these issues?
There are so many ways to address these issues…starting with and not limited to community policing, intelligence gathering, working hand in hand with community leaders, and having a zero tolerance on gang violence in Flagler County. We must educate our children about drugs and the harm they do to them not just the danger they can get them into. We need to get our community involved, create partnerships with schools, find both men and women to become role models; remember we have single moms and single dads as well as grandparents raising children in Flagler County and some of our children need role models closer to their ages.
Drug and Gang awareness start early now, it must start in the elementary schools with a harsh education.
Gangs must know there is a ZERO tolerance on gang violence. (If a gang banger shoots or injures someone) Zero tolerance, prosecute him or her to the fullest. I as Sheriff will have no room in Flagler County for Drug Dealers, anyone who is caught dealing drugs to our children will be prosecuted to the fullest extent of the law. Our Children are future and a good education allows our children to advance into our society.
I believe that some children deserve second chances however in my experience I have learned that drug dealers are drug dealers only interested in doing things for themselves and they don't care who they hurt.

7. Assess, from your vantage point, the state of race relations between law enforcement and the public, and how you think minorities are treated (as opposed to the way minorities ought to be treated), generally, by police in Flagler County.
At this time I am not in a position to observe the way law enforcement treats minorities. I don't believe in hearsay. However, when I am the Sheriff, I will treat everyone equally not matter their age, race, religion or sexual orientation.
Let's put it to you the way we put it to John Pollinger: you're making a claim to the county's highest law enforcement office. Is it not fair to assume that you have studied the county well enough and been engaged with residents broadly enough to make a necessarily informed opinion about the treatment of minorities? If not, should we be worried about how in touch you are with the community?
I can tell you I've done my work. I've gotten to know Flagler County and I've enjoyed getting to know our County and our residents. I hear what they say, But without being able to work side by side with my department it's still hearsay. I can't tell you that I don't believe a certain percentage of what I hear. I can tell you that under my regime it won't happen. As I've told you before, I am a fair man. All of my employee's and all of the citizens that I have ever come in contact with I have treated them fair and equally under the law no matter their age, race, religion or sexual orientation.

8. Do you support the restoration of dashboard video cameras in sheriff's cruisers?
Yes, it's an excellent tool which protects victims, perpetrators and deputy's against false accusations and provides true accounts of the situations.
9. Explain your stance on civilian review boards in general, whether you would institute one at the sheriff's office, and why—or why not.
Civilian review boards tend to clash with our PBA and FOP unions which again tend to cause more friction than good.

10. Florida became the focus of national attention after the shooting death of Trevon Martin. His death has resulted in renewed discussion of Florida's stand-your-ground law. Do you support the stand-your-ground legislation? If not, what would you do to support its repeal?
I support the second amendment. Every citizen has the right to bear arms and protect him or herself. I feel that deadly force should be used only as the last resort.

11. Sheriff's offices experience an election cycle every four years where a new candidate will appear who promises to do the job better. Often a candidate's decision to seek office is the result of conversations with agency employees and their unions. This can often result in a quid pro quo relationship developing between some employees and their unions. Explain your current relationship or opinion of local law enforcement unions. And should you be elected (or re-elected), how will you handle these types of relationships?
I have belonged to the unions, both F.O.P. and the P.B.A. It is a way to unite and obtain better working conditions, wages, job security etc. When elected, I will honor some of the union demands agreed upon by the old sheriff, but times are hard and unions also have to start compromising or the only thing that will happen is we will spend all our time in court. Sheriff Cochran almost bankrupted the Broward County PBA dragging them through hearing after hearing after letting over 100 deputies go. That's not what I want to see happen here in Flagler County.

12. Describe how you would have handled the Francoise Péqueur matter differently than Fleming and his agency did, from the ground-level response of officers to the sheriff's fielding calls from the husband of the woman who killed Pécqueur (a school board member friend of the sheriff). In your case Sheriff Fleming, explain how, having gone through the matter, you might have done things differently.
That case is still in the court system meaning it has not been tried yet. I am a certified Florida Law Enforcement Deputy Sheriff, I have been trained and have supervised incidents like this one. If I give an opinion, I would be second guessing the officers, and I was not on the scene nor assigned the case. No Comment.

13. Deputy Roster was found by an internal investigation to have stolen at least $8,000 by falsifying time sheets, yet he was only demoted, without losing his pay rank, and kept on the force, while in two other deputies' cases involving smaller thefts, they were fired. What message does that send to the rest of the deputies, and what message does that project to the community? How would you have handled the Roster matter based on the results of the investigation, and how will you ensure that deputies are held accountable? (In your case Sheriff Fleming, please explain why Roster was not fired.)
If the facts are correct and Deputy Roster was found to have stolen at least $8000 falsifying time sheets, then I would have turned over my findings to the State Attorney's Office to seek an indictment and Roster would have been relieved of duty without pay until the State Attorney's Office rendered his findings. I will not tolerate any person or persons in my department when I am the Sheriff who is not honest, truthful and loyal to the department and to the citizens of Flagler County.

14. Where are the weaknesses of law enforcement in Palm Coast, and how can law enforcement in Palm Coast be improved?
Weaknesses are responding to calls and following up crimes that have occurred after reports have been taken. We need better relationships with the citizens of Palm Coast. Some of this can be improved by better community policing. However this question cannot be adequately addressed until I am in office and have the stats and man-power which will give me the ability to make the changes needed.

15. Do you consider policing in Bunnell and Flagler Beach what it should be, and would you be supportive of a sheriff's take-over of either?
It would be beneficial in these economically difficult times to absorb Flagler Beach and Bunnell within the Sheriff's Department.