Ten days ago I was in the St. Augustine courtroom of Circuit Judge J. Michael Traynor, covering the sentencing hearing of Nathaniel Juartovac. That's the former Flagler Beach cop who was pleading guilty to attempted murder in the shooting of Flagler County firefighter Jared Parkey during a so-called road-rage incident last March.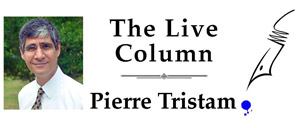 It was supposed to be a routine hearing, and for the most part it was. The facts were straight-forward. Juratovac and Parkey were driving north on US1. Both had their wife and young child in their car (a 17-month-old girl in Parkey's car, a 4-year-old girl in Juratovac's). The two cars were following too closely to each other. They tangled, brake-checked, bumped. Parkey threw a water jug at Juratiovac's car. The two cars had a minor collision, and with that swerved and parked on the side of the road.
Juratovac came out with his gun and fired two bullets at an unarmed Parkey, hitting him twice. He called it self-defense. It wasn't rage. It was stupidity. And it was left up to Juratovac's wife, a deputy with the St. Johns County Sheriff's Office, to try to control her husband at the scene while Parkey lay bleeding. The similarity with the more recent movie-theater shooting, in which a retired cop shot and killed a man armed with nothing more than popcorn during a minor argument, is unnerving, and should put to rest whatever blind worship accompanies ex-cops as potential guardians of the peace.
For Juratovac, it was the culmination of a very checkered career in and out of law enforcement that's seen him face charges of aggravated assault and improper exhibition of a weapon previously, as well as charges of perjury and falsifying documents when he was a Flagler Beach cop. All charges were dropped, but after the perjury charge his boss in Flagler Beach wanted him fired. Juratovac resigned instead. He's never apologized for the shooting, down to his statement in the courtroom in January, where he justified himself even as he was pleading guilty. He's the sort of man whose don't-screw-with-me demeanor was a loaded weapon waiting to go off. And of course, it did.
Here's where things got strange in the courtroom. Just before Juratovac was sentenced to four years in prison, Judge Traynor felt compelled to address the case not in legal terms, but as an observer like you and me. In other words he was not administering law. He was editorializing. Judges do it all the time, and sometimes have fascinating insights. Sometimes they don't. This is what Traynor said: "We all should recognize the fact that the actions of two people that day created a danger not only to their families in the car, but to the other citizens" on the road. That's true, although Traynor was making an unusual comparison between an attempted murderer and an angry driver, without making any difference between the actions of the two individuals. Traynor didn't leave it at that. "We wouldn't be in this situation today," he added, "if two people hadn't acted irresponsibly and recklessly on the highway." (See the full context of his remarks below.)
It was a stunning thing to say for a judge who was just about to sentence a man for attempted murder, while the criminal's victim sat a few feet away, in the same courtroom. Parkey was there, a free man, but also an innocent man, and a victim of the worst act of violence short of death. He was not facing any charges. He was not on trial. He may have been rash on the road. Throwing a jug of water at another car is reckless and idiotic. But that's where it ended. There is no comparison with what happened next.
It was Juratovac who pulled a gun, who fired a gun, and who struck Parkey twice, with every intention of killing him, while Parkey showed his empty hands. Keep in mind that the one police officer at the scene the whole time, Juratovac's wife, never felt compelled to pull her gun at Parkey, as the prosecution made clear: her concern, as she told the dispatcher, was keeping her husband under control, not fearing Parkey.
For the judge to turn the attack into an equivalence of responsibilities was inexplicable. In a legal context, it was immoral. He reminded me of Sharia-law jurists who, in the Muslim world's more regressive courtrooms, find ways to turn the table on a rape victim and slap her with responsibility in the attack.
It may have had something to do with Juratovac's connection to the law enforcement community, though I would hope not. (The friendly, gingerly treatment Juratovac got at bailiffs' hands after the sentencing, in contrast with the way felons are usually handled, was an appalling display of favoritism.) Or it had to do with the perverted reasoning in Florida that rationalizes the use of violence and guns all the way into this state's courtrooms.
Maybe Traynor didn't express himself clearly. Maybe he intended to make a more sensible point about the danger of escalating arguments that, in less weaponized cultures, never go beyond words or, at most, fists. But he made the same point twice, and sounded adamant both times. He diminished the gravity of the case by making the victim share in the guilt of the violent felon he was sentencing.
This is why victims of gun violence sometimes have such hard time in this state making their case against their aggressor. This is why the culture excuses and enables such inherently dangerous laws as stand your ground, and why men feel too routinely justified to pull guns and triggers in situations where their response is clearly disproportionate to whatever danger they claim to be facing. They may be trigger-happy goons. But they wouldn't feel so empowered without trigger-happy gun laws that enable don't-screw-with-me smugness while dropping a trail of bodies in their wake.
Juratovac may very well have thought that no matter what he did, he'd get away with it. He almost did. And in that courtroom, the judge managed to accuse his victim for good measure.

Pierre Tristam is FlaglerLive's editor. Reach him by email here. A version of this commentary was broadcast on WNZF.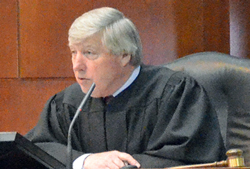 The context of Judge J. Michael Traynor's remarks: Traynor spoke only briefly during the Jan. 24 sentencing hearing. He did so after Nathaniel Juratovac, the defense (attorney Patrick Canan) and the prosecution each spoke, with the defense and prosecution again arguing facts of the case. Traynor then spoke. This is what he said in full:
"The status of the law is what it is. It's not my job to make new law, it's not my job at this point to criticize or not to criticize. It's my job to apply the law as it applies to this case. If there's a challenge Mr. Canan that you feel needs to be made to the law you know that the Legislature is the place to do that not in this courtroom at this time. I would say this. And I think we all should recognize the fact that the actions of two people that day, uh, created a danger not only to their families in the car, but to the other citizens of this county, this state, upon the incident on the road, and there's no excuse for that no matter who did it. Uh, you know, I'm, you know, I don't take the, the, the use of force has already been determined by the plea and you've come to a resolution with that, and I accept the fact that Mr. Juratovac has, has, you know, found it within himself that that's what he should do, but I didn't want to let it be unsaid that, you know, we wouldn't be in this situation today if two people hadn't acted irresponsibly and recklessly on the highway, either. So, I mean I think, I think something, if nothing else is said, people at least will see the consequences of, of those types of irresponsible and reckless acts. All right, anything further, gentlemen?"