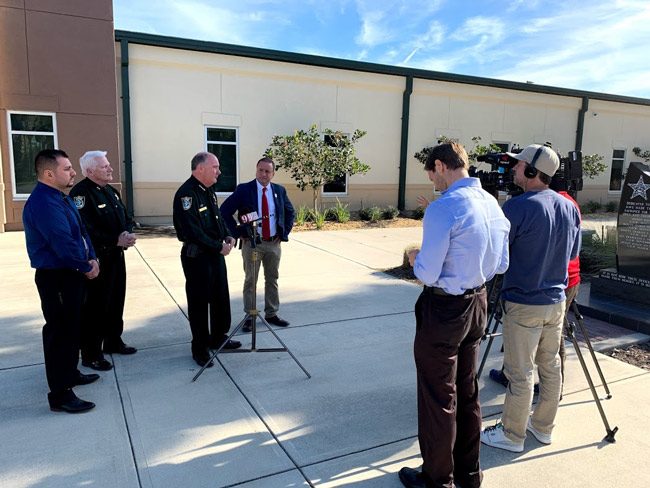 Page 3 of Bunnell's resolution condemning the Flagler County Commission for building a sheriff's district office in Palm Coast makes the following suggestion of what sounds close to a shakedown: "officials of the City of Bunnell were informed by Flagler County Commissioner Joseph Mullins that the County would have considered a fifth option that included the siting of a new Sheriff's operations center within the City of Bunnell, but only if the City of Bunnell had agreed to pay the County $2,000,000 in exchange for the County agreeing to keep the Sheriff's principal offices within the county seat."
Strictly speaking, he did. He did so in a text to Bunnell Mayor Catherine Robinson: "And we can keep it in area," Mullins texted to Robinson, "I was told by jerry but it's requiring a 2 million match from city. Can y'all help if I come and ask? I would like it to stay at eoc. If you listen to something more than a vote you will see what I said."
As is often the case with Mullins, what he said in the heat of the moment–and it was a heated text exchange that ran on for dozens of texts back and forth–was not exactly what he meant to say. "By no means did I say give me $2 million and I'll vote for it," he said today. But he recognizes that what he did say could easily lead to different conclusions.
"One thing I have learned since being here is to own my mistake," he said today.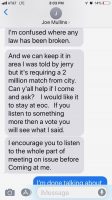 Clarifying what he meant to say (as he did Wednesday and Thursday, and will again Friday, going as far as offering a public apology on the radio to Robinson) was too late to prevent Bunnell from including the trade-off in its official resolution, or to prevent displeasure from County Administrator Jerry Cameron (the "jerry" in the texts), who says he never told Mullins of any $2 million trade-off, or to fuel what was already a simmering feud between the city and the county.
It hasn't helped that Mullins gave a different explanation of the text on Wednesday and Thursday, first comparing the $2 million figure to the money Palm Coast pays the Sheriff's Office for contracted policing (actually, closer to $3.3 million), then saying it's the sum total of what the county expects to generate from the sale of two buildings it recently bought and no longer wants. "I misquoted him on that," Mullins concedes.
Assuming the county can sell the two buildings, the money can then go toward the $12 to $15 million sheriff's building near the county library off Palm Coast Parkway. But the county would be seeking to sell those buildings regardless, whether the sheriff's new building goes up in Palm Coast or not.
The April 15 texts between Robinson and Mullins were the result of Mullins's vote joining the rest of the commission to build the sheriff's district office in Palm Coast. "I have supported you. You voted for the move," Robinson texted him. "You didn't support Bunnell. End of story."
---
If Bunnell wants "a ceremonial police force that's what they've got but the community is begging for a functional one," Mullins says.
---
Mullins had told her he was surprised "no one was there" from the Bunnell commission when the county commission voted (one Bunnell commissioner, Jan Reeger, was, but she did not speak in opposition to the vote). "I would've really preferred all of us to have sat down and discussed some options instead of what happened at the commission meeting in Bunnell that really neutralized me with the other four." Mullins was likely referring to a previous Bunnell commission meeting where commissioners first talked of their displeasure with the county and suggested the county would be breaking the law by moving the sheriff's operations center out of the city.
"You are blaming us for your vote and ignoring the law," Robinson shot back. "No respect for who we are and our heritage."
Mullins told Robinson he still is pushing for a sheriff's district office in Bunnell, next to the Emergency Operations Center, and will continue to do so: he wanted that district office to be bigger than the one in Palm Coast, but says he does not want it built on the back of higher taxes. And he sees it as an opportunity to merge Bunnell's police department with the sheriff's office and provide a higher level of policing in Bunnell. "How important is yawls police department and could we not consolidate it and make that area bigger," he texted Robinson.
That sat even less well with Robinson. "Now you are going after my police Dept??? Really[.]" She said she was "not interested in discussing my police Dept with anyone from the county or sheriff."
Twice in four years–in 2010 and 2014–Elbert Tucker, who just stepped down from the Bunnell commission, attempted to have the sheriff take over policing in Bunnell. Twice he failed. In 2010, Robinson and then-Police Chief Arthur Jones organized a public display of support for the department to build up a vote against disbanding it. At the time, the department was mired in scandals, crime and arrests in its own ranks, and a investigation by the State Attorney's Office that also implicated a sitting commissioner. The department has seen less turbulence under Chief Tom Foster, though it was pared down for several years.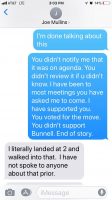 Mullins says it's time to merge the Bunnell Police Department with the sheriff unless the city invests more heavily in its department and addresses various issues he says local businesses are complaining about, including homeless and drug issues.
"If they want a ceremonial police force that's what they've got but the community is begging for a functional one," Mullins said, sounding more like a Bunnell than a county commissioner. "At the end of the day I want a police force that's functional."
That's likely only to add to Bunnell's anxieties and buttress its commissioners' argument that more forces are in play than merely a district office's move to Palm Coast. "Our police department is walking on eggshells because they think they're going to be taken over," Bunnell Vice Mayor John Rogers said.
But in this case as well, Mullins was speaking in a political vacuum: neither the rest of the county commission nor any members of the Bunnell commission have so much as hinted that they were interested in consolidation. Sheriff Rick Staly in the past has steered clear of making any such suggestions, leaving it to the political bodies to make those decisions, though the sheriff's office as a whole has had its share of frustrations with Bunnell police not pulling its weight.
The Mullins-Robinson texts were not the only exchange creating confusion. Rogers was heard on WNZF's morning news show say he wanted a meeting between the county and the city commission to "work together," and said "no, I'm not opposed to them having an ops-Palm Coast." But he later said the clip did not provide the full context of where he stands, which hasn't changed.
"The main, principal headquarters need to be in the county seat," Rogers said. "A substation needs to be in Palm Coast. They're going to build something out there. But I said all along that the principal operation and the permanent records of the sheriff needs to remain in Bunnell, the county seat."