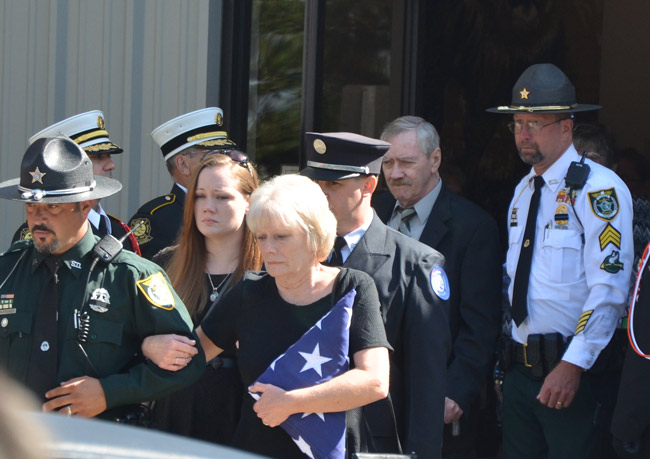 No matter who spoke at Joseph Delarosby's memorial service at Church on the Rock this morning, certain words kept recurring to describe the man Flagler County knew as an EMT and a sheriff's deputy for more than half the life he ended last week: above all, compassion and generosity, charisma, a sharp photographer's eye whose lenses were like extra limbs, and a sense of humor that, at least to those who knew him publicly, never quit.
"Making a difference was what Joe was all about. From major events such as hurricanes and forest fires to other calls from someone in need of assistance, Joe was there to help. helping others before he helped himself," Joe's brother Robert said before quoting Emerson in words that embodied his brother: "The purpose of life is not to be happy. It is to be useful, to be honorable, to be compassionate, to have it make some difference that you have lived and lived well." Robert would go on to quote Buckminster Fuller and Jimmy Carter as he summarized the life of a man who "stood up for what he believed in. When Joe took on a cause, he took it on at full steam, with full gusto, and never looked back. He may not have always been right, but he always gave 100 percent."
He'd encountered countless strangers in 30 years of service in Flagler and had even managed to make a friend or two of people he'd served papers on, his brother recalled, citing Carter's famous words about having "one life and one chance to make it count for something." Robert then said: "Until you've lived Joe's life, walked his path, suffered his pain and seen what he'd seen, I could care less about his judgments. We will forever miss the way Joe made us laugh, and we will also regret not having a chance to help him through his troubles. I choose to remember the way he laughed."
Joe Delarosby was 50.
Several hundred people had turned up to the church, filling all four seating wings radiating out from the altar. One of the wings was filled with politicians (including constitutional officers, Circuit Judge Dennis Craig, County Judge Melissa Moore-Stens, former Sheriff Don Fleming, several county commissioners, one Bunnell city commissioner but none from Palm Coast or Flagler Beach) and firefighters-paramedics lined up to the wall. Joe's family was up front in the middle wing. Some 60 or 70 Flagler County Sheriff's deputies in uniform filled the wing to the right of the altar. Including, up front, toward the wall, Sheriff Jim Manfre, who the family did not want there.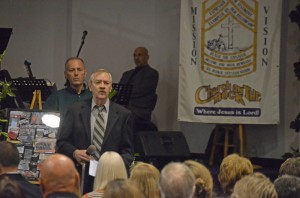 Gerard Delarosby, Joe's father, stunned the assembly when, speaking from the floor as the first of five eulogists, he began with words directed at Manfre, whom he never referred to as sheriff: "Is there a Mr. Manfre in the house?" Gerard Delarosby said, his voice barely audible to many in the back of the church. "Stand up and be recognized, please." Manfre stood up. "The family wishes it to be known," Delarosby went on, "that Mr. Manfre was not invited to attend these proceedings. He was expressly asked not to. And then here he is. It's the arrogance of office."
With those words, the assembly erupted in applause. Manfre stayed through the final ceremonies that followed the service but did not go to the Elks Lodge where the family had invited guests for fellowship and a meal (and where several people handed out No Manfre bumper stickers).
Joe's wife Judy would later say to a law enforcement officer that she hadn't known Gerard was going to speak about Manfre's presence, but was grateful he had, a reflection of the anger that has surrounded the aftermath of Delarosby's suicide at Heroes' Park in Palm Coast on Oct. 7, seven weeks after he was encouraged to retire from the Sheriff's Office because of health and other issues.
It was another reflection of the anger surrounding Delarosby's death that when his father proposed that his colleagues at the Sheriff's Office form a special commemorative unit to keep his son's memory alive, He said, "this unit should not be commanded or advised by the so-called powers that be."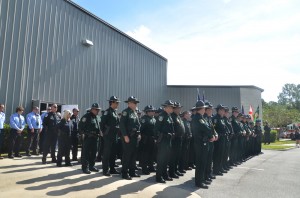 "My world, my community in law enforcement is reeling," the officer–from another agency–said, asking for anonymity. Even  Chaplain Michael Palmer alluded to anger twice in his brief introduction, addressing "those who grieve in anger" but also those who "feel anger that Joe did not seek help one more time," and urged them to look for what he called a "supernatural peace."
Maria Bosley, a family friend and the goddaughter of Shirley Chisholm (the late and history-making congresswoman as the first black woman elected top Congress in 1968), spoke of her family's debt to Delarosby for many occasions, speaking of the "patience, understanding and candor" that attended his coordination of Chisholm's services after she died in 2005 in Palm Coast.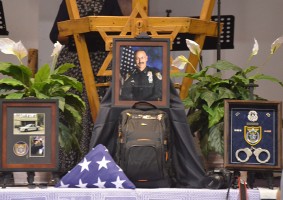 Two firefighters also spoke: Palm Coast Fire Chief Mike Beadle, and Palm Coast Firefighter-paramedic Patrick Juliano, both of whom had been close to Delarosby–Beadle remembering their friendship starting in 1988, when Beadle moved to the area. "We soon found ourselves in fire school together," Beadle recalled. "And then something happened, Joe got tired of being a paramedic but not tired of helping people, and Joe went in to the other side as we call it, the law enforcement side. Again, I apologize," Beadle said, turning to the wing of deputies to his left for his second of what would be three apologies for typical firefighter slights of "the other side."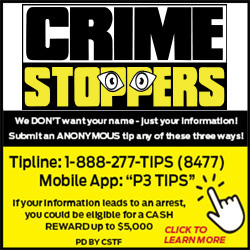 The fire chief described several on-the-job occurrences that illustrated Delarosby's quick-thinking resourcefulness, in one case deputizing Beadle to prevent a case of vigilantism by local hunters, in another case using his paramedic training to play a key role in helping to save a car accident victim. He and Delarosby would often talk about their daughters (Delarosby had two). "We talked about the good, we talked about the bad," Beadle said, but mostly about the blessings of "having these girls in our lives."
Juliano, who's usually in charge of arranging ceremonial occasions that involve the Palm Coast Fire Department and other agencies, said he had Delarosby to thank as his mentor in such things. "Today's services are a direct tribute to his mentorship," Juliano said, "and he'd have been especially proud that we started on time."
Outside Flagler's deputies and law enforcement officers from numerous other agencies across the state, at least two from as far off as Pinellas County, stood at attention for some 25 minutes before deputy James Kaphan played taps and a group playing windpipes performed "Amazing Grace," as Delarosby's family was walked to a pair of cars.
Juliano was the last of the eulogists, and he ended with words that would soon echo outside, as part of the traditional final call-out to the fallen: "Your job was well done, your duties have been all served. We have it from here."

---
Joe Delarosby Photo Tribute at Church on the Rock Services
(With thanks to Patrick Juliano)

Reader Interactions