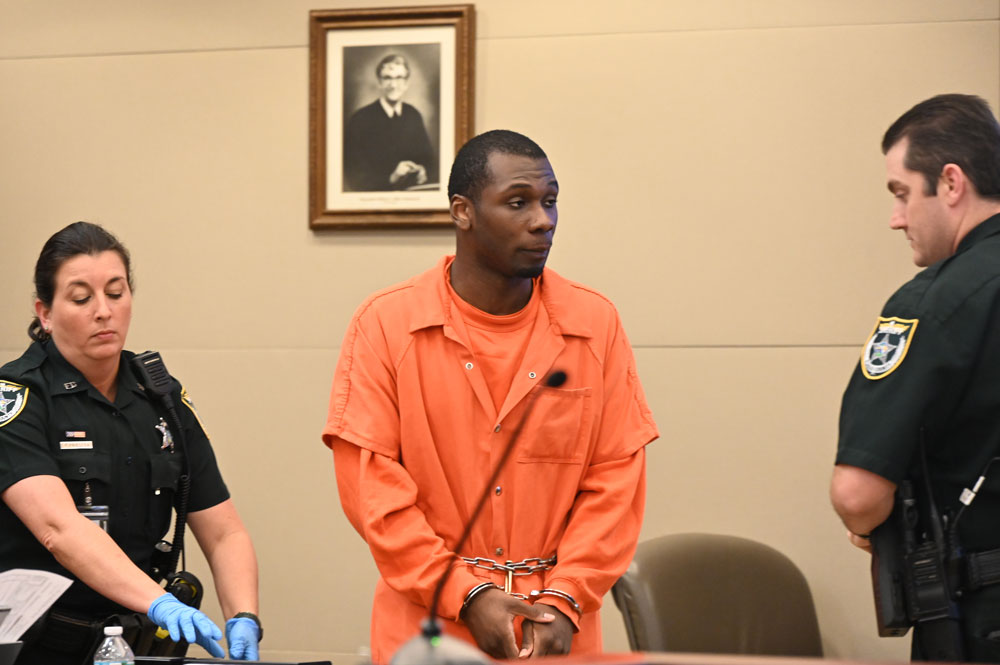 When Jevante Hamilton walked into Circuit Judge Chris France's courtroom this afternoon, he was already carrying a 10-year prison sentence, freshly imposed in Volusia County on charges unrelated to those that brought him back to Flagler County.
When he walked out less than an hour later, his sentence had grown to 40 years.
Hamilton was on trial last August on a first-degree murder charge for the death of Timothy Davidson of a fentanyl overdose three years earlier. It was the first such case in Flagler that went to trial. All other cases so far have been resolved in pleas.
Davidson had sought heroin or crack. Hamilton, the prosecution said, sold him $250-worth of fentanyl cut with sugar–no heroin, no cocaine. Davidson died the same day–August 24, 2019.
The jury found Hamilton guilty on a lesser charge that was included in its verdict form: manslaughter, a second degree felony.
If that's all Hamilton had to contend with, it would have been a second-degree felony, with a maximum penalty of 15 years in prison.
But in the jaws and jargon of the criminal justice system, Hamilton is a prison-release re-offender, referred to as PRR. That means he was convicted of a felony that scores prison time after already serving two prison stints within the last 10 years. In fact, he'd been released from prison three months before he sold the fentanyl to Davidson, and was on probation. He also qualified as a habitual felony offender, or HFO.




The two distinctions together meant that he was required to serve a minimum of 15 years in prison, without possibility of a lesser sentence, and to serve those 15 years day for day, without the possibility of early release, or gain time, after serving 85 percent of his sentence. The distinctions also meant that the prosecution could ask–and the judge could impose–double the penalty: 30 years, not just 15.
That's what Assistant State Attorney Jennifer Dunton asked France to impose, with one additional request: that the sentence he was to impose today would run consecutively to the 10-year sentence Circuit Judge Raul Zambrano imposed for other offenses in Volusia (namely, probation violations).
France granted that request, too. That's how Hamilton's sentence grew to exceed the sentences at times imposed for first-degree murder, and the sentences usually imposed for manslaughter.
Hamilton's is the third such sentence for an overdose death in seven days in Flagler. Last week, Allyson Bennett, 41, orchestrated the deal, was sentenced to eight years on the same charge (manslaughter) for selling fentanyl-laced drugs to Michael Burnett Jr. Bennett's boyfriend at the time, Joseph Carroll, who orchestrated the deal, got 15 years.




"While I'm sorry for the loss experienced by the victim's family, it's just something that's broken. It never mends," France said moments before imposing sentence. "Likewise I'm sorry for Mr. Hamilton, as you're also experiencing loss. You've never even started being a father."
Hamilton, his attorney and the mother of his 3-year-old child, who addressed the court by way of a letter, all referred to his daughter, who has never seen him but cries for him, as one factor calling for a merciful sentence. But, the judge said, Hamilton had not managed to remain crime-free, and out of prison, "for just about any period I see in your history, and your potential is a continuing loss."
But it was Timothy Davidson's mother and his sister–one of seven siblings–who, in a matter of a minutes, inventoried the family's depth of sorrows and loss, at times directly addressing Hamilton, but notably only by his last name–no honorifics.
Davidson's mother spoke of discovering her son unresponsive on a cold floor, of her husband's attempts to revive him with CPR, of "the misery of watching the paramedics arrive and administer Narcan and do everything humanly possible to save him–the agony, desperation and emotional suffering at the realization that all attempts have failed, and my son was dead." She spoke of her other children's suffering, and of her own, which hasn't ceased cleaving her life since from friends or society.
"I wanted my son back," she said. "I accept that vengeance and justice is God's, not mine, But there are always consequences for our actions, and Hamilton, you must face yours here in this court of law. And again, before God, understand the pain of loss."
She described her son as talented, daring, loving and sensitive, thoughtful and funny, adoring of his family, of his brothers and sisters. The youngest of eight, he was intelligent, graduating college summa cum laude, loved working with his hands, especially on cars–and he had an addiction.




It had begun as so many addictions have since the 1990s: with the prescription of pain pills to manage pain after a car crash. (The physicians who overprescribed such pills have not, like Hamilton, faced prison terms, though less than a year ago four pharmaceutical companies agreed to a $26 billion settlement after battling lawsuits). Davidson had gone through detox and rehab, and come back home to his parents, attending narcotics anonymous meetings. But he was still struggling.
"And in one of his weaker moments he met with you Hamilton, and what did you do? You sold him fentanyl that killed him the same day that he purchased it," Davidson's mother said, never looking at Hamilton, who was only a few feet to her right and behind her as she read her statement from a podium in front of France. "I'm talking to you again Hamiltonian, with a mother's heart filled sorrow. So the last thing I have left to say to you is May God have mercy on your soul. Timmy I love you and I miss you."
The defense–Hamilton was represented by Brian Smith–had sought 15 years in prison followed by probation. France denied a defense motion for a judgment of acquittal and for a new trial.
Hamilton addressed the court before the sentence, speaking in a tone as hushed as it was clanged over by ongoing construction on the courthouse's roof. But a few phrases from his brief statement could be heard clearly enough, after he seemed to apologize to the family. He said there were "a lot of facts in the case that was never brought forward," and he said: "I would just like another chance."
France asked him what that meant–"what's different now from before with the other cases and sentencings?"
Hamilton said he was a lot younger then, and having a daughter "changed my whole mindset."
He is eligible for 849 days' credit for time already served in local jails, and will be eligible for gain time after the first 15 years. If so, he could be eligible for release after some 33 to 34 years, when he will be in his early 60s.
Reader Interactions